Download
This map of Georgia (Europe) displays major cities, highways, rivers, and airports. A satellite and elevation map highlights its two major mountain ranges, the Lesser Caucasus and the Caucasus Mountains.
About the map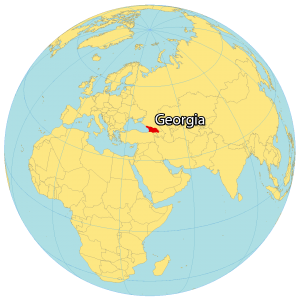 Georgia is located in the easternmost part of Europe at the intersection with Asia. It borders 4 other countries including Russia to the north, as well as Turkey, Armenia, and Azerbaijan to the south. But it has two disputed areas within the Abkhazia and South Ossetia regions with Russia.
The west side is characterized by its 310-kilometer coastline with the Black Sea. The population of Georgia is approximately 4 million with roughly one-quarter living in the capital city of Tbilisi.

Georgia in Google Maps
You are free to use our Georgia map for educational and commercial uses. Attribution is required. How to attribute?
IMAGERY
Georgia Satellite Map
Belgium is mostly flat plain without any significant mountain ranges Georgia occupies an area of roughly 69,700 square kilometers (26,900 sq mi), almost identical in size to the Republic of Ireland.
The country is rich in forests with approximately 40% of its land as forest cover. Its longest rivers are the Alazani, Aragvi, and Kura. The country is also known for its Black Sea beaches, hydroelectric stations, and Vardzia, which is a cave monastery site in the southern region.
HILLSHADE
Georgia Elevation Map
Most of Georgia is situated in the Caucasus Mountains, with its northern boundary partly defined by this mountain range. Basically, both the Lesser Caucasus and the Caucasus Mountains sandwich the country of Georgia from the north and south. Georgia's highest peak is Shkhara located in the Caucasus Mountains bordering Russia to the north.