Guinea-Bissau Map – Places and Roads

Download
This Guinea-Bissau map shows its islands, populated places, and roads. Satellite imagery gives a mosaic of Guinea Bissau. Whereas a physical map displays its topography.
You are free to use our Guinea-Bissau map for educational and commercial uses. Attribution is required. How to attribute?
About the map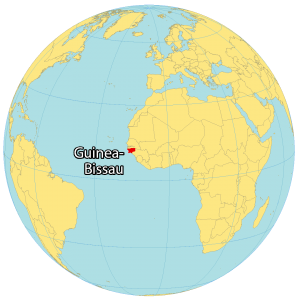 Guinea-Bissau is an African country located on the west coast of the continent. It also includes the Bissagos Islands, an archipelago of about 88 islands in the North Atlantic Ocean. It borders just two countries.
While Senegal is situated to the north, Guinea is to the southeast. The city of Bissau is the capital and largest city in the country. Other major cities are Bafatá, Gabú, and Bissorã.
Guinea-Bissau occupies an area of 36,125 square kilometers, which is larger than Lesotho, but smaller than Togo. This also includes the Bijagos Archipelago which is a group of 88 islands that lie off of the mainland.

Guinea-Bissau in Google Maps
IMAGERY
Guinea-Bissau Satellite Map
The climate is tropical with a range of fauna, flora, and biodiversity. Also, Guinea-Bissau features a mix of landscapes like swamps, forests, and mangroves such as the Guinean mangroves region and forest-savanna mosaic. According to the FAO, forests cover 70% of the country.
HILLSHADE
Guinea-Bissau Elevation Map
The terrain of Guinea-Bissau is mostly low coastal plains, but it's also hilly within the interior. The lowest point is at sea level in the Atlantic Ocean. Whereas its highest point is a 300-meter tall unnamed hill in the eastern region. Other than its low-lying terrain, Guinea-Bissau also has a large number of tidal flats, which are covered and uncovered by the rise and fall of tides.