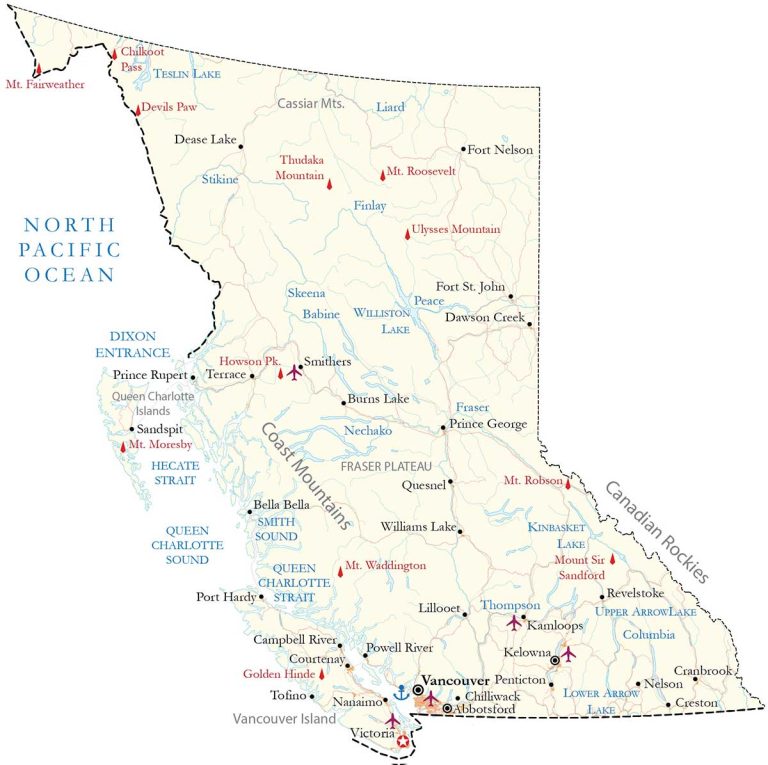 Download
A reference map of British Columbia in Canada that features major cities, roads, highways, rivers, lakes, and mountain peaks. An elevation and satellite map of British Columbia highlights the Rocky Mountains and Vancouver Island.
You are free to use our British Columbia map for educational and commercial uses. Attribution is required. How to attribute?
About the map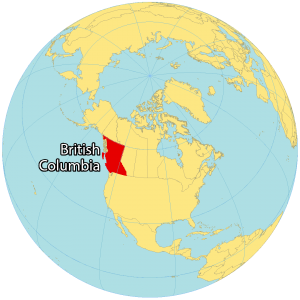 British Columbia is the westernmost province of Canada along the Pacific Ocean. As the license plate motto goes "Beautiful British Columbia", it's surrounded by lush parks, wilderness, and the Canadian Rocky Mountains.
It borders Alberta to the east, Yukon, and the Northwest Territories in Canada. But it also borders the US states of Washington, Idaho, and Montana to the south.
Even though Victoria is the capital of British Columbia, Vancouver is the most populous with over 2 million people. Altogether, it's the third-largest metropolitan area in Canada. Other major cities are Victoria, Kelowna, and Abbotsford as the next largest urban areas.

British Columbia in Google Maps
IMAGERY
British Columbia Satellite Map
British Columbia occupies a total area of 944,735 square kilometers (364,764 sq mi). In comparison, it's smaller than the province of Ontario but larger than Alberta. Overall, it's the third-largest province, not including territories.
The west side of British Columbia has a rugged coastline that extends over 27,000 kilometers (17,000 mi) long. It includes Queen Charlotte Islands (Haida Gwaii) and Vancouver Island which holds the capital city of Victoria at the southern tip of the island.
It's estimated that forests cover approximately 60% of British Columbia. But only about 5% is arable land such as the Okanagan Valley. The northern area is sparsely populated and undeveloped. Because of its large area and mountainous terrain, the climate varies from subarctic in the north to continental and oceanic climate to the south.
HILLSHADE
British Columbia Elevation Map
Mountains cover the majority of British Columbia. Altogether, 75% of the province is mountainous with heights 1,000 meters (3,300 ft) above sea level. For example, the Rocky Mountains straddle its eastern border with Alberta and contain several peaks like Mount Sir Sandford and Mount Robson.
Otherwise, the Coast Mountains stretch near the Pacific Ocean to the west with the Kitimat Range and Pacific Range. At 4,019 m (13,186 ft), Mount Waddington (or Mystery Mountain) is the highest peak in the Coast Mountains of British Columbia, Canada. Other major features are the Fraser Plateau, Cassiar, and Omineca Mountains.
Canadian Provinces
Canadian Territories