Central Africa Republic Map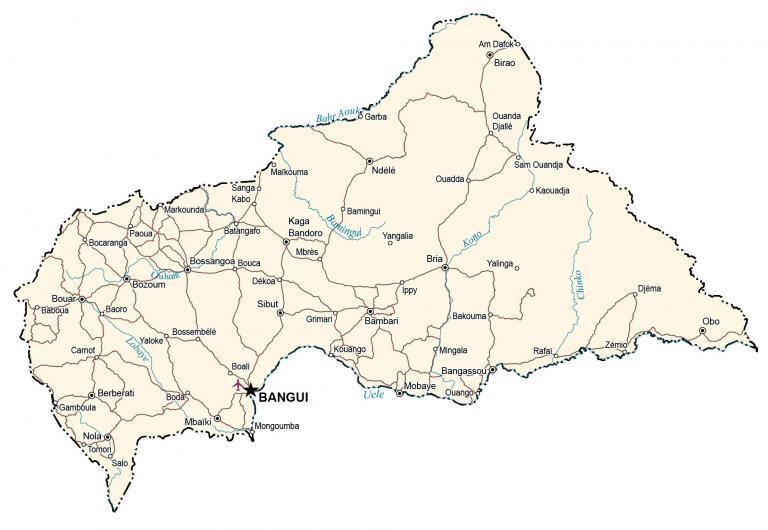 Download
This Central Africa Republic map displays major cities, towns, and roads. Also, it includes an elevation map and satellite imagery that show the topography of the Central African Republic.
You are free to use our Central Africa Republic map for educational and commercial uses. Attribution is required. How to attribute?
About the map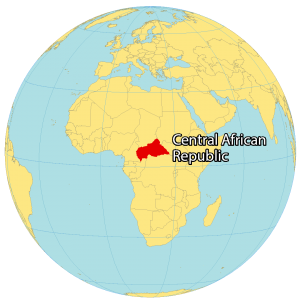 The Central Africa Republic is a landlocked country located in the interior of Africa. It borders Chad to the north, Sudan and South Sudan to the north and east, the Democratic Republic of Congo and the Congo to the south, and Cameroon to the west.
Between latitudes 2° and 11°N, the country lies just above the equator. Bangui is the capital and largest city of the Central Africa Republic. Approximately 4.75 million people reside in the Central Africa Republic.

Central Africa Republic in Google Maps
IMAGERY
Central Africa Republic Satellite Map
The Central Africa Republic occupies an area of 622,984 square kilometers (240,535 sq mi). In comparison, this makes it smaller than Somalia but larger than Madagascar. The longest rivers are the Ubangi, Kotto, and Mbomou.
The Central Africa Republic is situated on the Sahel, which marks the transition between the Sahara Desert to the north and the Sudanian Savanna to the south. Forests cover as much as 36% of the Central Africa Republic.
HILLSHADE
Central Africa Republic Elevation Map
The terrain is mostly flat with hills and mountains in the northeast and southwest.  For example, the Bongo Massif is a mountain range near the Sudan border in the north.  Whereas the world's second-largest river basin, the Congo Basin, occupies the south.
While the Fertit Hills lie in the northeast, the Karre Mountains are to the west. At 1,410 meters (4,626 ft), Mount Ngaoui is the Central African Republic's highest peak located on the border with Cameroon.