Somalia Map – Cities and Roads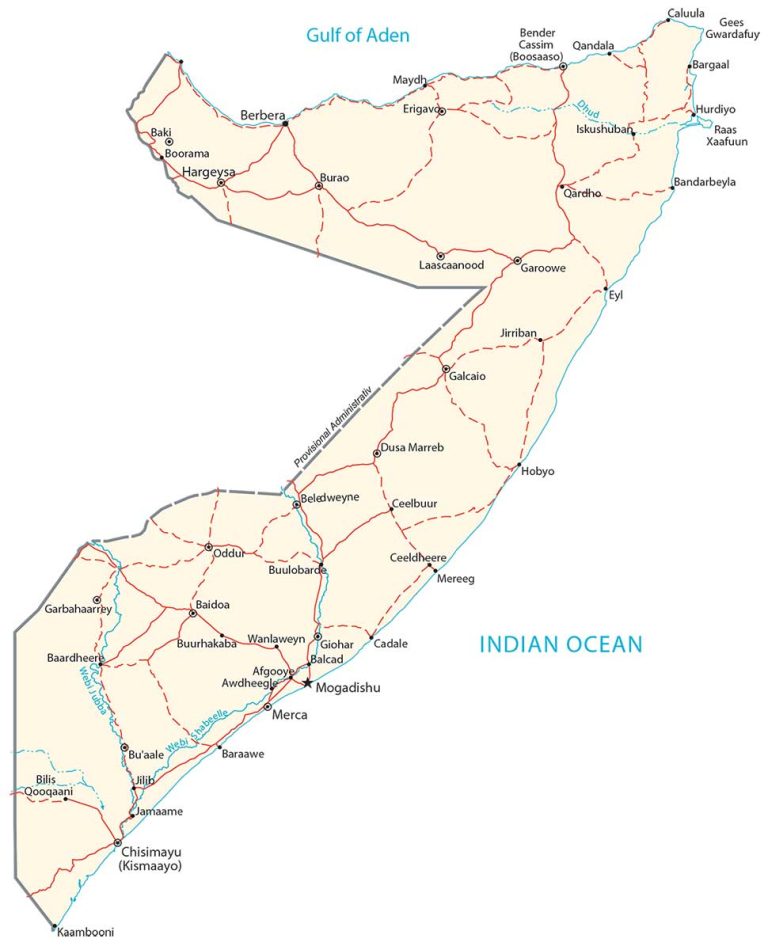 Download
This map of Somalia displays major cities, towns, rivers, lakes, and roads. Satellite imagery and a terrain map reveal everything from the Ogo Mountains in the north to its central plains.
You are free to use our Somalia map for educational and commercial uses. Attribution is required. How to attribute?
About the map
Somalia is in Eastern Africa within the Horn of Africa region. It borders 3 African countries including Kenya to the southwest, Ethiopia to the west, and Djibouti to the northwest. Somalia has the longest coastline of any other country in mainland Africa.
It measures a distance of 3,333 kilometers (2071 mi) along the Gulf of Aden and the Indian Ocean. Mogadishu is the capital and largest city. Other major cities are Beledweyne, Marka, and Jamaame. Overall, the shape of the country resembles the number "7".

Somalia in Google Maps
SATELLITE IMAGERY
Somalia Satellite Map
Somalia occupies an area of 637,657 square kilometers (246,201 sq mi). Its total area is smaller than South Sudan but larger than the Central African Republic. This includes its islands off the east coast such as the Bajuni Islands and the Sa'ad ad-Din Archipelago.
Semi-desert plains, savanna, and mountains are three types of landscapes that cover Somalia. One of the biggest challenges in Somalia is its recurrent droughts and irregular rainfall periods. It's mainly desert, with dust storms in summer.
PHYSICAL MAP
Somalia Physical Map
The terrain in Somalia is mostly flat in the central region. But it contains plateaus and rising hills in the north from the Ogo Mountains, which run east-west. At 2,460 m (8,070 ft), Mount Shimbiris is the highest point in Somaliland, which is internationally recognized as part of Somalia. Whereas its lowest point is the Indian Ocean at 0 m (0 ft) sea level. At 1,130 km (702.1 mi), the Shebelle River is the longest in Somalia.