Chad Map – Cities and Roads
This map of Chad (Republic of Chad) shows major cities, towns, lakes, highways, and roads. Also, it includes an elevation map and satellite imagery to view its desert landscape to the north and more fertile region to the south.
You are free to use our Chad map for educational and commercial uses. Attribution is required. How to attribute?
About the map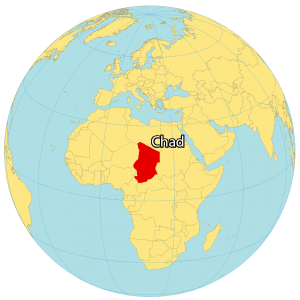 Chad is a landlocked country that borders 6 other countries in Africa. Libya is located to the north, Sudan to the east, the Central African Republic to the south, Cameroon and Nigeria to the southwest, and Niger to the west.
N'djamena is Chad's capital and largest city, situated near its western border with Cameroon. Approximately 16 million people live in Chad.
Chad is known for its large swaths of desert that cover most of the northern region. Its primary economic activities are mining (like gold and uranium), oil production, and agriculture.

Chad in Google Maps
IMAGERY
Chad Satellite Map
Chad is the fifth largest country in Africa at 1,284,000 square kilometers (496,000 sq mi). In comparison, it's larger than Niger but smaller than Libya. Lake Chad is the seventh-largest lake in the world (and the fourth largest in Africa) and it's how Chad earned its country name.
The lake serves as an important source of water for not only Chad, but also Cameroon, Niger, and Nigeria. Chad is part of the Sahel, which marks the transition between the Sahara Desert and the Sudanian Savanna. It's estimated that deserts cover about one-half of Chad.
HILLSHADE
Chad Elevation Map
Chad consists of deserts and the Tibesti Mountains in the north. The central and northern region is dominated by the Sahelian Belt with the more fertile Sudanian Savanna zone in the south.  As part of the greater Sahara desert, the Djurab Desert covers most of the Borkou region in Chad.
Also, the country has several massifs like Kerkour Nourene Massif and Marfa Massif to the east. Whereas the Guera Massif is closer to cities like N'djamena and Mongo. Finally, the Mourdi Depression is a desert depression in northeastern Chad next to the Ennedi Plateau.