Download
This Democratic Republic of Congo map (DR Congo) contains major cities, towns, and roads. It includes an elevation and satellite map to see its mosaic of forests, savanna, swamps, and jungles.
You are free to use our Democratic Republic of Congo map for educational and commercial uses. Attribution is required. How to attribute?
About the map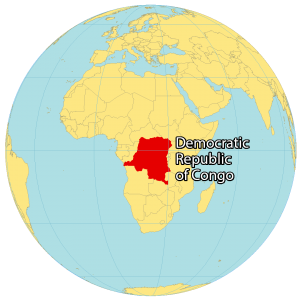 The Democratic Republic of Congo (DR Congo) is a country in Central Africa. Previously, DR Congo was known as Zaire until it changed in 1997. At 2,345,409 square kilometers (905,567 sq mi) in size, it's the second-largest in all of Africa (after Algeria) and is the 11th largest in the world.
Also, it's the 4th-most populous country in Africa (after Nigeria, Ethiopia, and Egypt) and the 15th-most populous country in the world. It borders 9 other countries including Congo, Central Africa Republic, South Sudan, Uganda, Rwanda, Burundi, Tanzania, Zambia, and Angola. Kinshasa is the capital and the largest city of the Democratic Republic of the Congo.

Democratic Republic of Congo in Google Maps
IMAGERY
Democratic Republic of Congo Satellite Map
The Democratic Republic of Congo is the most biologically diverse country in Africa. It's characterized by a mosaic of rivers, flowing through forests, savanna, swamp, and dense jungles. The country is bounded by the Congo and Ubangi River in the west and a series of lakes (Lake Tanganyika, Kivu, Edward, and Albert) to the east. Although deforestation is an environmental issue, DR Congo is still one of the most fertile places in the world, containing 10% of all animal species.
HILLSHADE
Democratic Republic of Congo Elevation Map
Overall, the landscape of the Democratic Republic of Congo consists of the Congo Basin to the north, which is the second-largest rainforest in the world, after the Amazon Rainforest. In the northern region of DR Congo, this area receives the most rainfall in all of Africa. Next, the Kivu Region is recognized for two of the most active volcanoes in Africa, Mount Nyiragongo, and Mount Nyamuragira. Other than these two volcanoes, it's also home to Mount Stanley (Mont Ngaliema). At 5,109 m (16,763 ft), it is the highest mountain in the Democratic Republic of the Congo and the third highest in Africa. Furthermore, this mountain is part of the Rwenzori Mountains National Park, which is a UNESCO World Heritage Site.
World Atlas
Visit our world atlas and explore all the continents and countries of the world. Get a blueprint of the world with political, satellite, and topographic maps.