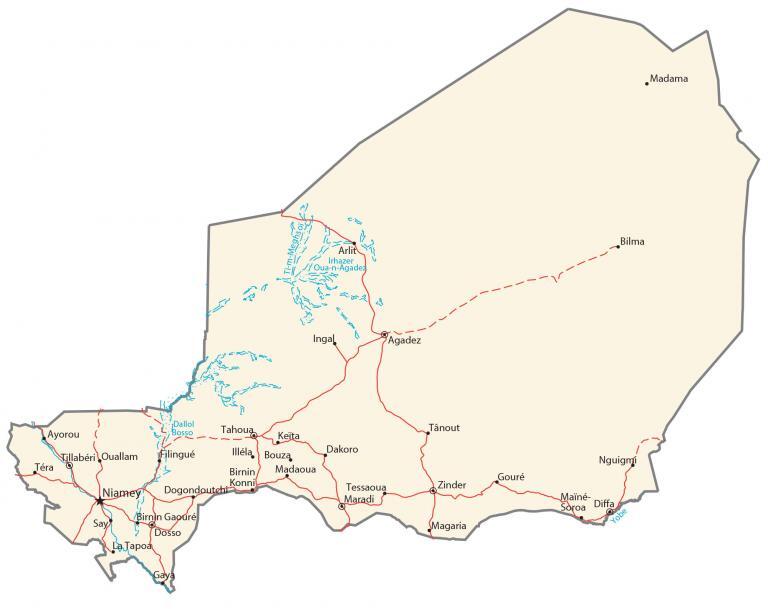 Download
This map of Niger contains major cities, towns, highways, roads, lakes, and rivers. An elevation map and satellite imagery display the Sahara Desert which covers most of the country.
You are free to use our Niger map for educational and commercial uses. Attribution is required. How to attribute?
About the map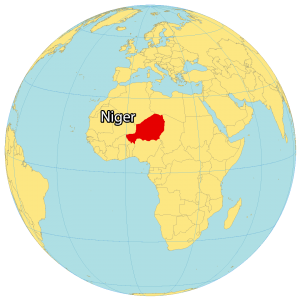 Niger is a landlocked country located in Western Africa. It's nicknamed the "Frying Pan of the World" because it's one of the hottest countries with average temperatures from 17°C to 41°C.
It's not only its extreme heat, but it's because the Sahara Desert covers 80% of its land. Niger lies between 12°N to 23°N above the equator so its climate is dry and hot.
According to the United Nations, it's also one of the least developed in the whole world. Niamey is the capital and largest city of Niger. Other major cities in Niger are Zinder, Maradi, and Agadez.

Niger in Google Maps
IMAGERY
Niger Satellite Map
Niger occupies an area of almost 1,267,000 km2 (489,000 sq mi). This makes it one of the largest countries in West Africa and the sixth-largest in all of Africa. But it's still smaller than Chad, Libya, and Sudan.
Niger borders 7 other countries including Libya to the northeast, Chad to the east, Nigeria to the south, Benin and Burkina Faso to the southwest, Mali to the west, and Algeria to the northwest. Other than Lake Chad and Elki Guernama, Niger doesn't have a lot of lakes. Niger River is a major river, which is the third-longest river in Africa.
PHYSICAL
Niger Physical Map
Niger consists of mostly desert terrain and sand dunes. More than 80% of its land is part of the Sahara Desert and Tenere Desert. Its only major mountain range is the Aïr Mountains in north-central Niger. At 2,022 meters (6,634 ft), Mont Idoukal-n-Taghès (Mont Bagzane) within the Aïr Mountains is the highest peak in Niger. Whereas its lowest point is the Niger River at about 200 meters above sea level.