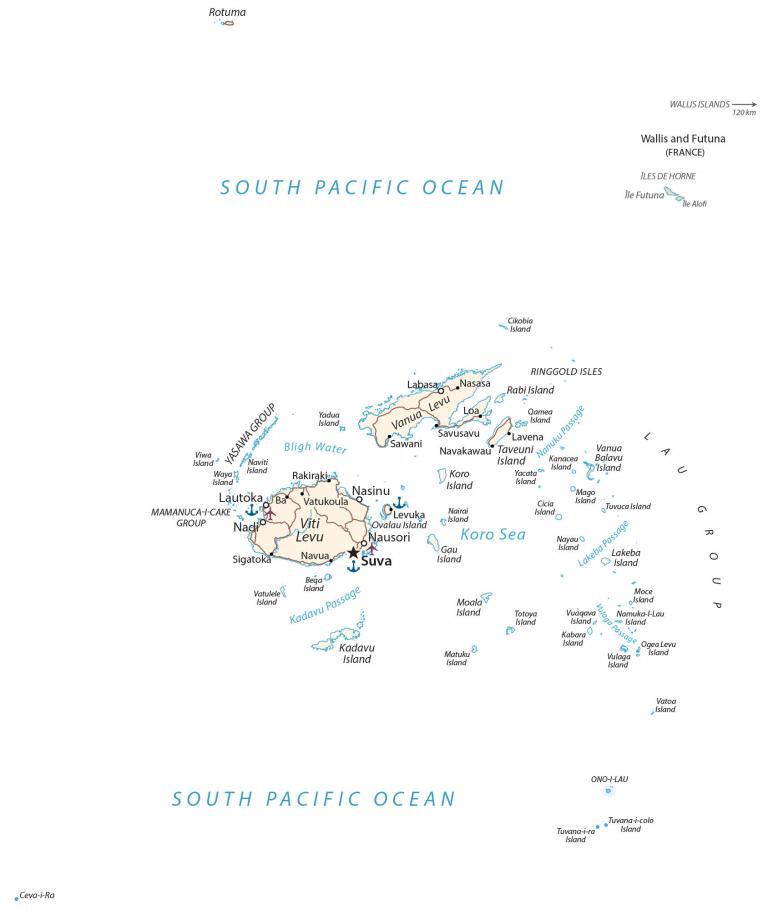 Download
This map of the Fiji Islands displays its islands, major cities, towns, roads, rivers, lakes, and provinces. Also, satellite imagery and a physical map of Fiji show its parks and terrain.
Fiji Islands map collection
You are free to use our Fiji Islands map for educational and commercial uses. Attribution is required. How to attribute?
About the map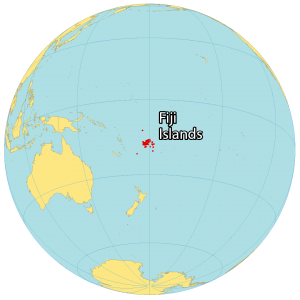 Fiji is a group of 332 islands in Oceania in the South Pacific Ocean. Just over 100 islands are inhabited but most are without people. 87% of the population lives on the two major islands of Viti Levu and Vanua Levu. This archipelago is situated southeast of Papua New Guinea, north of New Zealand, and east of Australia.
The islands of Hawaii are just 5,100 km (3,200 mi) away from the Fiji Islands. Suva is the capital and largest city of Fiji. The international date line runs through Fiji at the 180° meridian but it's bent for a consistent time throughout the country.
The geography of the Fiji Islands is diverse, with white sand beaches, coral reefs, rainforests, mountains, and rivers. The island of Viti Levu is the largest and most populous island in Fiji, as well as the site of the capital city, Suva. Viti Levu is home to some of the most popular tourist destinations in Fiji, including the Mamanuca Islands and the Yasawa Islands.

Fiji Islands in Google Maps
SATELLITE IMAGERY
Fiji Islands Satellite Map
Altogether, Fiji occupies an area of 18,274 square kilometers (7,056 sq mi), which is a bit larger than the Bahamas. Thick tropical forests cover most of Fiji. Other than its two main islands, Taveuni and Kadavu are the third and fourth largest islands.
Next, the Mamanuca and Yasawa Group are popular tourist islands. Finally, the Lomaiviti Group is a more remote group of islands. While the Koro Sea centers the two main islands, Bligh Water occupies the west. Also, Fiji is known for its heritage, national parks, and historical sites like the Fijian Tavuni Fortification.
PHYSICAL MAP
Fiji Islands Physical Map
The terrain of the islands that make up Fiji is mostly mountains. Most of them originated from volcanoes, which are dormant today. Its highest point is an extinct volcano, known as Mount Tomanivi (previously named Mount Victoria) reaching a height of 1,324 m (4,344 ft). Its other highest peaks include Mount Uluigalau, Taveuni, and Mount Buke Levu.
POLITICAL MAP
Fiji Islands Provincial Map
There are 14 provinces in Fiji including Ba, Bua, Cakaudrove, Kadavu, Lau, Lomaiviti, Macuata, Nadroga-Navosa, Naitasiri, Namosi, Ra, Rewa, Serua, and Tailevu. But provinces can be broken up further into smaller administrative units with the most basic one being the village.