5 Field Apps: Data Collection Tools for Mobile GIS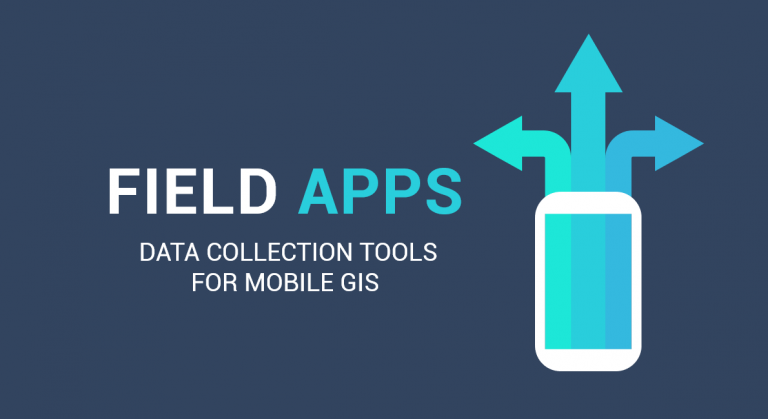 Data Collection Tools for Mobile GIS
These 5 field apps will provide you with the right data collection tools so you can capture survey information from your mobile device.
But depending on which project you are working on, each mobile field app can help you collect information on the ground in different ways.
Whether you need to set up fields like drop-downs or locate your GPS coordinates position, these field apps will help you get the job done right.
Today, let's take a look at these 5 field apps in more detail ideal for inspections, field surveys, and asset management.
1. Esri Collector and Survey 123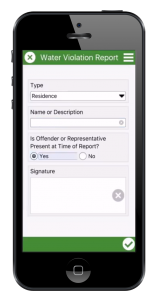 Esri Collector and Survey123 are designed by Esri and they both go hand-in-hand for data collection in the field.
Survey 123 is form-centric for simple data entry. It allows you to customize a pop-up display in the field with everything from drop-downs, geopoints, and even barcodes in your surveys.
Whereas Collector is the base service with online and offline maps for field use. Additionally, you can take photos, update features, and search for locations.
Once the survey is completed in the field, entries get synced and pushed to the cloud through ArcGIS Online. But it also works offline as a local file.
READ MORE: How To Use Esri Collector and Survey123 as Field Work Apps
2. QField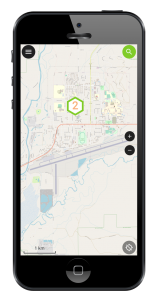 QField is an open source solution for mobile data collection field apps for Android. It's built by the QGIS team, which we rank as the second most popular GIS software today.
Although it's relatively new compared to the other field apps in this list, it's rich in features. For example, it enables you to set up forms, take photos, and view custom maps for field usage.
QField syncs with your QGIS project so you can take it out to the field. The QField Sync plugin analyzes your project and suggests any actions to make sure the project works with QField.
Once you finish data collection in the field, you can copy the data from your phone and overwrite the project. Any updates in the field including photographs will now become part of the project.
3. Mergin Maps: QGIS in your pocket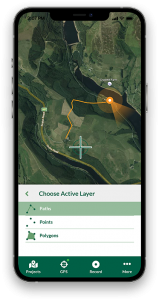 Mergin Maps is a free and open source app providing an intuitive way of doing fieldwork on your mobile or tablet. It has a streamlined user interface and claims to be usable by anyone for capturing field data even without training.
Collaborative working is straightforward when using its GIS data versioning platform. This integration means it's easy to sync data to/from devices without any need for cables.
Edits made in the field by different users are safely and automatically merged with one press.
Under its simple interface are some powerful features including support for capturing lines and areas, location overlaid on background maps, external GPS receivers, geotagged photos, and barcode scanning.
MerginMaps integrates very closely with QGIS with Input being able to open and edit QGIS projects. Similarly, data captured in MerginMaps can be opened in GIS. It also works offline and is available for Android and iOS.
4. Fulcrum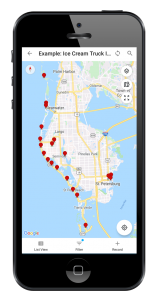 Fulcrum is a slick option in our list of field apps. There are two components to it. First, the Fulcrum app is available to download on your mobile phone and use out in the field.
Secondly, the Fulcrum dashboard oversees all activities in the field. Additionally, you get options to search, filter, edit, import, and export all through the dashboard as well.
Fulcrum has Google Maps built-in with over 100 million addresses and places of interest. Because Google Maps powers Fulcrum, you have the most up-to-date geolocation provider right at your fingertips.
One of the advantages of Fulcrum is that it's very intuitive with editing capabilities. Although Fulcrum has a free trial available, the pricing ranges from $25 to $50 dollars per month for each user.
READ MORE: Fulcrum App: Is It the #1 Field Collection App?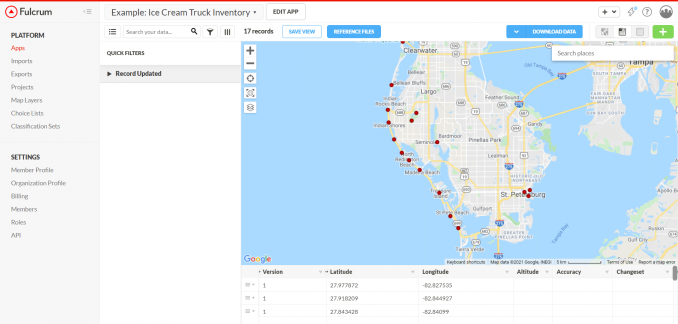 5. GIS Cloud
The GIS Cloud Mobile Data Collection App has a very competitive pricing service, and you pay according to how you want to use it. Its mobile data collection plan costs just 20$ per month for one user- there are other options in the price range such as a 55$ map editor.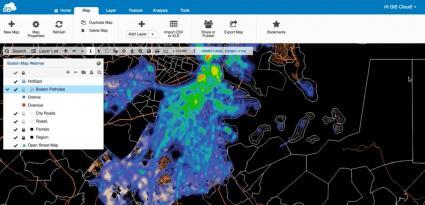 One of the best features is that it gives you the capability to either work online or offline. This is great for remote areas where you don't have as great of a network connection.
GIS Cloud offers a quick, easy, and scalable solution for data collection in the field. Additionally, you can collect various different types of features, either point, line, or polygon.
Data Collection Tools for the Field
There is a range of data collection tools for the field with GPS and basic GIS functionality.
If you're looking for a true open source tool for field collection, we suggest trying out QField for Android, which has been gaining popularity. Otherwise, Esri Collector/Survey123 and Fulcrum are both powerful data collection tools but have costs.
What are some of your most effective field apps when you're working in the field?
Please fill out the comment form below and let us know what some of your data collection tools are.