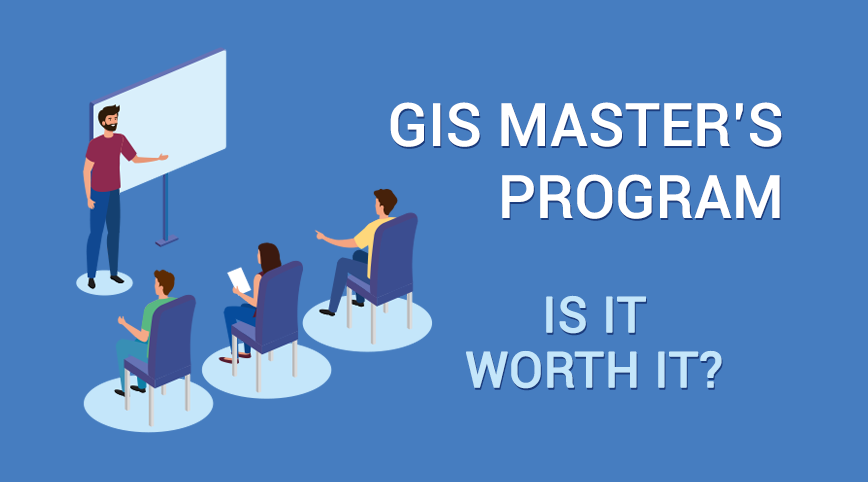 Is a GIS Master's Degree Worth It?
Are you thinking about enrolling in a GIS Master's degree program?
But the problem is: You don't know if it's the right path to go forward.
If this sounds like you, then you've come to the right place.
Today, we weigh the pros and cons of graduating with a GIS Masters's degree.
Advantages of a GIS Master's Degree
Where do you see yourself in the next couple of years? This is the first question you have to ask yourself.
If you look into the future, here are some of the possible advantages after you graduate with a Master's Degree in GIS:
For employers that require scientific legitimacy, GIS masters programs job candidates often stand out a bit better, due to their higher education background.
A Master's Degree in GIS would be greatly beneficial in the private sector because a consulting company can bill you out at a higher hourly rate to clients.
If you want to manage or lead a team in a department, Master's degree programs often dabble with financial, administration, and project management.
If all things are equal (experience, skills, etc) in a job competition, a GIS Master's degree can help better secure a job.
When you want to advance in your career, a Master's degree can help you change directions in your career. Not only can you advance your career, but ultimately you earn higher pay.
But what about basic GIS certification? How does this compare to a Master's degree in GIS?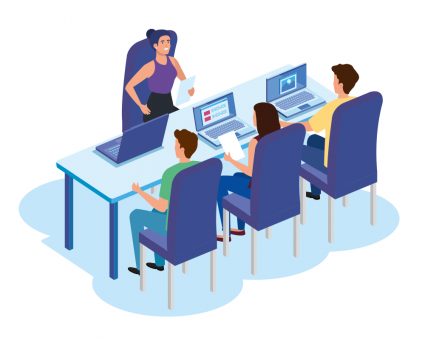 Advantages of GIS Certification
If you picture yourself being just a user of GIS software, this is a good indication that GIS certification is best suited for you.
For example, GIS certification is suitable for those seeking careers as a GIS analyst, specialist, and technician. For some folks, these jobs can be just as satisfying career paths.
Here are some advantages of GIS certification:
GIS certification focuses on practical skill sets and knowledge, so you get a strong foothold in fundamental skills like cartography, analysis, and coding.
Because GIS is industry specific, any Master's program won't be able to cover every potential pathway. In the end, it will mostly be all on-the-job training.
Nowadays, it's rare to see any type of GIS certification as a requirement in a job description. Despite the lack of need for it, it still can push you ahead of others when applying for a crowded GIS job.
GIS certification requires less time and money than a GIS Master's degree. It's the time, experience, and networking that provide real value in your GIS career.
Classroom vs Online Master's Programs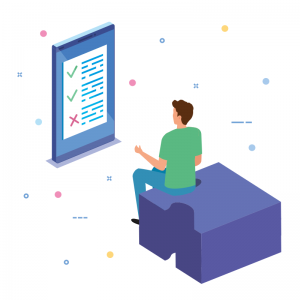 The other argument is that you can learn on your own without certification or a degree. It's surprising how much you can learn using the Esri $100/year for personal use license and a bit of Esri training.
While this sounds good on paper, it's not a reality when you put it into practice. In a rapidly changing field, it's the Master's programs that know where GIS is going. For example, look for programs with:
Web development, GIS programming, and enterprise systems. Because the reality is that the usage of some of these programs can have high costs associated with them too.
When you're searching for a GIS Master's program, keep an eye out for ArcGIS for Server, AGOL, JavaScript API, and emerging technologies.
If you want to pursue any type of higher education, do your research and look into the requirements for GIS jobs. Does your dream career really require you to get an MGIS? If yes, by all means, go for it.
If not, GIS certification programs like GISP challenges you for experience, education, and contribution requirements. But Esri's certification is more knowledge-focused and tests your skills in Esri software.
There are community colleges that offer GIS programs that help put you in the workplace after you graduate. For some jobs, this experience is what really matters most.
READ MORE: 10 GIS Career Tips to Help Find a GIS Job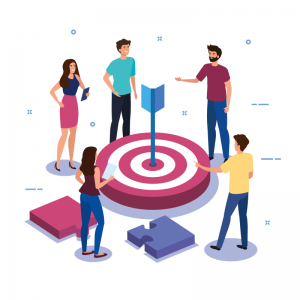 What's Next?
Most people will tell you it's not worth it and you can learn all the skills you need on your own time.
Even though this is a valid argument, it also depends on your level of commitment and timeline in life.
In fact, more people who graduate with a Master's in GIS would recommend getting one than not.
The alternative is to bridge your GIS skills into the rapidly expanding fields of data engineering, data visualization, or data scientist fields.
So what's driving you toward a Master's degree in GIS? And do you think it will provide value to your career goals? Please let us know with a comment below.
READ MORE: Making the Grade with a GIS Online Certificate Program