What Exactly Is a GIS Specialist?
A GIS specialist is well-rounded in all areas of GIS. In particular, they specialize in analysis, cartography, and data management.
There's an expectation that each GIS specialist is multi-disciplinary. For example, they can automate with ModelBuilder or by building Python scripts. And they can handle almost any task thrown at them.
Often the case, GIS specialists have the same roles and responsibilities as GIS analysts. But the only difference is just the job title.
Today, let's explore the career of a GIS specialist. And are they really that special?
GIS Specialist Job Description
If you look at the GIS specialist job description, it has some common themes. For example, most GIS specialist jobs include the following skill sets:
How much do GIS specialists make?
The geographical information systems (GIS) mapping field is growing by leaps and bounds, and opportunities for GIS specialists are increasing for those who get the education and training to take advantage of these opportunities.
The salaries for GIS specialists vary dramatically depending on the level of experience, location, and the type of industry the employee is working in.
But GIS specialists can command a sizeable income with an average salary of approximately $64,000. This puts them in the mid-range tier for earning potential.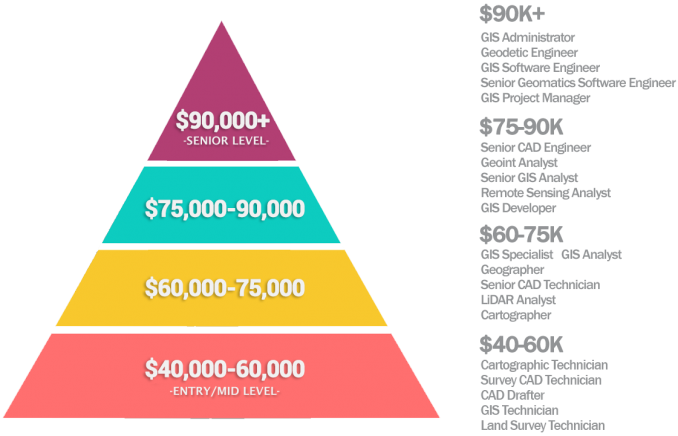 Are GIS specialists in demand?
The graph below displays the number of GIS jobs available by year.
If you look at them as separate jobs, GIS technicians, analysts, and specialists have the lowest demand. Unfortunately, these positions have a high number of applicants too.
But GIS technicians, specialists, and analysts have overlap in their job descriptions too. If you add up their job postings, their job demand would be similar to GIS managers and developers.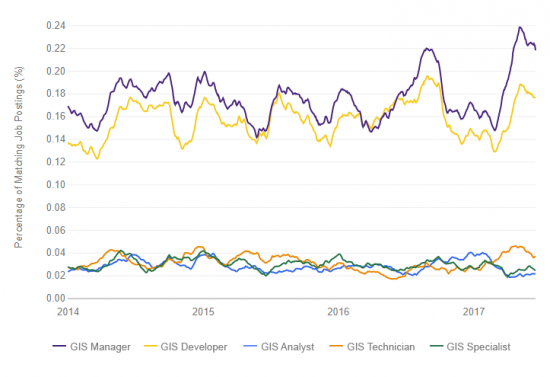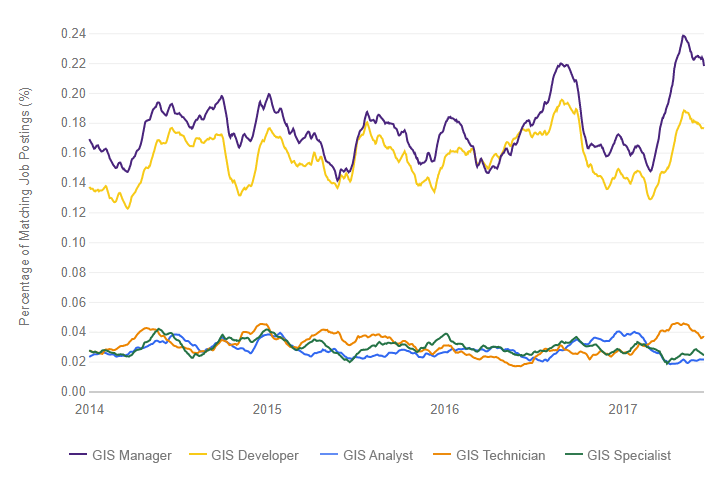 Quality of Life and Average Salary
According to PayScale, the average salary for GIS specialists is $56,000 in the United States.
Even though all situations are different, Payscale gives a fairly decent quality of life rating for GIS analysts at 3.8/5:
Personal satisfaction: C
Benefit to society: B
Flexibility: B
Low stress: A
Stress ranks the best. Then, flexibility and benefits to society also rank fairly well. But personal satisfaction ranks the lowest. If you think about it, it's true in some cases. For example, editing data and writing metadata can be a drag on your career.
Summary: What Is a GIS Specialist?
In summary, GIS specialists are similar to GIS analysts. But GIS specialists have a bit more experience and are well-rounded in most areas of GIS.
For example, GIS specialists have a high level of skill in data analysis, mapping, and databases. Additionally, they should have a background in scripting.
Although personal satisfaction rates are low, they are fairly high in demand and have a decent quality of work-life balance. Keep in mind every situation is different, no matter which country you live in.
Are you interested in becoming a GIS specialist? Or are you a GIS specialist already? Please let us know your thoughts on this exciting position in the field of GIS.
If you're looking to bridge from a GIS specialist into a data science type of role, then check out our 10 best data science courses and certification.