GIS Technician Careers: Where Data Meets Maps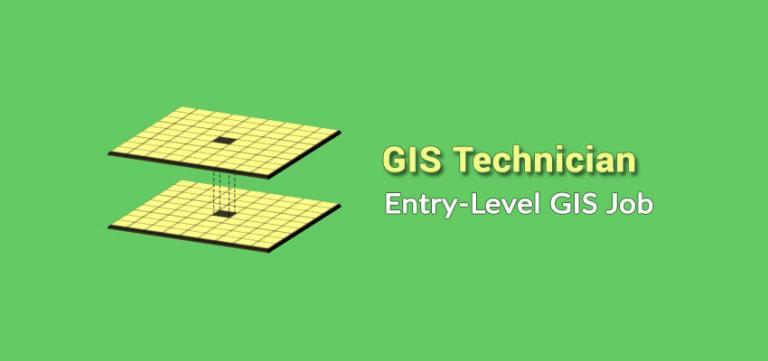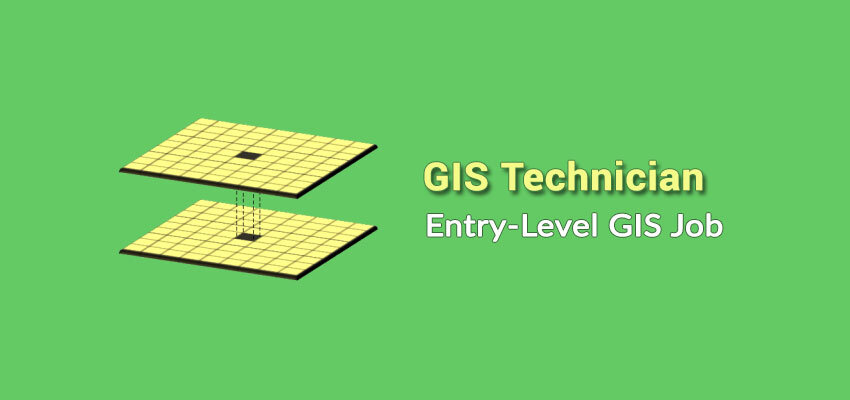 GIS Technician Job Skills, Salary, and Description
Are you thinking about becoming a GIS technician? Strangely, GIS technician jobs are associated with a lot of "grunt work" (for lack of a better word). For example, GIS technician jobs seem to indicate a lot of digitization, collecting data, creating simple maps, and maintaining GIS data.
Despite the bland characteristics of duties, GIS technicians are fairly satisfied with their jobs. This is because they are constantly challenged by advances in GIS technology.
This means they can grow into disciplines such as cartography, database management, programming, machine learning, and spatial analysis.
If you just want to learn more about becoming a GIS technician, keep on reading to find out how much you can earn and the skills you need to land a job.
How much do GIS technicians make in salary?
GIS technician salary is dependent on location. Especially, comparing rural and urban areas, the typical GIS technician's salary can range tens of thousands of dollars.
In this geography salary infographic, we list the average salary in the United States on an annual basis.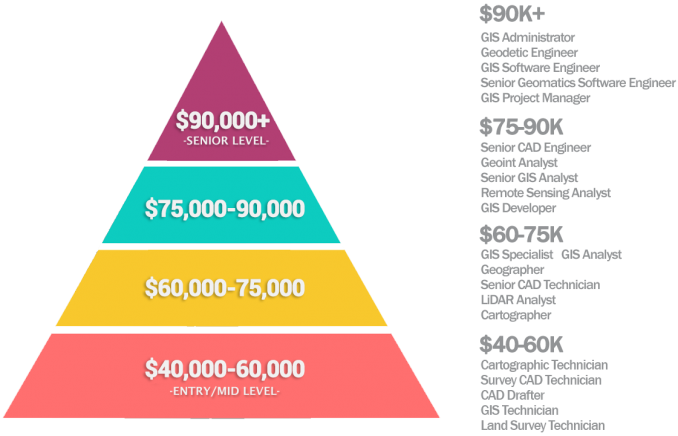 But how much money do GIS technicians make around the globe? We've produced a world map depicting how much GIS technicians make in different currencies.
Scroll to the bottom of this article to see those amounts.
READ MORE: GIS Salary Expectations: Climb the GIS Career Ladder
GIS Technician Job Skills, Salary, and Description
According to Indeed job trends, GIS technicians are less in demand than GIS developers and managers. Often the case, GIS technicians are similar to GIS analysts and specialists with just a different job title. This means you can sum each percent for each role on the line graph below.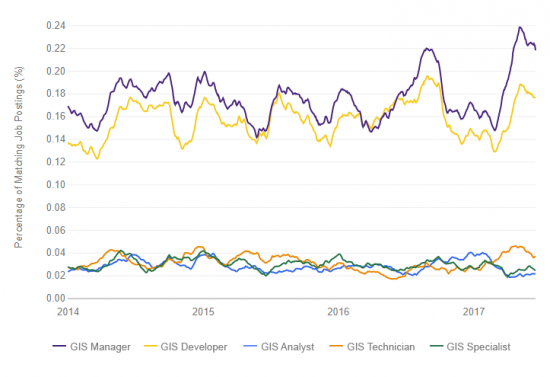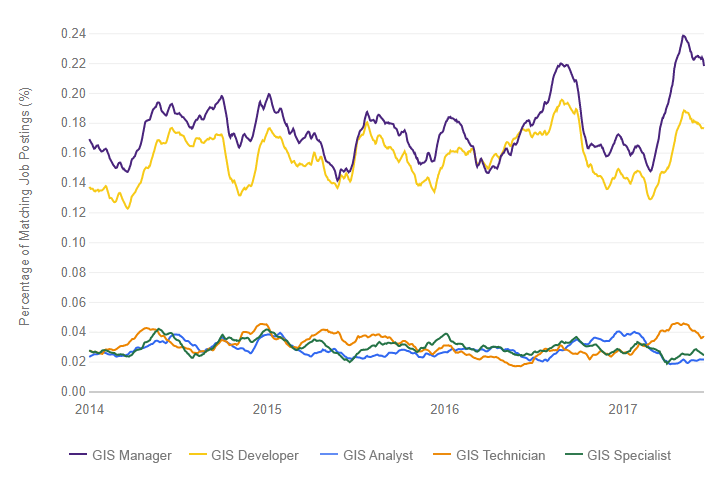 These positions are typically more for entry-level employees because they don't require advanced programming. Albeit, learning Python will put you ahead of the competition.
Other than GIS programming, what types of skills do you need to become a GIS technician? And what is the average GIS technician's salary?
What Do GIS Technicians Do?
If you're graduating from school and entering university, you're probably wondering what a typical day is like for a GIS technician.
Really, it could range quite a bit. While Geographic Information Systems continues to expand, companies hire GIS technicians to manage their geographic data.
Some GIS technicians continuously digitize (essentially draw on the computer) week-over-week. But others will perform spatial analysis. It's an extremely diverse field to work in.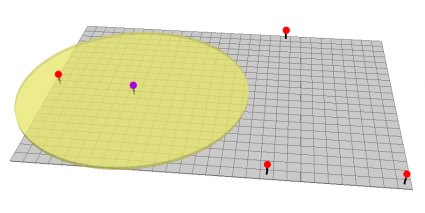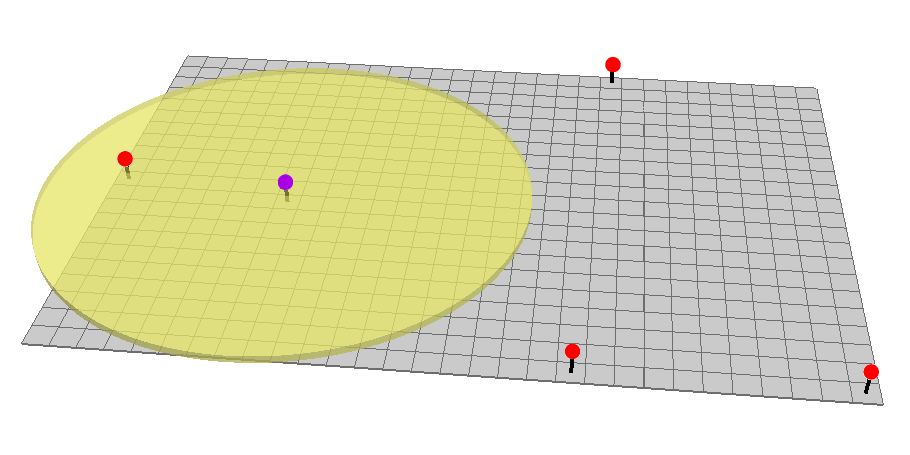 Your employer will decide the GIS software you'll use. Esri ArcGIS and open source QGIS are quite popular. You probably will make several maps that will be reviewed and critiqued.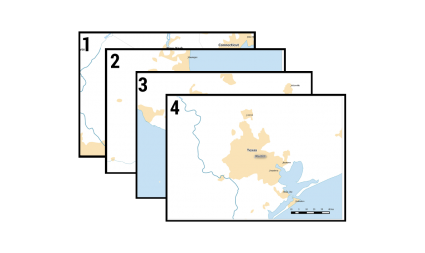 If you're going to produce maps, GIS technicians should learn map projections and cartographic principles.
Lastly, if your employer has crews that collect data in the field, you will likely be the person to set up their GPS. It's good to have knowledge of how a GPS works.
GIS Technician job satisfaction
They are fairly satisfied with their line of work. But it depends entirely on what tasks you are assigned as a GIS technician. Even though all situations are different, Payscale gives a fairly decent quality of life rating for GIS analysts at 3.8/5:
Personal satisfaction: C
Benefit to society: B
Flexibility: B
Low stress: A
There are always new and innovative technologies paving their way into GIS. Because of the youth of GIS as a discipline, the exciting new developments in GIS are exciting.
As a GIS technician, you can feel there is not enough career growth. Unless you move into a project management role, there aren't a lot of other opportunities to pursue.
Another complaint is the relatively low pay compared with IT. Because GIS technicians have to learn new technology, wages don't keep up with learning these skills.
GIS Technician Job Duties
What are some of the daily tasks of a GIS technician? Here are some of the typical job duties for GIS technicians.
CARTOGRAPHY is the study of creating maps. The origin comes from charta – "tablet or leaf of paper" and graph – "to draw". (GIS, cartography, information management, softcopy mapping, map design, quality control/assurance)
DATABASE MANAGEMENT stores and extracts information from structured sets of geographic data. (Database development, data management, database administration, data management services, asset management consulting)
SPATIAL ANALYSIS uses techniques to manipulate, extract, locate and analyze geographic data. Spatial analysis examples include buffering, clipping, and exploring the relationships between map features. (GIS analysis, GIS modeling, data integration & conversion, data analysis, geocoding, geomatics)
Complimentary GIS Technician Job Duties
Here are some of the complimentary GIS technician job duties.
PROGRAMMING involves writing code and automating redundant GIS processes. Typical programming languages in GIS are Python, SQL, C++, Visual Basic, and Java. (GIS programming, web development & design, software application development)
REMOTE SENSING involves satellite or aerial imagery to map the Earth. It is the study of attaining data without physically being there. (Remote sensing analysis, satellite/air photo interpretation, global positioning systems (GPS), soil classification)
SURVEYING measures the physical and geometric characteristics of Earth. Surveyors accurately measure three-dimensional points on the land. (Data collection, topographic surveys, CAD 2D/3D)
BUSINESS DEVELOPMENT involves project management, technical writing & editing, business management, and data science.
Example GIS Technician Tasks
GIS technicians play a crucial role in managing and analyzing geospatial data. To excel in this role, they need a combination of technical, analytical, and communication skills. Here are the key skills that GIS technicians typically require:
Assist with the development and maintenance of GIS data resources to be utilized for public access to geographic data.
Gather, create, maintain, display, and update GIS databases.
Assist with the data gathering, compilation, GPS, mapping, and data analysis.
Produce accurate maps and other representations of data for public use and field work activity
Go out in the field to visually locate items to resolve conflicting information and ensure the accuracy of data.
Record and document details of map updates, additions, and/or deletions.
Below is our salary map for GIS technicians around the world. You'll see the currency amount based on the salary of that country.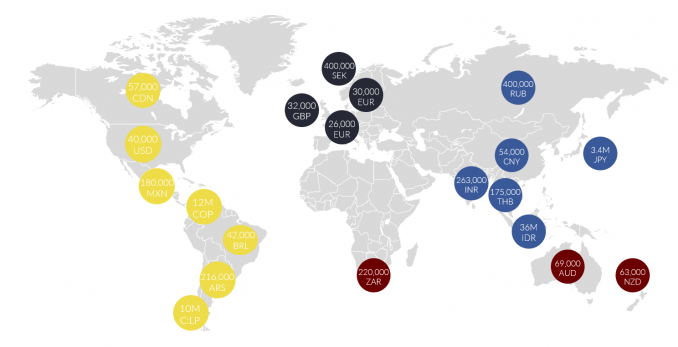 Accompanying Software
Esri ArcGIS 10 Pro with extensions Network Analyst, 3D Analyst, Spatial Analyst, and ArcGIS Online.
Non-Esri software includes AutoDesk AutoCAD, QGIS, GRASS, and PCI.