GRASS GIS – Geographic Resources Analysis Support System
GRASS GIS (Geographic Resources Analysis Support System) is one of the oldest public domain GIS software in existence. It's more than 30 years old. The US Army Corps of Engineers developed it as a tool for land management and environmental planning.
Now, academics, government agencies (NASA, NOAA, USDA, and USGS), and GIS practitioners use this open source software because its code can be inspected and tailored to their needs. But what about the everyday GIS user? Now, let's take a look at what you can do with it.
Pros/Cons of GRASS GIS
Here are some of the advantages and disadvantages of using GRASS GIS compared to other GIS software applications.
GRASS GIS Ratings
Ranked #10 from 30 GIS Software
Deploy projects with difficulty
Traditionally, users have all their data stored all over the place… their local drives, network drives, and external ports.
While ArcGIS and QGIS will project your data on the fly, GRASS GIS insists that data in different projections be placed into separate folder locations.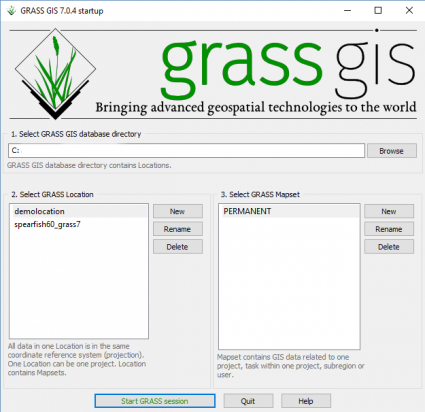 "All data in one location is in the same coordinate reference system (projection). One Location can be one project. The location contains Mapsets."
For quality reasons, GRASS GIS handles one projection per folder location. This is mostly because a lot of users out there tend to ignore their coordinate systems and simply assume their data lines up.
Case in point, you will have to be more cautious with your data's coordinate system in a GRASS Workspace File (*.gxw).
All the firepower you need with sophisticated tools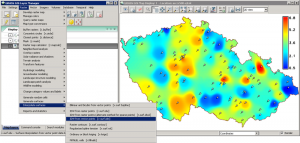 Here's the good news: GRASS GIS is loaded with 99% of the analysis tools you need in everyday life.
Without a doubt, this software has some serious firepower with over 400 raster and vector manipulation tools.
It has so much in its arsenal that QGIS and uDig have adopted it as a base analysis set of tools of their own.
Raster, vector, imagery, 3D raster, and temporal tools are at your disposal. Some of my stand-outs included the satellite imagery tools (atmospheric correction, DN conversion, and vegetation indices).
Also notable are the modeling tools for groundwater, wildfire, hydrology, and landscape patch analysis.
Does GRASS GIS have sophisticated analysis tools for almost any type of analysis? You bet it does.
…And a ridiculous amount of options to tweak.
A bit of a cartography nightmare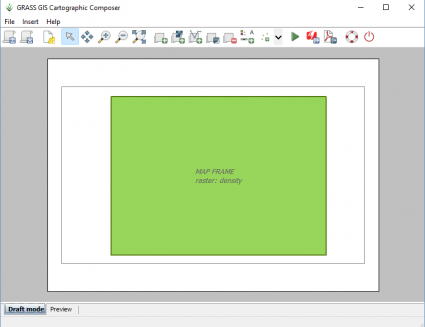 Now, here's the bad news: GRASS GIS is probably not suited for 99% of the mapping you need in everyday life.
The GRASS GIS Cartographic Composer is meant to interactively design and generate hard copy maps.
Start by creating a map frame. From there, you can add your raster or vector data. Add map elements like a legend, map info, scale bar, text, image, or north arrow. Finally, export your map as a PDF or PostScript output.
But all isn't so smooth with GRASS GIS Cartographic Composer:
The preview didn't work. But when you export a PDF – it actually worked.
Selecting a different map arrow gave me the 'unable to read file' error.
The map frame is rigidly controlled to that aspect once created.
A cartography nightmare is a bit of an exaggeration. But I can tell you that cartographers are not dreaming of working with GRASS GIS for their masterpiece.
Other exceptional standouts
The 3D capabilities are surprisingly impressive. It's integrated within the map display and all you have to do is select the 3D dropdown. Choose the lighting, perspective, tilt… It's really quite good.
GRASS GIS can also set up vector networks with some topology maintenance. The network analysis tool includes the shortest path, moving salesman, maximum flow, and center allocation.
Data interoperability is decent. Multiple data input formats are available, including MySQL, .DBF, Post GIS, and SQLite. You can't compare it to Feature Manipulation Engine (FME). Using the Common Import Formats OGR can be used for reading, writing and transforming vector data. However, it didn't accept my LAS file
Lastly, the documentation is superb. The GRASS manual details the use of modules distributed with Geographic Resources Analysis Support System (GRASS).
Expect the unexpected for user interface
Some of the things you'd expect that are in standard GIS software, just aren't there. The initial settings and user interface:
Right-clicking a layer in the table of contents to zoom to feature does not exist
A toolbox that separates the tools for organization is hidden in the 'Search Modules' tab
You have a command line window running in the background the whole time the program is open
GRASS GIS is set up differently than other GIS software.
While I hesitate to deem it a non-user-friendly application, some people have become accustomed to all its quirks.
The original user interface of GRASS was in the command line only. It's come a long way to provide a GUI to the public – especially in the last decade or so.
… But if you're coming from the world of ArcGIS or QGIS, this won't be something you can just pick up at the drop of a hat.
GIS Geography's Take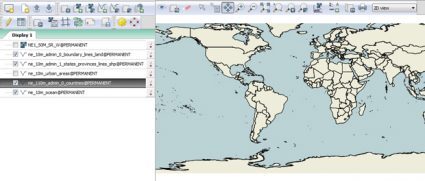 It is remarkable how much the program has advanced over the years. For example, academic circles love GRASS GIS for its scientific tools, extensive documentation, and its proven track record.
The brilliant engineers at the US Army Corps of Engineers designed a ridiculous powerful set of open source scientific tools. It's sleek. It's an all-American style of GIS.
While out on their lunch break, someone snuck in and programmed in a clunky GUI, odd coordinate folder system, and error-prone cartographic composer so you won't be able to craft the maps you want to.
With that said, it's a free and open source program. And you certainly can get the job done. It just takes practice to master. Don't forget that you can leverage GRASS GIS in QGIS and uDig too.
What are your thoughts? Let the adventure begin with GRASS GIS?