Map of Guyana – Roads and Cities
This map of Guyana displays cities, towns, highways, and rivers. A map with satellite imagery shows the large swaths of forest that cover most of the country. An elevation map features everything from its mountains to its interior savanna.
You are free to use our Guyana map for educational and commercial uses. Attribution is required. How to attribute?
About the map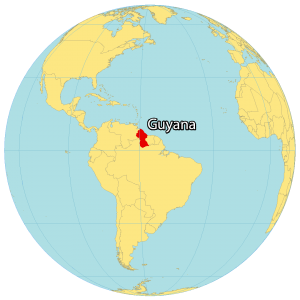 Guyana is located on the northeast coast of South America. It's known for its dense rainforests and is the only English-speaking country in South America.
It shares cultural similarities with the Caribbean region but also has an influence from its British colonial architecture. It borders 3 other countries, including Venezuela to the west, Suriname to the east, and Brazil to the south.
A large portion of the country is disputed. For instance, the Courantyne Headwaters is a disputed area with Suriname. Whereas Venezuela claims the West of the Essequibo River. Guyana's population is close to 750,000 people with the largest population in the capital city of Georgetown.

Guyana in Google Maps
IMAGERY
Guyana Satellite Map
Guyana is 214,970 square kilometers (83,000 sq mi) in area, making it the third-smallest country in mainland South America. Only Uruguay and Suriname are smaller in area than Guyana. The climate is tropical because it's situated close to the equator with heavy periods of heavy rainfall.
Forests cover over 87% of South America making it one of the most heavily forested in South America and the world. Because it's part of the Guiana Shield, a 1.7 billion years old formation, it's a prominent area for rainforests and significant rainfall.
Another key region is the Rupununi Savannah in south-central, known for its tropical and subtropical grasslands and shrubland. Essequibo, Courantyne, and Cuyuni River are the longest rivers in Guyana.
HILLSHADE
Guyana Elevation Map
Guyana consists of four main geographic regions. First, the interior savanna makes up the Rupununi Savannah. Secondly, the low coastal plain is situated along the North Atlantic Ocean. Thirdly, there are pockets of hilly sand and clay areas throughout Guyana. Finally, the highland region includes three major mountain chains.
The Pakaraima Mountains to the west along the Venezuela and Brazil borders. Next, the Kanuka Mountains are a smaller chain in the south-central area. Finally, the Kamoa and Acarai Mountains straddle their southern border with Brazil.  At 2,772 meters (9,094 ft), Mount Roraima is the highest peak in Guyana.