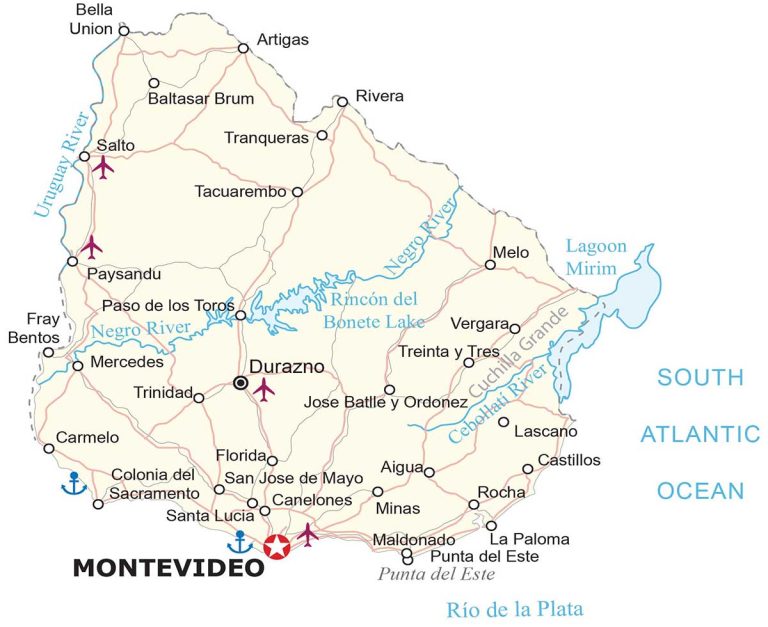 Download
Uruguay is a country in South America along the Atlantic Ocean. This Uruguay map collection shows cities, towns, highways, roads, lakes, and rivers with satellite imagery and an elevation map.
You are free to use our Uruguay map for educational and commercial uses. Attribution is required. How to attribute?
About the map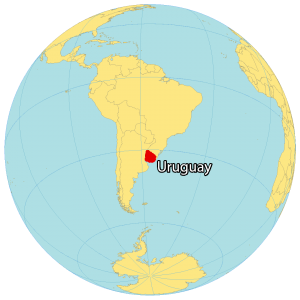 Uruguay is located in the southern hemisphere of South America between Argentina to the west and Brazil to the north. It's situated along the Atlantic Ocean to the east, next to the Rio de la Plata in the south.
The country is known for ranching, beaches, tango, soccer, beef, and high standards of living. Montevideo is the capital and the largest city of Uruguay, which is also the southernmost capital of South America. But other major cities include Salto, Paysandu, and Las Piedras.

Uruguay in Google Maps
IMAGERY
Uruguay Satellite Map
Uruguay is the second smallest country in South America (after Suriname), occupying an area of 176,215 square kilometers (68,037 sq mi). The Negro River flows west to east to the Atlantic Ocean, splitting Uruguay into two halves. At the center of Uruguay is its largest artificial lake, Rincon del Bonete Lake. Whereas the Uruguay River creates a border with Argentina to the west. Uruguay's Río de la Plata rocky coastline is formed by the confluence of the Uruguay River and the Paraná River. It lies between 30°S and 35°S so its climate is relatively mild and subtropical.
HILLSHADE
Uruguay Elevation Map
Uruguay is mostly flat throughout the country. While forests cover 10% of land area, 20% of the land area is for agriculture. For example, the Littoral region in the west of Uruguay is known for its crop production. Despite its low-lying terrain, there are still low hills and rolling plains dispersed in Uruguay. For instance, Cuchilla Grande is a hill range within the eastern region of Uruguay that stretches from north to south. Within this range, Cerro Catedral (Cathedral Hill) contains the highest peak at 514 meters (1,685 ft) in height.
ADMINISTRATION
Uruguay Departments Map
Departments are the first-level administrative units in Uruguay. Currently, there are 19 departments in Uruguay. Its largest department is Montevideo in the south-central part of the country. Municipalities are the second-level administrative units in Uruguay.
World Atlas
Visit our world atlas and explore all the continents and countries of the world. Get a blueprint of the world with political, satellite, and topographic maps.