Map of Ecuador – Cities and Roads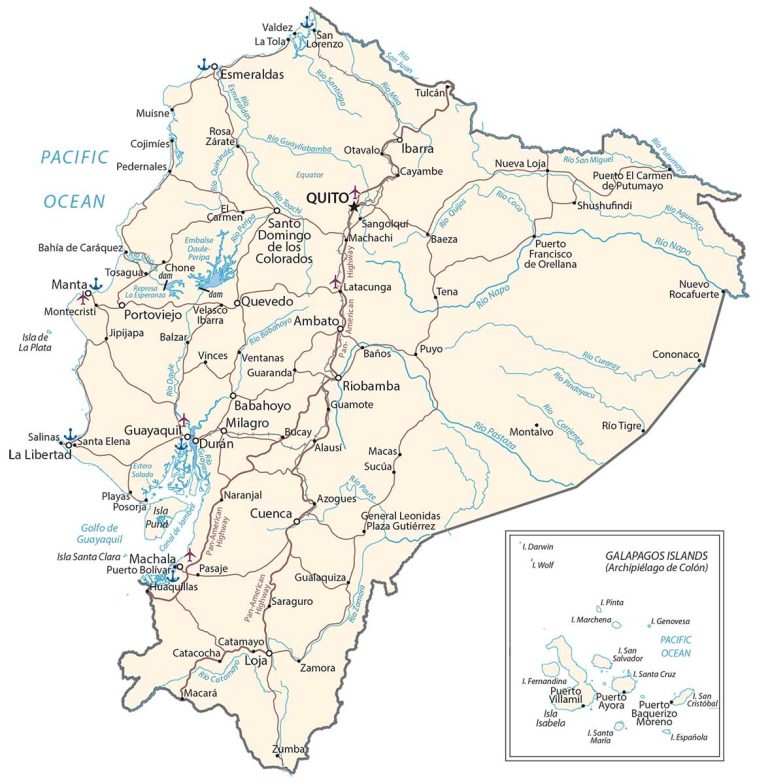 Download
Ecuador is a country that's named for being located on the equator! This map collection features a reference map, satellite imagery, and a physical map with cities, highways, islands, lakes, and rivers.
You are free to use our Ecuador map for educational and commercial uses. Attribution is required. How to attribute?
About the map
Ecuador is in western South America, along the Pacific Ocean with a coastline of 2,237 kilometers (1,380 mi). It straddles the equator which is the reason why its name is Ecuador. Ecuador borders just 2 other South American countries including Peru to the south and Colombia to the north.
About 950 kilometers (585 mi) off the west coast, Ecuador contains the Galapagos Islands. This group of volcanic islands is the location where Charles Darwin theorized the Theory of Evolution. Quito is the capital of Ecuador but Guayaquil is its largest city.
The geography of Ecuador is varied and includes a wide range of landscapes, from the Amazon Rainforest to the Andes mountains to the Pacific coast. The country is home to a variety of plant and animal species, as well as a number of indigenous peoples.

Ecuador in Google Maps
SATELLITE IMAGERY
Ecuador Satellite Map
Ecuador occupies a total area of 283,561 square kilometers (109,484 sq mi), which includes the Galápagos Islands in the Pacific Ocean. It's a mosaic of various landscapes such as the Amazon Jungle, the Andean Highlands, and its coastal lowlands.
According to the FAO, forests cover almost 50% of Ecuador such as in the Amazon Basin. The climate in Ecuador is tropical along the coasts because the country is situated right on the equator. But as you move into the mountainous regions, temperatures become much cooler.
PHYSICAL MAP
Ecuador Physical Map
The spines of the Andes Mountains split the country in a west and east divide. First, the Amazon Basin is situated to the east offering lush rainforests and exceptional biodiversity. Next, the broad coastal plains to the west are where most agriculture takes place all the way until it rises to the foothills of the Andes.
Because the Earth bulges at the equator, Ecuador's Mount Chimborazo is the farthest point above Earth's surface. But because we measure mountain peaks above sea level, Mount Everest in Nepal is still considered taller than Mount Chimborazo. Nevertheless, at 6,263.47 m (20,549.4 ft), this is the tallest peak in Ecuador.
POLITICAL MAP
Ecuador Provincial Map
There are 24 provinces in Ecuador. First, the La Sierra region contains 10 provinces including Azuay, Bolivar, Cañar, Carchi, Chimborazo, Cotopaxi, Imbabura, Loja, Pichincha, and Tungurahua. Secondly, the La Costa region consists of 7 provinces – El Oro, Esmeraldas, Guayas, Los Ríos, Manabí, Santa Elena, and Santo Domingo de los Tsáchilas.
Finally, the El Oriente region holds 6 provinces including Morona-Santiago, Napo, Orellana, Pastaza, Sucumbíos, and Zamora-Chinchipe. Lastly, the Galapagos Islands is its own province without being part of another region.