WhiteBox GAT – Geospatial Analysis Toolbox (Review)
Pros
Top notch hydrology, LiDAR and terrain tools
410+ plugins and geospatial tools
Fast speeds with parallel processing
WhiteBox scripter for Python and customized toolboxes
Extendable through ArcGIS, QGIS and WhiteBox Tools
Cons
Limited advanced cartography, labelling and symbolization options
Web mapping services and base map integration
No classical editing toolbar
Apps for the field or online publishing
Absence of catalog for data management
Inability to write and edit metadata
WhiteBox GAT – Geospatial Analysis Toolbox
Whitebox GAT (Geospatial Analysis Toolbox) is extremely underrated as a GIS software package.
Because it specializes in terrain analysis, you can do all sorts of neat stuff with it.
For example, it's especially good at LiDAR, image processing, and hydrological analysis.
But it's not a complete solution for mapping, editing, and data management.
We ranked it 5th best free GIS software. For all GIS software including proprietary, it's ranked #11 out of 30.
Terrain and Hydrology Analysis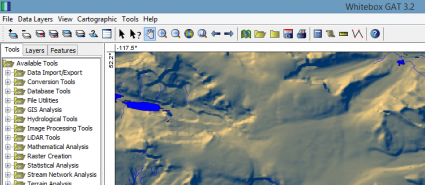 Ever since the kick-off of WhiteBox GAT, there's been a hydrology theme surrounding it. This is actually because it replaced Terrain Analysis System (TAS) in 2009.
Over the years, it's been fine-tuned for hydro-geomorphic applications. For example, you can do the following:
Model surface drainage patterns
Delineate watersheds
Analyze stream networks
Find aspect, hillside, slope and profiles
Measure wetness, visibility and ruggedness index
This just barely scratches the surface because the list of geospatial tools is still growing. In fact, WhiteBox GAT has 410+ plugins and tools to use in total.
LiDAR Tools
WhiteBox GAT shines in LIDAR! When you need inventive tools for editing and viewing LiDAR, it can be a life-saver. For example, here are some of the tools for LiDAR:
Convert LAS to shapefile
Erase polygons from LiDAR
Display lidar point clouds by elevation, intensity, class, scan angle or GPS time
Create LiDAR footprints from LAS
Interpolate LiDAR into DEM or DSM
Without barriers, Whitebox GAT has out-of-this-world LiDAR support. I find it amazing it goes relatively unheard of in the GIS industry.
Cartography and Mapping
Cartography is a weak point for WhiteBox GAT. It's not to say that you can't design professional-quality maps. But the mapping capabilities are primitive compared to QGIS.
Create inset maps within map layouts
Stylize maps with the most common cartographic elements
Symbolize rasters with a variety of color palettes
Hex binning for summarizing point data
All things considered, you can still design some impressive maps in this open source software. But you're a bit limited for symbolization, labeling, and annotations.
Summary: WhiteBox GAT – Geospatial Analysis Toolbox
We really enjoy WhiteBox GAT for its inventive collection of geospatial analysis tools.
It's been translated into 11 different languages. Also, there have been over 21,000 times downloads. But that was over 3 years ago.
The current release is version 1.0. I strongly recommend giving it a try.
It has a massive collection of geoprocessing tools to get the job done. But it's not the silver bullet for all things GIS