Physical Map of the United States
A physical map of the United States that features mountains, landforms, plateaus, lakes, rivers, major cities, and capitals. It also includes inset maps for Hawaii and Alaska.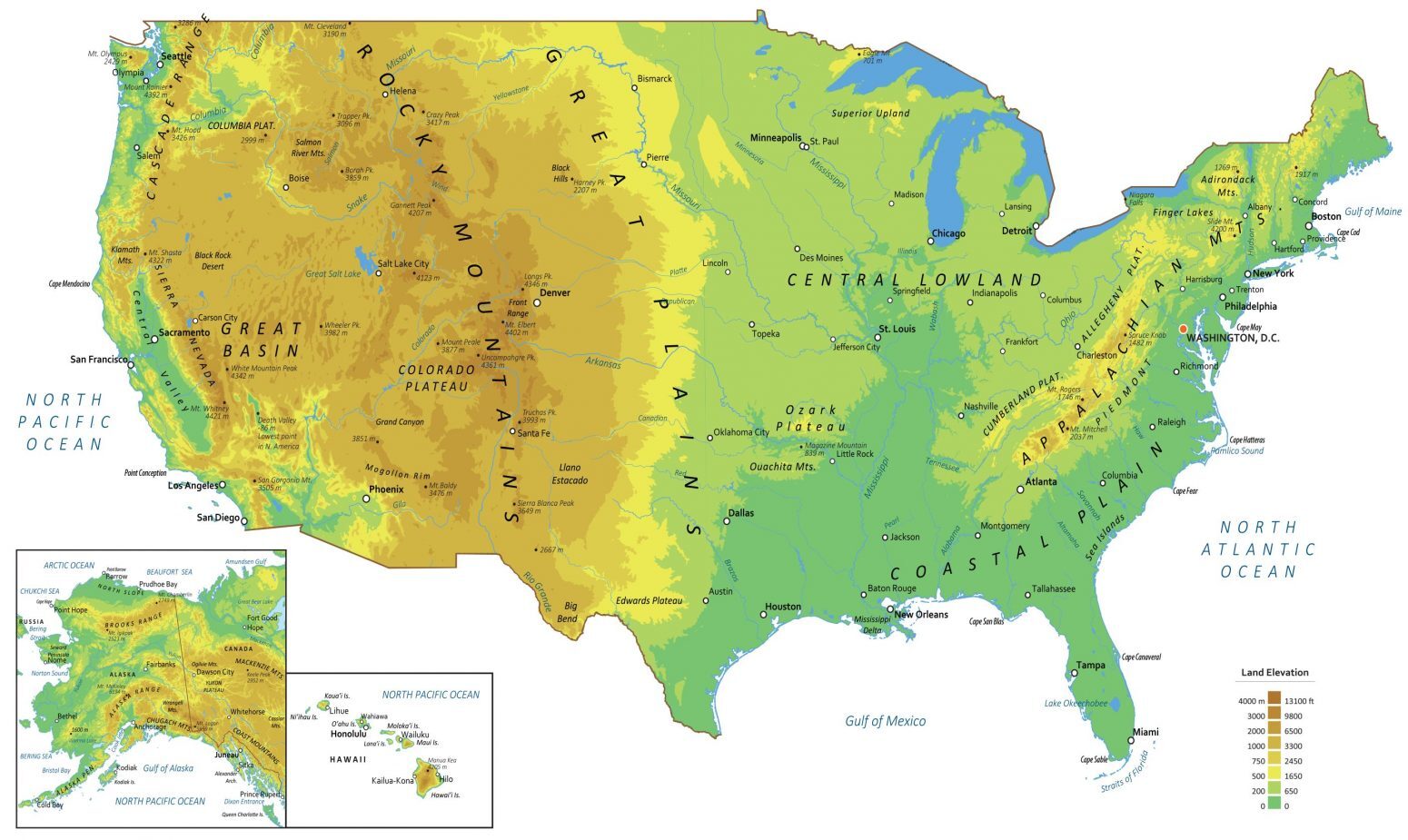 Major Physical Features
Mountain Chains
Rocky Mountains
Appalachian Mountains
Sierra Nevada
Cascade Range
Columbia Mountains
Klamath Mountains
Salmon River Mountains
Black Hills
Adirondack Mountains
Front Range
Ouachita Mountains
Peaks
Trapper Pk.
Borah Pk.
Crazy Pk.
Gannett Pk.
Harney Pk.
White Mountain Pk.
Wheeler Pk.
Uncompahgre Pk.
Longs Pk.
Spruce Knob
Sierra Blanca Pk.
Truchas Pk.
Landmarks
Big Bend
White Sands
Niagara Falls
Grand Canyon
Death Valley (The lowest point in N. America is -86 m)
Deserts
Sonoran Desert
Chihuahuan Desert
Black Rock Desert
Mountains
Mt. Rainier
Mt. Olympus
Mt. Cleveland
Eagle Mt.
Mt. Hood
Mt. Shasta
Slide Mt.
Mt. Katahdin
Mt. Whitney
Mt. Peale
Mt. Elbert
Mt. Rogers
San Gorgonio Mt.
Mt. Baldy
Magazine Mt.
Mt. Mitchell
Plateaus
Columbia Plateau
Colorado Plateau
Ozark Plateau
Edwards Plateau
Cumberland Plateau
Piedmont Allegheny Plateau
Landforms
Superior Upland
Great Basin
Coastal Plain
Mogollon Rim
Llano Estacado
Great Plains
Hatteras Plain
Central Lowland
Central Valley
Major Oceans, Lakes, and Rivers
Rivers
Mississippi River
Rio Grande
Colorado River
Tennessee River
Snake River
Arkansas River
Missouri River
Ohio River
Columbia River
Wabash River
Brazos River
Yellowstone River
Salmon River
Wind River
Minnesota River
Illinois River
Platte River
Republican River
Red River
Canadian River
Pearl River
Altamaha River
Haw River
Conchos River
Hudson River
Gila River
Alabama River
Savannah River
Oceans
North Pacific Ocean
North Atlantic Ocean
Arctic Ocean
Lakes
Finger Lakes
Great Salt Lake
Lake Okeechobee
Great Lakes
Lake Superior
Lake Huron
Lake Ontario
Lake Erie
Lake Michigan
Capes
Cape Cod
Cape Sable
Cape Mendocino
Cape May
Cape Hatteras
Cape Fear
Cape San Blas
Cape Canaveral
Cabo San Lucas
Cape Sable
Water Features
Mississippi Delta
Gulf of Maine
Pamlico Sound
Gulf of Mexico
Straits of Florida
Major Cities
New York
Los Angeles
Vancouver
Chicago
Toronto
San Francisco
Houston
Monterrey
Miami
Seattle
Minneapolis
Detroit
Montréal
St. Louis
Philadelphia
San Diego
Dallas
New Orleans
Tampa
Sacramento
Denver
Boston
Phoenix
Atlanta
Madison
Lansing
Albany
Concord
Hartford
Providence
Carson City
Lincoln
Springfield
Frankfort
Columbus
Harrisburg
Trenton
Little Rock
Helena
Bismarck
Boise
Pierre
Des Moines
Salt Lake City
Santa Fe
Oklahoma City
Jackson
Nashville
Raleigh
Olympia
Salem
St. Paul
Topeka
Indianapolis
Charleston
Richmond
Montgomery
Columbia
Austin
Baton Rouge
Tallahassee
Jefferson City
Alaska
Cape Hope
Point Barrow
Seward Peninsula
Ogilvie Mts.
Yukon Plateau
Wrangell Mts.
Cassiar Mts.
Kodiak Is.
Alexander Archipelago
Queen Charlotte Is.
Brooks Range
Alaska Peninsula
Alaska Range
North Slope
Chugach Mts.
Mackenzie Mts.
Coast Mountains
Mt. Chamberlin
Mt. Igikpak
Keele Peak
Mt. McKinley
Mt. Logan
Chukchi Sea
Beaufort Sea
Amundsen Gulf
Norton Sound
Bering Strait
Cook Inlet
Bering Sea
Bristol Bay
Gulf of Alaska
Dixon Entrance
Great Bear Lake
Iliamna Lake
Mackenzie Mts
Yukon River
Point Hope
Prudhoe Bay
Barrow
Nome Fairbanks
Dawson City
Fort Good
Hope
Bethel
Anchorage
Whitehorse
Juneau
Cold Bay
Kodiak Sitka
Prince Rupert
Hawaii
Maui Is.
Hawai'i Is.
Moloka'i Is.
Lana'i Is.
O'ahu Is.
Kaua'i Is.
Ni'ihau Is.
Manua Kea
Lihue
Wahiawa
Honolulu
Wailuku
Kailua-Kona
Hilo
US Map Collection