You are free to use our map of USA for educational and commercial uses. Attribution is required. How to attribute?
About the map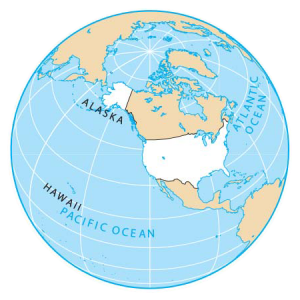 This map of USA displays states, cities, and census boundaries. In addition, an elevation surface highlights major physical landmarks like mountains, lakes, and rivers.
Two inset maps display the states of Hawaii and Alaska. For example, they include the various islands for both states that are outside the conterminous United States.
From high to low, we list cities by population based on 2019 US census data. This map of the USA also features all state capitals by underlining their names throughout the map.

Map of USA – United States of America
Major Cities and Population
Population over 1 million people
New York City
Los Angeles
Chicago
Houston
Phoenix
Philadelphia
San Antonio
Population over 500,000 people
Austin
Jacksonville
Fort Worth
Columbus
Charlotte
San Francisco
Indianapolis
Seattle
Denver
Boston
El Paso
Detroit
Portland
Las Vegas
Memphis
Oklahoma City
Baltimore
Milwaukee
Albuquerque
Tucson
Fresno
Mesa
Sacramento
Atlanta
Population over 250,000 people
Kansas City
Colorado Springs
Raleigh
Miami
Omaha
Long Beach
Virginia Beach
Oakland
Minneapolis
Tulsa
Tampa
Arlington
Honolulu
New Orleans
Wichita
Bakersfield
Cleveland
Aurora
Anaheim
Santa Ana
Riverside
Corpus Christi
Stockton
Saint Paul
Cincinnati
St. Louis
Pittsburgh
Greensboro
Lincoln
Orlando
Newark
Toledo
Fort Wayne
St. Petersburg
Jersey City
Laredo
Madison
Lubbock
Sioux Falls
Scottsdale
Reno
Buffalo
Glendale
Population over 100,000 people
Winston-Salem
Chesapeake
Norfolk
Fremont
Garland
Hialeah
Richmond
Boise
Spokane
Baton Rouge
Tacoma
Des Moines
Fayetteville
Birmingham
Rochester
Grand Rapids
Salt Lake City
Amarillo
Montgomery
Akron
Little Rock
Tallahassee
Mobile
Knoxville
Shreveport
Worcester
Chattanooga
Fort Lauderdale
Providence
Peoria
Salem
Eugene
Fort Collins
Springfield
Jackson
Alexandria
Midland
Rockford
Paterson
Savannah
Bridgeport
McAllen
Syracuse
Dayon
Waco
Charleston
Gainesville
Warren
Cedar Rapids
Columbia
New Haven
Concord
Lafayette
Topeka
Norman
Fargo
Wilmington
Abilene
Odessa
Hartford
Allentown
Lansing
Evansville
Beaumont
Provo
Clovis
Meridian
Manchester
Pueblo
Billings
Boulder
Wichita Falls
Green Bay
Las Cruces
Chico
South Bend
Davenport
Tuscaloosa
Bend
Population over 50,000 people
Nampa
Roanoke
Yuma
Albany
Erie
Roswell
Yakima
Greenville
Lawton
Redding
Santa Barbara
St. George
Nashua
Fort Smith
Ogden
Fort Myers
Duluth
Santa Fe
Kennewick
Trenton
Medford
Sioux City
Warwick
Jonesboro
Scranton
Iowa City
Missoula
Rapid City
Flagstaff
Gary
Bismarck
Gulfport
Bowling Green
Eau Claire
St. Cloud
Waterloo
Cheyenne
Grand Junction
Idaho Falls
Owensboro
Utica
Great Falls
Casper
Pocatello
Grand Forks
Carson City
Burlington
Pensacola
Olympia
Coeur d'Alene
Joplin
Galveston
Twin Falls
Population over 25,000 people
Harrisburg
San Luis Obispo
Minot
Monroe
Charlottesville
Biloxi
Huntington
Binghamton
Farmington
Prescott
Jefferson City
Florence
Annapolis
Cape Girardeau
Wausau
Tupelo
Salina
Dover
Texarkana
Lewiston
Del Rio
Myrtle Beach
Helena
Cedar City
Laramia
Bangor
Gillette
Morgantown
Dodge City
Parkersburg
Williston
Watertown
Frankfort
Eureka
Population under 25,000 people
Paducah
Barstow
Rock Springs
Gallup
Marquette
Louisville
Elko
Durango
Augusta
Pendleton
Traverse City
Rutland
Scottsbluff
Sterling
Pierre
Berlin
Havre
Presque Isle
Miles City
Winnemucca
Lamar
Montpelier
International Falls
Macon
Moab
Nashville
Juneau
Tonopah
Download our satellite map of the United States. It's free to use for any purpose. Or choose from any of the 50 states for more satellite maps of the USA.
A US national parks map that displays the 5 regions and 62 national parks of the United States. Hawaii and Alaska have inset maps with outlines and names.
Check out the US temperature map to visualize how climate varies across the United States of America. Each one is derived from NESDIS, a branch of NOAA.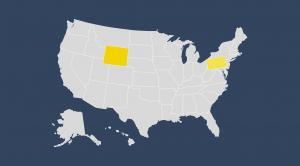 State outlines for all 50 states of America – Each blank state map is printable showing state shape outlines – completely free to use for any purpose.
A United States federal lands map where the US government owns. It includes national parks, Indian Lands, national forest and fish/wildlife.
A US road map that displays major interstate highways, limited-access highways and principal roads in the United States including states and capital cities.
Major Physical Features
Mountains, plateaus and deserts
Rocky Mountains
Appalachian Mountains
Great Basin
Cascade Range
Coast Ranges
Columbia Plateau
Sierra Nevada
Mojave Desert
Black Hills
Great Plains
North Platte
Grand Island
Colorado Plateau
Sonoran Desert
Llano Estacado
Ozark Plateau
Coastal Plains
Rivers
Colorado River
Mississippi River
Columbia River
Snake River
Rio Grande
Missouri River
North Platte River
Red River
Ohio River
Arkansas River
Alabama River
Tennessee River
Potomac River
Green River
Lakes
Great Salt Lake
Lake Superior
Lake Michigan
Lake Huron
Lake Erie
Lake Ontario
Lake Okeechobee
Ocean Features
Pacific Ocean
Atlantic Ocean
Arctic Ocean
Channel Islands
Florida Keys
Gulf of Mexico
How much rain falls in the United States? Take a close look at this US precipitation map to see where it falls the most and least. You'll see it fluctuates.
Hawaii and Alaska
Alaska
Aleutian Islands
St. Lawrence Island
Nunivak Island
Kodiak Island
Attu Island
Unalaska Island
Gulf of Alaska
Brooks Range
Alaska Range
Yukon River
Bering Sea
Nome
Bethel
Fairbanks
Anchorage
Kenai
Kodiak
Sitka
Hawaii
Hawaiian Islands
Kauai
Lihue
Oahu
Honolulu
Molokai
Lanai
Kahoolawe
Wailuku
Maui
Hilo
Midway Islands
Kure Atoll
Pearl and Hermes Atoll
Lisianski Island
Laysan Island
Gardner Pinnacles
Tern Island
French Frigate Shoals
Necker Island
Nihoa
Lehua
Niihau
Kaula
States and Capitals
Alabama (Montgomery)
Alaska (Juneau)
Arizona (Phoenix)
Arkansas (Little Rock)
California (Sacramento)
Colorado (Denver)
Connecticut (Hartford)
Delaware (Dover)
Florida (Tallahassee)
Georgia (Atlanta)
Hawaii (Honolulu)
Idaho (Boise)
Illinois (Springfield)
Indiana (Indianapolis)
Iowa (Des Moines)
Kansas (Topeka)
Kentucky (Frankfort)
Louisiana (Baton Rouge)
Maine (Augusta)
Maryland (Annapolis)
Massachusetts (Boston)
Michigan (Lansing)
Minnesota (Saint Paul)
Mississippi (Jackson)
Missouri (Jefferson City)
Montana (Helena)
Nebraska (Lincoln)
Nevada (Carson City)
New Hampshire (Concord)
New Jersey (Trenton)
New Mexico (Santa Fe)
New York (Albany)
North Carolina (Raleigh)
North Dakota (Bismarck)
Ohio (Columbus)
Oklahoma (Oklahoma City)
Oregon (Salem)
Pennsylvania (Harrisburg)
Rhode Island (Providence)
South Carolina (Columbia)
South Dakota (Pierre)
Tennessee (Nashville)
Texas (Austin)
Utah (Salt Lake City)
Vermont (Montpelier)
Virginia (Richmond)
Washington (Olympia)
West Virginia (Charleston)
Wisconsin (Madison)
Wyoming (Cheyenne)
Washington, DC
References
US Map Collection