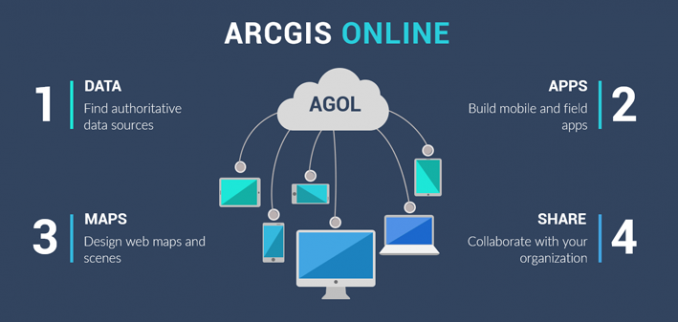 ArcGIS Online (AGOL) is Esri's cloud platform
Have you ever wanted to create interactive maps for your organization? How about for the whole world to see?
With little effort, you can build them using Esri's ArcGIS Online (AGOL).
Its interface equips you with base maps and data layers created by the global community.
This in itself sends a powerful message with location in mind. But what else can you do?
Let's take a deep-dive into what Esri ArcGIS Online and cover topics such as:
Table of Contents
Chapter 1. Data in the Cloud
ArcGIS Online keeps the user in mind. It's really easy to pick up and create beautiful 2D and 3D web scenes. Complete arsenal of geographic data" is an understatement.
No one has really measured the sheer size of Esri's ArcGIS Online GIS data repository, but confidently it's the largest that exists today. All things considered, there is a tremendous amount of content for you and your organization as part of Esri ArcGIS Online.
For example, a small search for the environment brings you 6315 data layers.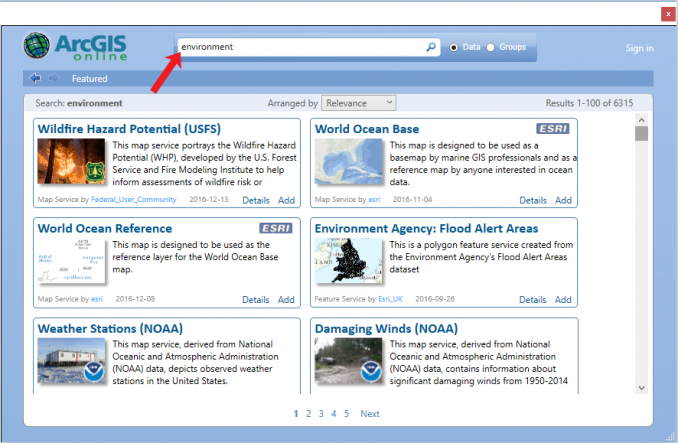 This is some pretty powerful stuff as the cloud-based warehouse continues to expand. Save your favorite data sets because it's about search and discovery.
Esri has become the ultimate collector of GIS data, in a good way. It never hurts the end-user to have updated data from reliable sources.
…not to mention, the basemaps are simply beautiful. They've come a long way: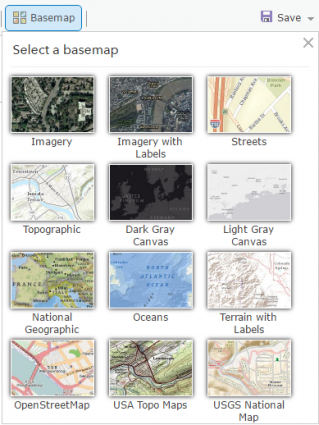 Now, what can you do with all this data?
Chapter 2. Apps For the Field
Ok, you won't be able to build an app for your grandma's 1990s flip phone.
But you can build some pretty neat smart phone and webmaps and applications for your target audience. And you don't need to be a cartographer or a programmer to create one, even though these skills are very useful.
Beautiful, realistic 3D scenes in your web viewer are now a reality such as this GPS map displaying a cyclists speed and heart rate. When going uphill, the cyclists speed tails off in purple and heart rate shoots up like a rocket in turquoise.
There's nothing better than telling your own personalized journal in a story map. Like a novel you can't put down, story maps sets the tone with location bookmarks as if you're going through a story book page-by-page. For example, the University of Minnesota addresses the issue of global food production in this brilliant Feed the World story map.
READ MORE: 15 High-Tech Webmaps and Webscene Examples Using Esri's JavaScript API
For any time aware data, the time slider app can filter out data for specific time periods. It can show how earthquakes in an area has increased over time or how land cover has changed. Like a time capsule, the spyglass and swipe tools are built-in templates that let you time-travel in history. With the New York Spyglass web map, you can spy on the New York City of 1836 and today.
Whether you want to explore your data with elevation profiles, viewsheds or route directions, Esri ArcGIS Online has an app for you. For those in need of statistics in specific areas, the dashboard Summary Viewer solution template is your solution.
Chapter 3. Design Webmaps
Step-by-Step Tutorial for AGOL Web Maps
This is an introductory tutorial how to create web maps and scenes in Esri ArcGIS Online (AGOL).
ArcGIS Online is Esri's cloud-based platform for collaborating, sharing and connecting with geographic data.
In this ArcGIS Online tutorial, we guide you from start to finish to create and share web maps online.
As AGOL is easy to pick up and learn, we suggest you to experiment for yourself with this feature-rich platform.
READ MORE: ArcGIS Online (AGOL): Esri's Collaborative Cloud Web GIS
Step 1

Log into your ArcGIS Online account

If you want to create an interactive web map with ArcGIS Online, you will need to create an account. Once your account has been approved, you can start interacting with the tools to build web maps, scenes and apps in ArcGIS Online.

After a bit of wait, you'll have to log into your ArcGIS Online.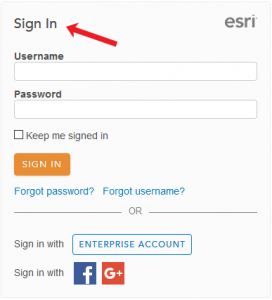 Step 2

Create a Web Map

The next step is to start creating a web map, web scene or app. But what's the difference between them?

WEB MAP: A web map is a simple 2D viewer for geographic data. This 2D data could be vectors such as points, lines or polygons. And it can even include tables or rasters.

WEB SCENES: A web scene is a type of 3D viewer. Generally, the two types of scenes are local and global. For local scenes, the study area is small like a neighborhood. But for global scenes, the study area is much larger like a continent or ocean.

WEB APP: And finally, a web app is way to customize your web maps or web scenes. For example, you may want to build a story map, collect/edit data or add basic functionality like these 15 high-tech web maps and web scene examples using Esri's JavaScript API

Let's start by creating a simple web map. But you can apply the same steps below to web scenes.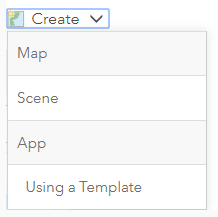 Step 3

Add Title and Tags

The simplest option is to create a basic web map. If you select this option, you will have to provide a title and tags.

Once you've provided this, suddenly an empty web map appears in your browser. This is the interface for how to create your web map. In the screenshot below, we list some of the important tools to get started.
Step 4

Change the Basemap

The default base map is the "Topographic Basemap". But you can change the base map by selecting the drop down. For example, there are basemaps for "World Imagery", "Terrain", "Streets" and "Oceans".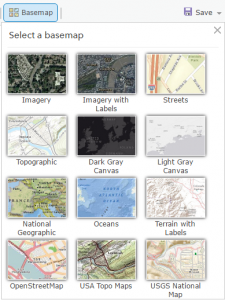 In this example, we select the "Dark Gray Canvas" basemap.
Step 5

Add Data to your Web Map

Instead of a plain web map with only a base map, we should add data to it. And one of the reasons why ArcGIS Online is so good is because users can access and add an incredible amount of data to their web maps.

When you click the "Add Button", there are select several options to add data.

SEARCH FOR LAYERS: When you search for layers, this is the massive cloud database as part of ArcGIS Online. You can find anything in here which includes authoritative and non-authoritative (so be careful). As of now, there are more than 500,000 layers.

ADD LAYER FROM WEB: This option is how to reference web services online. This usually is in the form of REST services, that you have to point to.

ADD LAYER FROM FILE: If you have your own data on your personal computer, then you can add data as a zipped shape file, CSV, TXT, GPX or GeoJSON.

USE MAP NOTES: This is how to mark up the web map with basic shapes. For example, AGOL has map note templates for infrastructure, civic events and citizen requests.

In our map, we have added earthquake events using the "Search for Layers". Earthquake events are highlighted as orange points.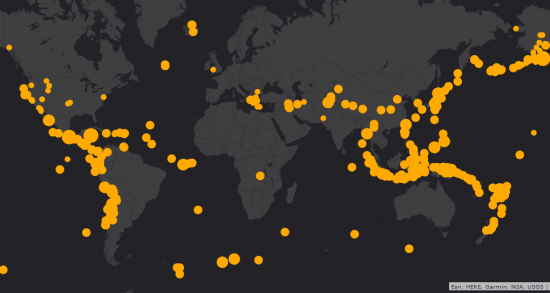 Chapter 4. Share and Collaborate
Finally, you can share your web map. Once you click the share button, you can alter who can view the map. If you want the whole world to see, then you can select the check box for everyone.
Alternatively, you can share the map with a simple link. But if you want to embed your web map to a website, it provides code how to do so. Keep in mind that people can only access you map if you make it public.
Chapter 5. Data Security
When you've hoarded your own collection of ArcGIS Online data (or your own private data), you can share with only your organization or publish it for the world to see.
If you are your organization's administrator, you can assign control for people and content.
Store your public or private data to your favorites… With its secure sharing and collaboration tools, you can share your own data for your organization or the entire world.
Your organization can create and join groups with control access to items shared publicly or within groups.
This is all exciting stuff.
The capabilities in ArcGIS Online almost appear limitless as new developments like Esri Insights are emerging regularly.
Try it yourself
It's time to sculpt some web maps of your own.
As you can see in this tutorial, you can work comfortably and create web maps with ease using AGOL.
In this tutorial, we changed the base map, added data stored in the cloud and shared it as a public map.
Now, you can experiment for yourself with interactive 3D web scenes or customized apps.
Just Touching the Surface with ArcGIS Online
The power of GIS is now online with ArcGIS Online for users with all skill levels.
Esri gives a generous 60 days to try for free with 2 GB of storage. However, it does have a limitation on the number of features you can upload.
Overall, Esri has invested a lot of time and effort in making this something for any end-user to pick up and run with.
It's time to give credit where credit is due, and this is a big winner in our books.