Florida Lakes and Rivers Map
About the map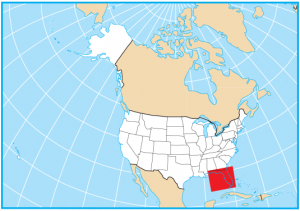 In this map, you will find major rivers, lakes, and bays in the state of Florida. Rivers in Florida flow into the Atlantic Ocean and the Gulf of Mexico.
In the south of Florida, the Florida Keys is a string of islands that stretch 120 miles off the coast. These islands are recognized for their exceptional fishing, snorkeling, and scuba diving.
Other than its boundaries with Georgia and Alabama, Florida is completely surrounded by water. On the west coast, it's the Gulf of Mexico with several bays like Tampa Bay, Waccasassa Bay, and Florida Bay. Then on the east coast, it's the Atlantic Ocean.
Florida lakes, rivers and reservoirs
Lakes and reservoirs
Lake Okeechobee
Lake Apopka
Lake George
Lake Seminole
Lake Istokpoga
Rivers and streams
St Johns River
Suwannee River
Apalachicola River
Peace River
Kissimmee River
Lake Kissimmee
Withlacoochee River
Santa Fe River
Escambia River
Chipola River
Ochlockonee River
Indian River
Caloosahatchee River
St Marys River
Bays
Biscayne Bay
Florida Bay
Tampa Bay
Apalachee Bay
Waccasassa Bay
Pensacola Bay
Choctawatchee Bay
West Bay
Apalachicola Bay
Whitewater Bay
Swamps
Okefenokee Swamp
Big Cypress Swamp
Canals
Miami Canal
Hillsboro Canal
Water features
Charlotte Harbor
Gulf of Mexico
Straits of Florida
The Everglades
US State Maps