Mapillary: The Crowdsourced Street View Platform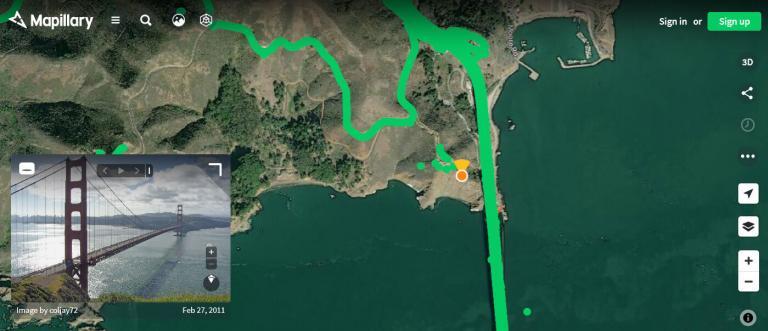 What is Mapillary?
Mapillary is a crowdsourced platform that allows users to upload photos of any geotagged location in the world.
Users can also explore these geotagged photos and videos using Mapillary's free and open-source platform, which is powered by the Mapillary community.
So far, there are more than 1,500,000,000 street-level images from 190 countries around the world.
Today, we will take a close look at Mapillary. Is it an alternative to Google Street View? And what are some of its capabilities?
READ MORE: How Does Geotagging Work?
How the Platform Works
The success story behind Mapillary is that it's a crowd-sourced application open to the world to share content.
First, users can upload their geotagged photos and videos captured from their mobile devices or action cameras. Then, Mapillary serves these street-level photos and videos of that location from users around the world.
Similar to Google Street View, anyone can discover places of interest around their location, walk in the shoes of someone else, and plan a trip to those places.
Computer Vision and Feature Extraction
One of the value-added features of Mapillary is how it uses computer vision to automatically recognize over 40 types of street-level features.
After the platform detects each type of feature, it triangulates its location on the map so it ends up with a road asset inventory of everything from road signs to manholes.
Here are some of the features that Mapillary can extract automatically using computer vision technology.
This video explains how the process of computer vision and asset collection works in Mapillary.
Mapillary App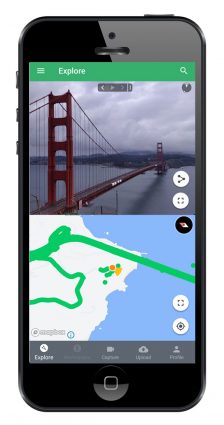 The Mapillary app is available on both iPhone and Android, which allows you to either capture or explore the crowd-sourced map.
When you capture an image, the app will tell you the strength of your GPS signal and this is a good indicator of whether or not it is suitable for upload.
You also have the option to upload your geotagged images through the app so you can serve them up for the world to see.
Finally, if you simply want to explore which photos are already available anywhere in the world, then you can use them for that purpose too.
Google Streetview vs Mapillary
This comparison table shows some of the key differences between Mapillary and Google Street View in terms of coverage and data availability.
| Feature | Mapillary | Google Street View |
| --- | --- | --- |
| Coverage | 1.5 billion street-level images | 170 billion street-level images |
| Countries | 190 countries | 87 countries |
| Acquisition | Crowd-sourced | Google Street Car and Crowd-sourced |
| License | Images are available under an open license (CC BY-SA) | May be subject to copyright |
Mapillary + OpenStreetMap
Mapillary is an online mapping and crowdsourcing platform that allows you to upload photos with an OpenStreetMap (OSM) basemap.
There is a lot of flexibility as you can use smartphones, action cameras, or even capture videos.
The platform serves these geotagged photos and street-level images to its online viewers so others can discover the world from anywhere.
But the best part about Mapillary is that it is free to use and its success is from being a crowd-sourced platform.