Best Photogrammetry Software in Geomatics
Best Photogrammetry Software in Geomatics
Photogrammetry software is a must-have for land surveyors, engineering, and forensic teams who want to build 3D models of an object or environment.
Especially if you're interested in practicing geomatics or surveying, photogrammetry uses parallax and relief displacement in photos from two different vantage points.
Not only can photogrammetry software build 3D models, but you can also do anything from measuring dimensions, constructing virtual prototypes, and even creating topographical maps.
In this article, we'll discuss the best photogrammetry software for geomatics available in the market today. Let's get started.
1. Pix4D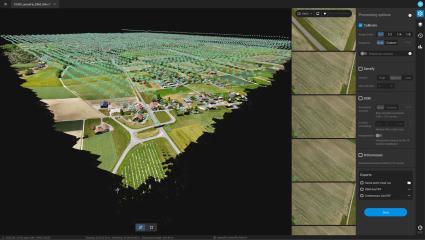 For any type of drone, satellite, scans, or airplane overlapping imagery, Pix4D is a very popular choice for photogrammetry software.
This entire suite of products provides tools that include a flight app for drones (Pix4Dcapture) as well as a desktop app and cloud platform for processing.
No matter your use case, Pix4D is a quick and easy way to create accurate and detailed 3D models. Whether you're a beginner or expert, this product is intuitive enough for you to produce survey-grade deliverables that are repeatable and efficient.
2. ArcGIS Pro
Esri never fails to deliver cutting-edge technology and useful innovations in their products. But Esri's Ortho Mapping product has come a long way since it was first introduced in ArcGIS Pro.
It delivers a comprehensive suite of tools to add tie points, GCPs, and checkpoints to an ortho mapping workspace. From here, you can build raster mosaics, digital surface models, and more.
But if you are gathering drone imagery, Drone2Map allows you to streamline your data collection through the ArcGIS platform. By providing a robust set of tools and automated workflows, it's a powerful tool to seamlessly capture high-quality orthoimagery and terrain models.
READ MORE: ArcGIS Drone2Map: Streamline your Drone Imagery Collection
3. Autodesk ReCap
Autodesk ReCap is a photogrammetry software that enables you to create 3D models of real-world objects.
If you want something that's ready to use in your design, the Autodesk ReCap can convert scans and photos into models and drawings that are 3D or 2D.
For those architecture or engineering firms who already use the Autodesk suite of products, this product gives you the comfort and familiarity of its interface. It's also an ideal choice for those who are looking to complement their BIM workflows and design.
READ MORE: Autodesk Review: Design the World with AutoCAD
4. IMAGINE Photogrammetry (Hexagon)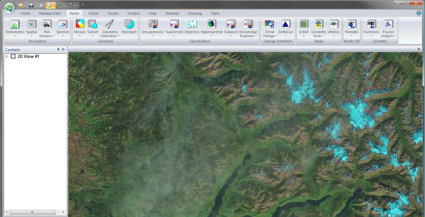 IMAGINE Photogrammetry (formerly Leica Photogrammetry Suite (LPS) is a product that's part of Hexagon Geospatial.
If you haven't worked with ERDAS Imagine before, you should know that it's a state-of-the-art remote sensing suite of tools. This suite of products allows you to streamline your workflows into production mapping.
There is also the option for stereo photogrammetry with on-the-fly enhancement for stereo image pairs. No matter your skill level, this product is designed for a wide variety of users with tight integration with other Hexagon products. We also have it #1 on our list of remote sensing software.
5. Geomatica OrthoEngine
Geomatica OrthoEngine is a powerful and affordable 3D modeling software for creating digital terrain models, surface meshes, point clouds, contours, and more.
This remote sensing software suite comes with a variety of tools to facilitate 3D modeling. But in terms of photogrammetry, Geomatica OrthoEngine allows users to collect GCP and tie point collection either manually or automatically.
Based on your point collection, there are tools for image correction, DEM extraction, and mosaicking. Although the interface is a bit out-of-date, it's still one of the top remote sensing tools available today.
Best Photogrammetry Software
By using photogrammetry, you can create digital models from photographs which is a useful solution for obtaining 3D measurements.
In this article, we discussed some of the best photogrammetry software in geomatics.
Not only can you leverage drone imagery in most products, but you can also apply the same principles to satellite and aerial imagery.
What is your go-to photogrammetry software? Please let us know in the comment section below.