Map of Serbia and Satellite Image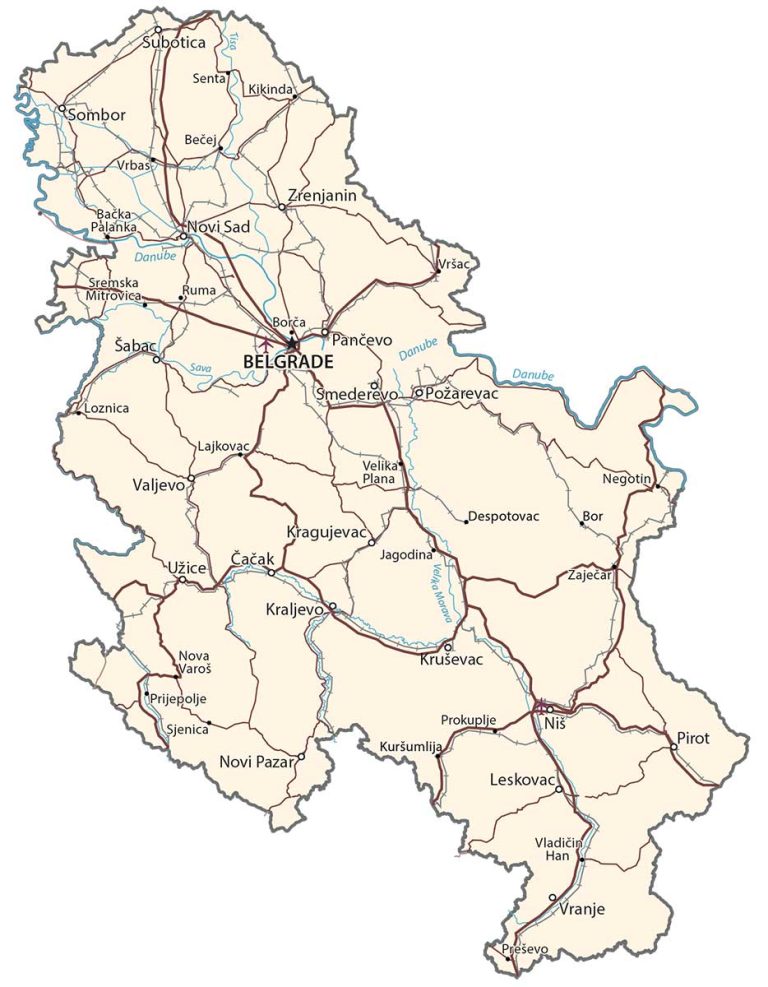 Download
A map of Serbia that contains cities, towns, highways, roads, rivers, and districts. Satellite imagery and a physical map display its rugged topography like the Carpathian Mountains.
You are free to use our Serbia map for educational and commercial uses. Attribution is required. How to attribute?
About the map
Serbia is a landlocked country located in southeastern Europe. It borders several European countries. This includes Bosnia and Herzegovina, Croatia, Hungary, Romania, Bulgaria, Kosovo, North Macedonia, and Montenegro.
In the 20th century, Serbia was a part of Yugoslavia. But after World War II, the country was subdivided and it wasn't until 2006 that Montenegro voted to secede from Serbia.
This makes Serbia one of the youngest countries in the world, finally gaining its independence as early as 2006. Currently, Belgrade is its capital and largest city.

Serbia in Google Maps
IMAGERY
Serbia Satellite Map
If you exclude Kosovo's land area, Serbia occupies an area of 77,474 square kilometers (29,913 sq mi). In comparison, this makes the country similar in area to the Czech Republic. The Danube River flows 588 kilometers through the northern region of Serbia. Whereas the Morava River is a tributary of the Danube which flows through the southern mountainous region.
There aren't many natural lakes in Serbia. But one prominent natural lake is Lake Palić in the north, close to Hungary. The country lies between 42°N and 46°N latitude so its climate is moderate continental with some local variation. Overall, forests cover 31% of the land area.
PHYSICAL
Serbia Physical Map
The terrain in Serbia is a mix of plains in the north and hilly mountains in the southeast. For example, two major mountain chains are the Dinarides in the southwest and the Carpathian Mountains, which are located in the east. Additionally, both the Rhodopes and Balkan Mountains are in the southeast.
Along its border with Bulgaria, Serbia's highest peak in the Balkan Mountains, Midžor, stands at 2,169 meters (7,116 ft) tall. Otherwise, the northern region of Vojvodina consists of low-lying, fertile plains. Specifically, the Pannonian Plain is one of the flattest parts in all of Europe, which extends to the west.
ADMINISTRATION
Serbia Districts Map
Districts or "okrugs" are the first-level administrative units in Serbia. Currently, there are 24 districts and the City of Belgrade. If you include Kosovo, then there are 29 in total. Then, Serbia can be divided into municipalities and cities, which are the second-level administrative units.