Tennessee Lakes and Rivers Map
About the map
In this map, you will find major rivers, reservoirs, and lakes like the Tennessee River. In general, the rivers and streams of Tennessee flow into the Gulf of Mexico.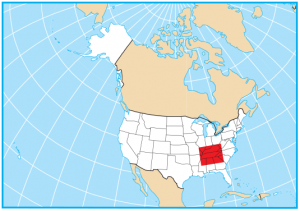 Kentucky Lake, Lake Guntersville, and Lake Barkley are the largest lakes in Tennessee. However, each lake shares a boundary with either Kentucky or Alabama. If you look exclusively at lakes within the state of Tennessee, the largest lake is Watts Bar Lake almost 40,000 acres in size.
The longest rivers in Tennessee are the Mississippi River, Cumberland River, and Tennessee River. In fact, it's the Mississippi River that forms the border between Arkansas and Missouri in the west.
Tennessee map collection
You are free to use our lakes and rivers map of Tennessee for educational and commercial uses. Attribution is required. How to attribute?
Tennessee lakes, rivers and reservoirs
Lakes and reservoirs
Kentucky Lake
Lake Barkley
Dale Hollow Lake
Norris Lake
Center Hill Lake
Pickwick Lake
Tims Ford Lake
J Percy Priest Lake
Douglas Lake
Old Hickory Lake
S Holston Lake
Cherokee Lake
Fort Loudoun Lake
Chickamauga Lake
Watts Bar Lake
Rivers and streams
Duck River
Holston River
Mississippi River
Cumberland River
Tennessee River
Hatchie River
Sequatchie River
Elk River
Obion River
Wolf River
Buffalo River
Clinch River
Hiwassee River
City Maps of Tennessee
References