Bentley Map by Bentley Systems (Review)
In Bentley Map, we step into a world of CAD and GIS all meshed into one. It combines the power of CAD with the strengths of a traditional GIS.
Because Bentley MicroStation is a global provider in CAD, it's powerful for 2D and 3D drafting. Today, let's take a closer at Bentley Map as GIS software in this review.
Pros/Cons of Bentley Map
Here are some of the advantages and disadvantages of using Bentley Map compared to other GIS software applications.
Bentley Map Ratings
2D and 3D Visualization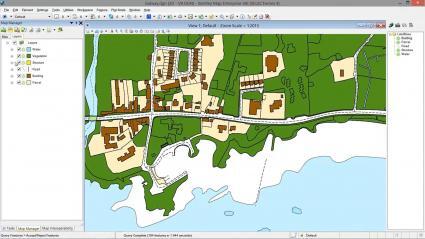 One of the neatest things about Bentley Map is the capability to perform 2D or 3D analysis and visualization.
For example, you can view underground utilities, terrain models, and buildings. If you have LiDAR data, it renders it quickly and efficiently.
Some of the 3D analysis possible with Bentley Map includes:
Sunlight effects on buildings
Custom fly-through animations
Shadow and lighting studies
Map Manager
Like all GIS software, you can create professional cartographic maps. The map manager is like your table of contents that connects to your map layers.
When you add a layer to your map manager, it handles on-the-fly coordinate systems. So, it dynamically updates your layers to a common coordinate system and map projection.
Bentley Map handles a decent range of symbols. But this is an area that needs improvement with more modern symbology. Labeling needs work too with better handling of annotation.
GIS Analysis
Geoprocessing operations are the nitrous of all spatial analysis. Without it, we couldn't recognize patterns, trends, or any type of spatial relationship in GIS.
The GIS analysis tools in Bentley Map are sparse. It doesn't have the advanced operations you would expect in the more sophisticated GIS software.
It offers several 2D and 3D geoprocessing tools for GIS analysis:
Summary: Bentley Map
Bentley Map is a combination of GIS and CAD.
If you're working in MicroSystems, then Bentley Map is good for some of the GIS functionality.
You get some support for mapping, analysis, and data management.
But you don't get the complete package from other dedicated GIS software.
What are your thoughts on Bentley Map? Please let us know with a comment below.