Map of Newfoundland and Labrador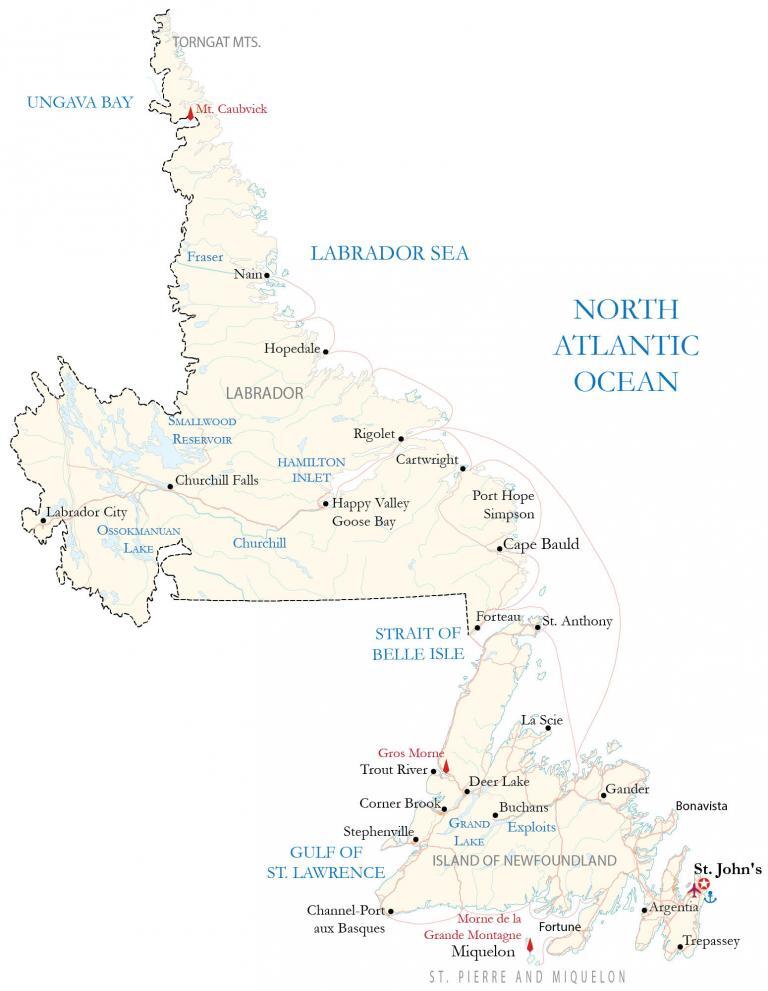 Download
A map of Newfoundland and Labrador that displays its major highways, roads, cities, and populated places with satellite imagery. An elevation map highlights its diverse topography such as its plateaus, hills, and low mountains.
You are free to use our Newfoundland and Labrador map for educational and commercial uses. Attribution is required. How to attribute?
About the map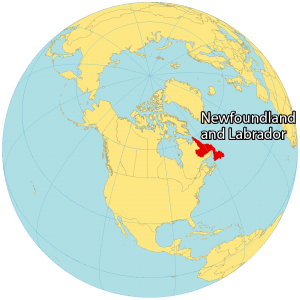 Newfoundland and Labrador is the easternmost province and is part of the Atlantic region with New Brunswick, Nova Scotia, and Prince Edward Island. It's composed of the island of Newfoundland and the continental portion of Labrador that borders Quebec. But the majority (approximately 94%) of people live in Newfoundland instead of Labrador.
The capital city is St. John's off the east coast of the Atlantic Ocean. While Labrador is situated along the Labrador Sea, Newfoundland is roughly triangular in shape and is located next to the Gulf of St. Lawrence. It is the youngest province and didn't join Canada until 1949. "Newfoundland English" is an accent unique to the province with influences of both British and Scottish.

Newfoundland and Labrador in Google Maps
IMAGERY
Newfoundland and Labrador Satellite Map
The province of Newfoundland and Labrador occupies a total area of 405,212 square kilometers (156,453 sq mi). It's the fourth smallest province in size and second-smallest in population. But it's still larger than the other maritime provinces (Prince Edward Island, Nova Scotia, and New Brunswick).
It includes the archipelago, Saint Pierre and Miquelon, to the south of the island of Newfoundland. Additionally, there are 7000 islands, which are mostly uninhabited, that belong to Newfoundland and Labrador. The island of Newfoundland lies between latitudes 46°N and 51°N. Whereas Labrador is situated between 51°N and 60°N latitude, split by the Strait of Belle Isle.
Overall, this means winters are colder in Labrador because of its northern latitude and subarctic vegetation. Its largest inland body of water is Smallwood Reservoir. The landscape is a mix of boreal forests, lakes, ponds, rock formations, fjords, and coastlines.
HILLSHADE
Newfoundland and Labrador Elevation Map
The terrain of Newfoundland and Labrador is a mix of rocky terrain interspersed with plateaus, hills, and low mountains. The major low mountain chain on Newfoundland is the Long Range Mountains along the west coast to the north. It's also the northernmost section of the Appalachian Mountains.
As part of this mountain chain, it contains the mountain peak, Gros Morne, which is also a UNESCO World Heritage Site. Additionally, it's the second-highest national park in Canada. Otherwise, the Lawrence Lowlands is the main physiographic region on the island of Newfoundland.
Labrador is generally hilly and rugged with the Mealy Mountains to the east and the Kaumajet Mountains to the north. But the Torngat Mountains in the extreme north of Labrador are the most elevated in the province. At 1,652 meters (5,420 ft), Newfoundland and Labrador's highest peak is Mount Caubvick.
Canadian Provinces
Canadian Territories