This map of Prince Edward Island (PEI) shows the major highways, roads, cities, and populated places. It also includes satellite imagery and hillshade relief maps to display the topography of the province of Prince Edward Island.
You are free to use our Prince Edward Island map for educational and commercial uses. Attribution is required. How to attribute?
About the map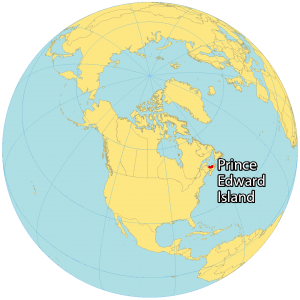 Prince Edward Island is situated along the east coast of Canada in the Atlantic region. It's not only the smallest province in size in Canada, but it's also the least populous with approximately 150,000 people. Prince Edward Island is completely surrounded by the Atlantic Ocean in the Gulf of St. Lawrence.
The Confederation Bridge connects PEI to New Brunswick to the southwest. Nova Scotia is located to the southeast, separated by the Northumberland Strait. The capital and largest city, Charlottetown, is located off the south coast of the Atlantic Ocean. The province of Prince Edward Island is one of the three maritime provinces with Nova Scotia and New Brunswick.
It's famous for being the home of Anne of Green Gables, which is now a heritage site in Cavendish, Prince Edward Island. Additionally, it's recognized for its seafood like lobster and mussels. Although P.E.I wasn't one of the first four provinces to join the Confederation of Canada in 1867, it shortly joined after British Columbia in 1873.

Prince Edward Island in Google Maps
IMAGERY
Prince Edward Island Satellite Map
Prince Edward Island consists of one main island, as well as 230 minor islands, mostly uninhabited. Altogether, it occupies a total area of 5,660 square kilometers (2,190 sq mi). In comparison, it's about one-tenth the size of Nova Scotia, which is the second-smallest province in Canada. Although it's the least populated province in Canada, it is the most densely populated.
The largest urban area is Charlottetown and its surrounding area. Specifically, it includes the towns of Cornwall and Stratford, as well as the Charlottetown Harbour area to the south. As a maritime province, Prince Edward Island's climate is also maritime, mild, and influenced by its surrounding seas. Compared to the continental provinces, winters are moderately cold and mild. Whereas summers are moderate, warm, and comfortable.
HILLSHADE
Prince Edward Island Elevation Map
The province of Prince Edward Island is mostly flat with rolling hills and there are no major mountain chains. At just 140 meters (460 ft) in height above sea level, Springton Peak is in the central region of Prince Edward Island. Its 1,100 miles (1,800 km) of coastline is a combination of sandy beaches, marshes, bays, and harbors.
Prince Edward Island National Park spans the northern rim, recognized for its wind-sculpted dunes, red cliffs, lighthouses, and sandy beaches. Farming and arable land represent about 42% of the total area with crops such as potatoes, grains, oilseeds, fruits, and vegetables. Additionally, there is a large market for beef, dairy, hog, and poultry as well.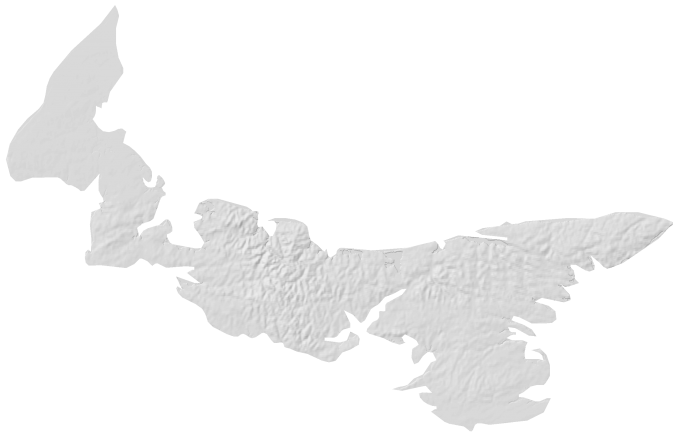 Canadian Provinces
Canadian Territories