Saskatchewan Map – Cities and Roads
A Saskatchewan map that shows cities, highways, roads, rivers, and lakes. It also includes satellite imagery and an elevation map to highlight all the major features in the Prairies province of Saskatchewan.
You are free to use our Saskatchewan map for educational and commercial uses. Attribution is required. How to attribute?
About the map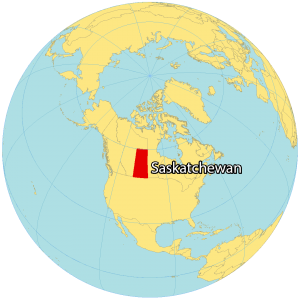 Saskatchewan is a central prairie province known for being a hub of agriculture. The province of Saskatchewan is completely landlocked and located in the general center of Canada, where the landscape is mostly flat. Its largest cities are Regina, Saskatoon, and Prince Albert.
The province of Saskatchewan is situated between Alberta to the west and Manitoba to the east. The Northwest Territories is located to the north and the US state of North Dakota is to the south.
Even though Regina is the capital of Saskatchewan, Saskatoon is the most populous city. The shape of Saskatchewan resembles a trapezoid because it doesn't have any rivers or lakes as one of its borders. Saskatchewan became a province in 1905 during the same year as Alberta.

Saskatchewan in Google Maps
IMAGERY
Saskatchewan Satellite Map
Saskatchewan occupies a total area of 651,036 square kilometers (251,366 sq mi), which makes it the fifth-largest province in area (excluding territories). In comparison, it's larger than Manitoba but smaller than Alberta. Saskatchewan has three major geographic regions – the Great Plains, Aspen Parkland, and the Boreal Forest region.
First, the Great Plains is situated to the south and is the most fertile region with most of its major settlements. Secondly, the Aspen Parkland region is a transitional zone between the north and the south with grassland, shrubland, and savannas. Finally, the Boreal Forest region to the north is mostly uninhabited and lies partly within the Canadian Shield.
HILLSHADE
Saskatchewan Elevation Map
Saskatchewan is mostly flat because it's part of the Prairies. Conditions are ideal for farming in the south. But the northern region is heavily forested and is part of the Canadian Shield. Its main rivers are the Assiniboine River, as well as the North and South Saskatchewan Rivers.
Its most rugged area is in the southwest, the Cypress Hills, which extend into Alberta and North Dakota. At 1,468 meters (4,816 ft), this is the highest point in Saskatchewan, situated in the middle of a farmer's field. There are also other low-lying hills in Saskatchewan.
For example, the Porcupine Hills straddles its border with Manitoba to the east. Additionally, there is the Moose Mountain Upland, Beaver Hills, Minichinas Hills, and Touchwood Hills.
Canadian Provinces
Canadian Territories