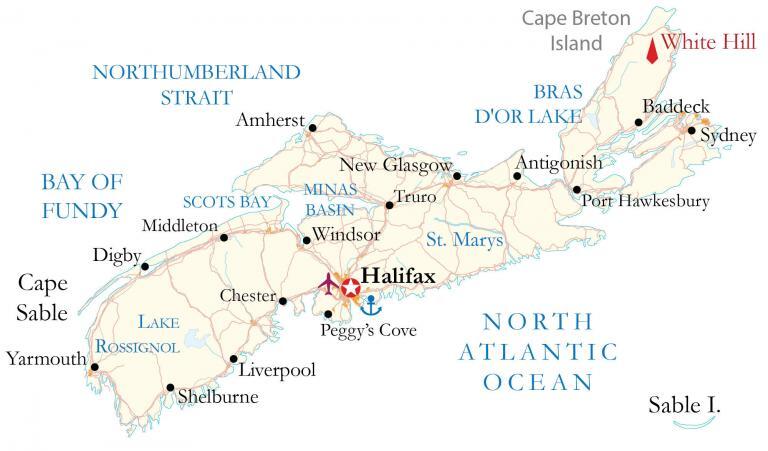 Download
This Nova Scotia map contains major highways, roads, and cities for the maritime province. The elevation and satellite map of Nova Scotia displays topographic features like the Cape Breton Highlands.
You are free to use our Nova Scotia map for educational and commercial uses. Attribution is required. How to attribute?
About the map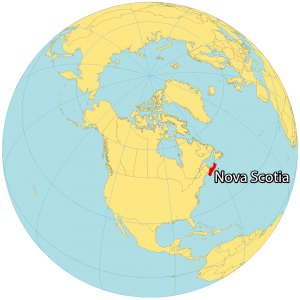 Nova Scotia is part of the Maritimes and is almost completely surrounded by the Atlantic Ocean. The Northumberland Strait separates Nova Scotia from Prince Edward Island. Whereas the Bay of Fundy is to the northeast separating it from New Brunswick.
Nova Scotia is Canada's second-smallest province in size but it's also Canada's second-most densely populated. The province is known for lobster fishing, lighthouses, and its 13,000 kilometers of coastline.
Peggy's Cove is one of the most renowned lighthouses in the world. Nova Scotia was one of the four original provinces (along with New Brunswick, Ontario, and Quebec) when Canada became a country in 1867. Halifax is the capital and largest city of Nova Scotia.

Nova Scotia in Google Maps
IMAGERY
Nova Scotia Satellite Map
Nova Scotia occupies a total area of 55,284 square kilometers (21,345 sq mi). In comparison, it's larger than Prince Edward Island but smaller than New Brunswick. Although Nova Scotia resembles an island, it's a peninsula connected by the Isthmus of Chignecto.
Its only land border is with New Brunswick, which connects Nova Scotia to the rest of North America. Nova Scotia's landmass includes Cape Breton Island to the northeast, Sable Island to the southeast, as well as 3,800 other coastal islands, which are mostly uninhabited. The entire Sable Island is a designated park with over 350 offshore shipwrecks.
There are approximately 5,400 lakes in Nova Scotia. Its largest freshwater lake is Lake Ainslie, which is triangular-shaped. Even though Nova Scotia is almost entirely surrounded by water, its climate is slightly classified as oceanic or maritime. Instead, it's mostly a continental climate and is in the mid-temperate zone.
HILLSHADE
Nova Scotia Elevation Map
Nova Scotia contains a mix of different types of landscapes including various rock formations, sandy beaches, and river valleys. Overall, the province is part of the Acadian Forest region, rich in diversity with a mix of arable land.
The types of landscapes common in Nova Scotia are its rolling hills, valleys, cliffs, and low mountains. The entire province is within the Appalachian Mountains with low mountain ranges and hills. At 535 meters (1,755 ft) in height above sea level, White Hill is Nova Scotia's highest peak.
As part of the Cape Breton Highlands and an extension of the Appalachian mountain chain, White Hill is close to the northernmost point on the Island of Cape Breton. Also, it's within Cape Breton Highlands National Park, which was the first designated park in the Atlantic Provinces.
Canadian Provinces
Canadian Territories