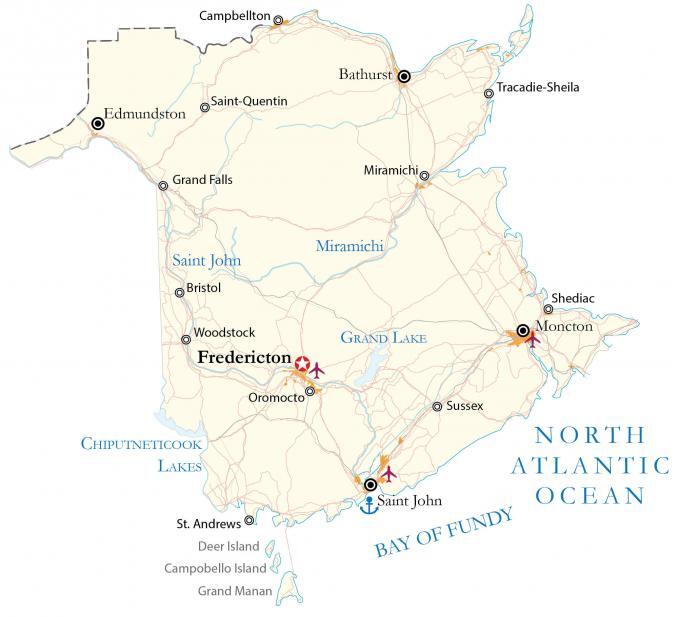 Download
A New Brunswick map that contains major highways, roads, rivers, lakes, cities, and towns. Also, satellite imagery and an elevation map highlight everything from the Appalachian Mountains to the Bay of Fundy.
You are free to use our New Brunswick map for educational and commercial uses. Attribution is required. How to attribute?
About the map
New Brunswick is part of the Maritimes and is one of the four Atlantic provinces. It borders Quebec, Nova Scotia, and Maine with the Bay of Fundy in the south and the Gulf of St. Lawrence in the northeast. New Brunswick is the third-smallest province in size and population.
It was one of the four original provinces (along with Nova Scotia, Ontario, and Quebec) when Canada became a country in 1867. It's the only province with both French and English as its official languages.
Also, the highest tides in the world are from the Bay of Fundy, which is situated on the south coast of the province. While Fredericton holds the prestigious title of being the capital city of New Brunswick, the city of Moncton claims the spotlight as the most populous urban hub in the province.

New Brunswick in Google Maps
IMAGERY
New Brunswick Satellite Map
New Brunswick occupies a total area of 72,907 square kilometers (28,150 sq mi). In comparison, it's larger than Nova Scotia and Prince Edward Island but smaller than Newfoundland and Labrador. The shape of the country resembles a square. It's a maritime province so it has a humid continental climate but its winters are slightly milder.
Its largest rivers are Saint John's and the Miramichi which drain into the Gulf of Saint Lawrence to the east and the Bay of Fundy to the south. Grand Lake is the largest water body in the province roughly located in the center. Forests cover 85% of New Brunswick for wildlife habitat, landscape, and recreational opportunities.
HILLSHADE
New Brunswick Elevation Map
New Brunswick has a diverse landscape of rolling plateaus, plains, and stepper terrain. For example, the Appalachian Mountain range lies in the west section of New Brunswick. At 820 meters (2,690 feet), this region contains its highest peak, Mount Carleton. It's also situated within the Canadian portion of the International Appalachian Trail.
While the west is very rugged, the interior is mostly a rolling plateau. Then, it transitions to flatter topography to the east. Forests cover most of New Brunswick. The province also includes 3 islands to the southwest – Deer Island, Campobello Island, and Grand Manan.
Canadian Provinces
Canadian Territories