Northwest Territories Map

Download
A Northwest Territories map with major highways, roads, cities, lakes, rivers, and populated places. It also includes satellite imagery and hillshade relief maps to display the topography and the Arctic mainland and archipelago.
You are free to use our Northwest Territories map for educational and commercial uses. Attribution is required. How to attribute?
About the map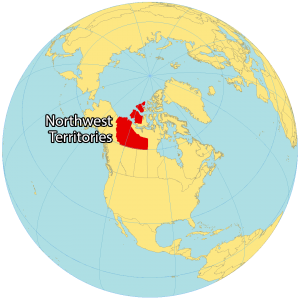 The Northwest Territories is one of three territories that occupy the northern region of Canada. It's located in the central region between Nunavut and Yukon Territory in the northern region of Canada. It also borders British Columbia, Alberta, and Saskatchewan to the south.
In size, it's the second-largest territory (smaller than Nunavut). But it's the most populous with just over 40,000 people. The Northwest Territories is known for its cold temperature, natural resources, and Aurora Borealis. Yellowknife is the capital and largest city in the Northwest Territories situated on the north shore of Great Slave Lake.

Northwest Territories in Google Maps
IMAGERY
Northwest Territories Satellite Map
The Northwest Territories occupies a total area of 1,144,000 square kilometers (442,000 sq mi). In comparison, it's smaller than Nunavut or Quebec but larger than Ontario. It consists of three regions – the Arctic Archipelago, the Arctic Mainland, and the Mackenzie Valley.
Its islands in the north include Banks Island, Borden Island, Prince Patrick Island, and sections of Victoria Island and Melville Island. Great Bear Lake is the largest body of water in the Northwest Territories and it's also the deepest in all of North America.
Additionally, it has the Mackenzie River, which is the longest river in all of Canada at 4,240 kilometers in length. The Northwest Territories stretch into the Arctic Circle with mostly subarctic and polar climates. Common landscapes characteristics are tundra, ice, boreal forests, marked by treeline in the north.
HILLSHADE
Northwest Territories Elevation Map
The two main types of landscapes in the Northwest Territories are the Canadian Shield to the east and the Mackenzie Mountains to the west. At 2,773 meters (9,098 ft) in height, Mount Nirvana is the highest peak in the Mackenzie Mountains. This mountain peak is located in the west near its border with Yukon Territory.
It's also near the UNESCO World Heritage Site, Nahanni National Park Reserve, which features canyons that drop twice the height of Niagara Falls. The population is more concentrated in the south of the territory. Whereas the north is almost uninhabited and is nicknamed the Barren Lands.
Canadian Provinces
Canadian Territories