This Yukon map (Yukon Territory map) contains the major highways, mountain peaks, cities, towns, lakes, and rivers. It also includes satellite imagery and a hillshade relief map of Yukon to display its mountainous topography.
You are free to use our Yukon map for educational and commercial uses. Attribution is required. How to attribute?
About the map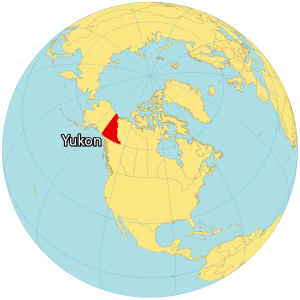 Yukon is one of the three territories of Canada located on the west side of Canada next to Alaska. It's situated in the northern region bordering British Columbia to the south, the Northwest Territories to the east, and the Beaufort Sea to the north.
It's known for being the site of the Klondike Gold Rush, between 1896 and 1899. An estimated 100,000 prospectors entered the Yukon in search of gold. Dawson City emerged and became the second-largest town in the Yukon Territory.
However, Whitehorse is the capital and largest city in the Yukon and any of the territories in Canada. The Yukon Territory is also a very rugged and mountainous region with several mountain chains and the highest mountain in Canada, Mount Logan. Yukon is shaped like a triangle and is the smallest territory in size in Canada.

Yukon Territory in Google Maps
IMAGERY
Yukon Satellite Map
The Yukon Territory occupies an area of 482,443 square kilometers (186,272 sq mi), which makes it the smallest territory in Canada. In comparison, it's larger than Newfoundland and Labrador but smaller than Manitoba.
Yukon is covered in lakes. For instance, its largest lake is Kluane Lake at 408 square kilometers (158 sq mi). Whereas its longest river is the Yukon River, which is also the longest river in the state of Alaska. Most of the Yukon has a subarctic climate with long, cold winters and short summers.
The Yukon Territory has a rugged wilderness. Specifically, its national parks like Ivvavik National Park and Vuntut National Park in the north are a refuge for Arctic national work wildlife with a large variety of plant diversity.
HILLSHADE
Yukon Elevation Map
The geography of the Yukon consists of rugged mountains and high plateaus. At 5,959 meters (19,551 ft), Yukon's Mount Logan is the highest mountain in Canada at 5,959 meters. In fact, it's also the second-highest peak in North America after Denali, Alaska.
This mountain peak is in Kluane National Park and Reserve, which is a UNESCO World Heritage Site. Mountains cover Yukon Territory. For example, its most prominent mountain ranges include the Selwyn Mountains, Ogilvie Mountains, and the Saint Elias Mountains. The Yukon Plateau lies in most of the central region of the Yukon.
Canadian Provinces
Canadian Territories