Manitoba Map – Cities and Roads
This map of Manitoba contains roads, rivers, lakes, and cities like the capital city of Winnipeg. Also, it includes a satellite image of the province and a hillshade relief map to view the Great Plains and the escarpment region (Western Manitoba Uplands).
You are free to use our Manitoba map for educational and commercial uses. Attribution is required. How to attribute?
About the map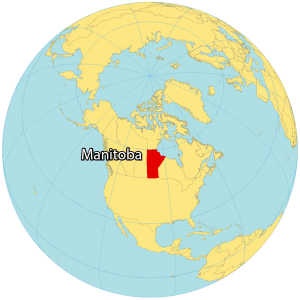 The province of Manitoba is located in the central prairies of Canada. Agriculture, hydroelectricity, and natural resources play a major role in the economy. Because Manitoba's industry is so diverse, it experiences little negative impact during economic recessions.
Winnipeg is the capital and most populous city in Manitoba with over 750,000 people. Other major cities are Brandon, Steinbach, and Thompson. There are over 100,000 lakes in Manitoba with Lake Winnipeg being the 10th largest lake in the world by surface area.
Manitoba borders the Canadian provinces of Saskatchewan to the west and Ontario to the east. While North Dakota is to the south, and the territory of Nunavut borders the north. Also, it's located along the Hudson Bay coast, which has the longest shoreline of any bay in North America.

Manitoba in Google Maps
IMAGERY
Manitoba Satellite Map
Manitoba occupies a total area of 647,797 square kilometers (250,116 sq mi). In comparison, it's larger than the Yukon Territory but smaller than Saskatchewan. Manitoba consists of 15.6% water with three of the fifteen largest lakes in Canada.
Specifically, this includes Lake Winnipeg, Manitoba, and Winnipegosis. A complex system of rivers flows north with a high volume through the Nelson River and eventually drains into Hudson Bay. As part of this river system, hydroelectricity supplies 98% of the province's power.
Manitoba's one and only UNESCO World Heritage Site, Pimachiowin Aki, is situated in the east along its border with Ontario. Additionally, the province contains two national parks including Riding Mountain Park in the west-central region and Wapusk in the north. The province is a major agricultural exporter of grains and oilseeds.
HILLSHADE
Manitoba Elevation Map
Manitoba belongs to the Great Plains (Prairies) of Canada so the terrain is mostly flat with some rolling hills. Although Manitoba doesn't have any major mountain chains, it has the escarpment region (Western Manitoba Uplands) to the west of the province.
For example, the region includes high points like Riding Mountain, Duck Mountain, and Porcupine Hills. At 2,730 feet (832 meters) above sea level, it includes Baldy Mountain, which is Manitoba's highest peak. While the east is characterized as uplands, the east of Manitoba is its lowlands region.
This area is recognized for its forests, lake area, and agriculture. Additionally, the southern region is more densely populated. Whereas the northern region is sparsely populated with several indigenous reserves and settlements.
Canadian Provinces
Canadian Territories