Introducing… State outlines for all 50 states of America. If you're looking for any of the following:
State shapes and boundaries
A printable map of the United States
Blank state map
Click any of the maps below and use them in classrooms, education, and geography lessons.
You are free to use our state outlines for educational and commercial uses. Attribution is required. How to attribute?
There are really several ways to see elevation in the United States. But the most common way to see a US elevation map is through a digital elevation model.
A United States federal lands map where the US government owns. It includes national parks, Indian Lands, national forest and fish/wildlife.
From Alabama to Wyoming, we display all 50 US states and capital cities. This United States map with capitals is a simple representation of continental US.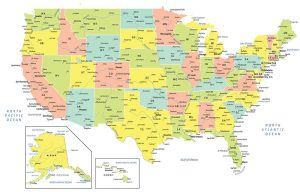 A USA map with states and cities that colorizes all 50 states in the United States of America. It includes selected major, minor and capital cities.
US Map Collection