US Elevation Map and Hillshade
There are several ways to view elevation in the United States. But the most common ways to see a US elevation map is by using:
Digital elevation model
Hillshade surface
Physical map
Let's check out all 3 ways to see how height changes in America.
1

US Elevation Map
First, this US elevation map depicts height by increasing color. In this map, elevation ranges from 0 to 13,100 feet above sea level. For metric system users, it goes from 0 to 4000 meters. But keep in mind that some mountains extend beyond this peak elevation. For example, Denali, Alaska rises 6190.5 m and appears orange.
2

US Hillshade Map
The alternate way to view elevation is by using a hillshade surface. As the name implies, it shades peaks and valleys based on the position and angle of the sun. For example, here is a US hillshade map, which equally displays elevation. But it's in a much more unique way and highlights peaks and valleys.
3

US Physical Map
Lastly, a physical map drapes mountains, plateaus, and valley names on top of an elevation surface. As you can see, it includes some of the most monumental mountain chains in the United States. For example, it labels the Rocky Mountains, the Appalachians, and the Sierra Nevada.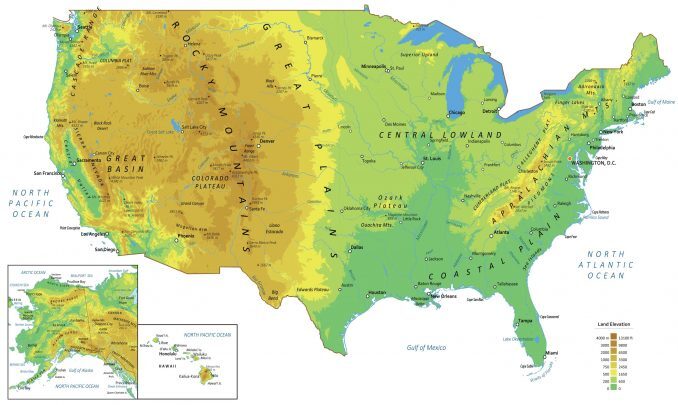 Download our satellite map of the United States. It's free to use for any purpose. Or choose from any of the 50 states for more satellite maps of the USA.
This map of USA displays states, cities and census boundaries. An elevation surface highlights major physical landmarks like mountains, lakes and rivers.
Check out the US temperature map to visualize how climate varies across the United States of America. Each one is derived from NESDIS, a branch of NOAA.
US Map Collection