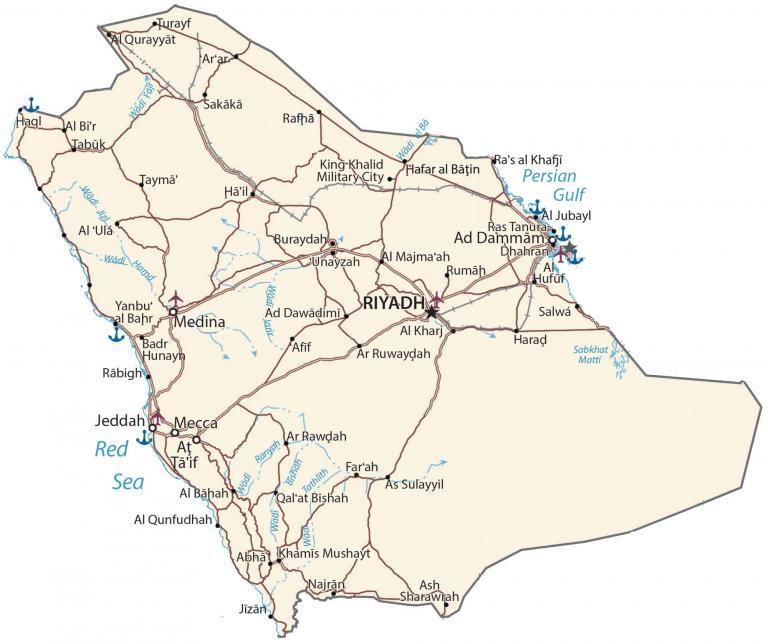 Download
Saudi Arabia is located in the Middle East. This Saudi Arabia map contains cities, highways, water, and provinces. Satellite imagery and a physical map display its deserts and topography.
You are free to use our Saudi Arabia map for educational and commercial uses. Attribution is required. How to attribute?
About the map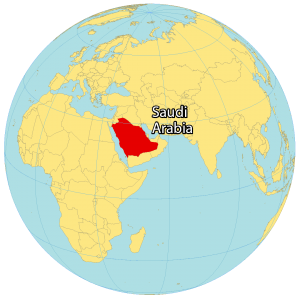 Saudi Arabia is part of the Arabian Peninsula, between the Red Sea and the Persian Gulf. It borders 8 other countries. This includes Iraq and Jordan to the north, Kuwait to the northeast, Oman to the southeast, and Yemen to the south as well as Qatar, Bahrain, and the United Arab Emirates to the east.
Saudi Arabia is an Islamic country and all people in Saudi Arabia are Muslim. It's a monarchy system led by a Saud dynasty ruler. Saudi Arabia has the second most proven oil reserves in the world, after Venezuela. Riyadh is the capital and largest city of Saudi Arabia. Other major cities are Jeddah, Mecca, and Medina.

Saudia Arabia in Google Maps
IMAGERY
Saudi Arabia Satellite Map
Saudi Arabia occupies an area of 2,149,690 square kilometers (830,000 sq mi) and is the 13th-largest state in the world. In comparison, it's smaller than Algeria but larger than Iran. The landscape is one of the driest in the world.
For example, this includes Rub' al Khali in the southeastern part of the country, which is the world's largest contiguous sand desert. But it's a mix of salt flats, gravel plains with a few lakes, wadis, and permanent streams. Less than 7% of Saudi Arabia is suitable for arable land.
It lies between 16°N and 33°N latitudes so the climate is mostly arid and semi-arid along its southwest coast. Overall, the temperature is hot during the day and low at night.
PHYSICAL
Saudi Arabia Topographic Map
Saudi Arabia has a diverse terrain but its most recognized feature is the Arabian Desert. Additionally, it has several mountainous areas such as the Sarawat Mountains in the south. At 3,015 meters (9,892 ft), Jabal Sawda is the highest point in Saudi Arabia.
Whereas the Persian Gulf, Red Sea is the lowest point at 0 meters (0 ft) sea level. The Great Rift runs from the Mediterranean to the Afar Triple Junction and through Ethiopia. It's the spreading between the African Plate and the Arabian Plate that formed the Red Sea on the west side of Saudi Arabia.
ADMINISTRATIVE
Saudi Arabia Provincial Map
Regions or provinces are the first-level administrative unit in Saudi Arabia. Currently, there are 13 regions in Saudi Arabia. This includes Mecca, Riyadh, Eastern, 'Asir, Jizan, Medina, Al-Qassim, Tabuk, Ha'il, Najran, Al-Jawf, Al-Bahah, and the Northern Borders Region. Regions or provinces in Saudi Arabia are divided into 136 governorates, which are the second-level administrative unit.