Download
This Slovenia map collection contains a reference map, satellite imagery, and a physical map. Each map of Slovenia displays cities, towns, rivers, highways, and roads.
You are free to use our Slovenia map for educational and commercial uses. Attribution is required. How to attribute?
About the map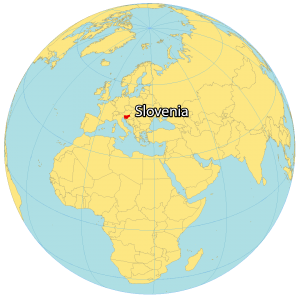 Slovenia is located at the intersection of Central Europe and is part of the northwest end of the Balkans. It shares land borders with Italy to the west, Austria to the north, Hungary to the northeast, and Croatia to the southeast.
Also, its coastline with the Adriatic Sea to the southwest, the Slovene Riviera, measures 46.6 kilometers long. In 1945, Slovenia was its own state within Yugoslavia. But it wasn't until 1991 that Slovenia gained independence.
The country of Slovenia is known for its mountains, lakes, castles, historic towns, and caves. Ljubljana is the capital and largest city of Slovenia near the center of the country. But other major cities are Maribor, Celje, and Kranj.

Slovenia in Google Maps
IMAGERY
Slovenia Satellite Map
Several rivers run through Slovenia like the Sava, Drava, and Mura with each river flowing in an eastward direction. It occupies an area of 20,271 square kilometers (7,827 sq mi), similar in size to Israel. Lake Cerknica is the largest lake in Slovenia. But because it's a karst lake, it drains and fills meaning its size varies. There are over 10,000 caves in Slovenia. At 43,009 meters (141,000 ft) long and 972 meters (3,190 ft) deep, the Migovec System is the longest cave in Slovenia. The country also contains several mineral and thermal springs in the Pannonian Plain to the northeast.
PHYSICAL
Slovenia Physical Map
Despite its smaller size, various mountain ranges and hills cover about 90% of Slovenia. In a clockwise direction, it starts with the Julian Alps in the northwest, Kamnik-Savinja Alps, Pohorje Mountains, Slovene Hills, Žumberak Mountains, the Dinarides, and the Nanos Plateau in the southwest. Within the interior, the Sava Hills and Central Sava Valley lie in central Slovenia. At 2,864 meters (9,396 ft) in height, Mount Triglav is Slovenia's highest peak, which is part of Triglav National Park. Overall, its flattest region is the Pannonian Plain to the east and northeast, along the Croatian and Hungarian borders.
World Atlas
Visit our world atlas and explore all the continents and countries of the world. Get a blueprint of the world with political, satellite, and topographic maps.