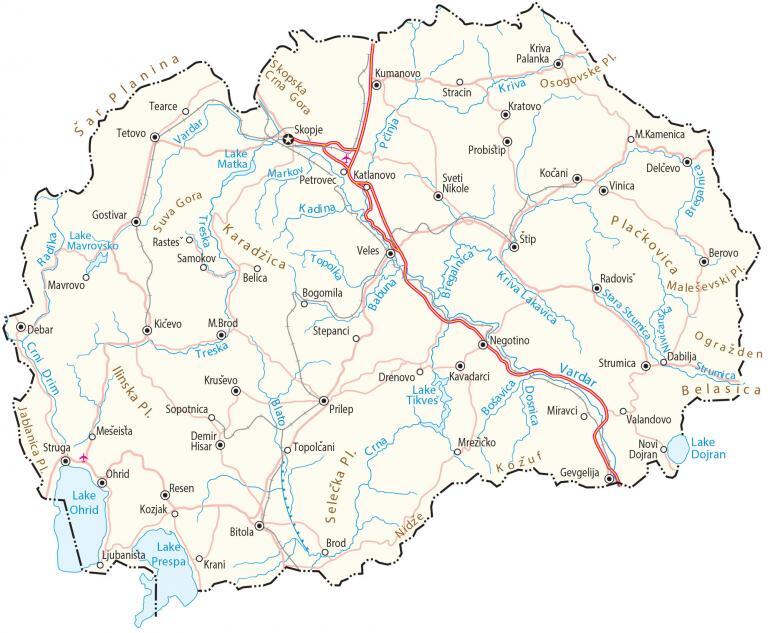 Download
This map of North Macedonia features its major cities, towns, lakes, rivers, highways, and roads. Satellite imagery and an elevation map of North Macedonia highlight its mountainous terrain and vast stretch of lakes.
North Macedonia map collection
You are free to use our North Macedonia map for educational and commercial uses. Attribution is required. How to attribute?
About the map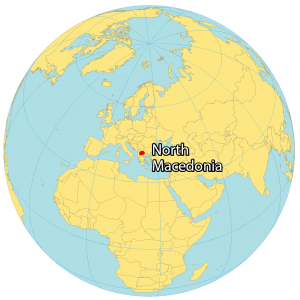 North Macedonia is a landlocked country in Southeast Europe. It borders 5 other countries including Kosovo to the northwest, Serbia to the north, Bulgaria to the east, Greece to the south, and Albania to the west.
Skopje is the capital and largest city of North Macedonia. Other major cities are Bitola, Kumanovo, Prilep, and Tetovo.
North Macedonia gained its independence as early as 1991 from Yugoslavia and is part of the northern Macedonia region. The country is known for its continuous mountains, lakes, and ancient civilizations.

North Macedonia in Google Maps
SATELLITE IMAGERY
North Macedonia Satellite Map
North Macedonia occupies a total area of 25,713 square kilometers (9,928 sq mi). In comparison, it's larger than Latvia but smaller than Slovenia. Its largest lake is Lake Ohrid, which is one of the oldest in the world. Otherwise, the Vardar River is the longest watercourse in North Macedonia at 312 kilometers (194 mi) long.
There are 4 national parks including Pelister, Mavrovo, Galičica, and Šar Mountains. The country lies between 40°N and 43°N latitudes so its climate is local due to its unique topography. In general, the climate is continental and Mediterranean with cold in winter and hot in summer.
PHYSICAL MAP
North Macedonia Elevation Map
North Macedonia has a very rugged terrain with major mountain ranges shaping most of its borders. For example, the Šar Mountains and the Osogovo are located to the northwest separating it from Serbia. Whereas the Nidze Mountains (part of the Dinaric Range) form its border with Greece to the south.
But the exception is the three large lakes, Lake Ohrid, Lake Prespa, and Dojran Lake, which lie on its southern borders. At 2,764 meters (9,068 feet), Mount Korab is the highest peak in North Macedonia. Not only is it the highest in North Macedonia, but it's the fourth-highest mountain in the Balkan Peninsula.