Montenegro Map – Cities and Roads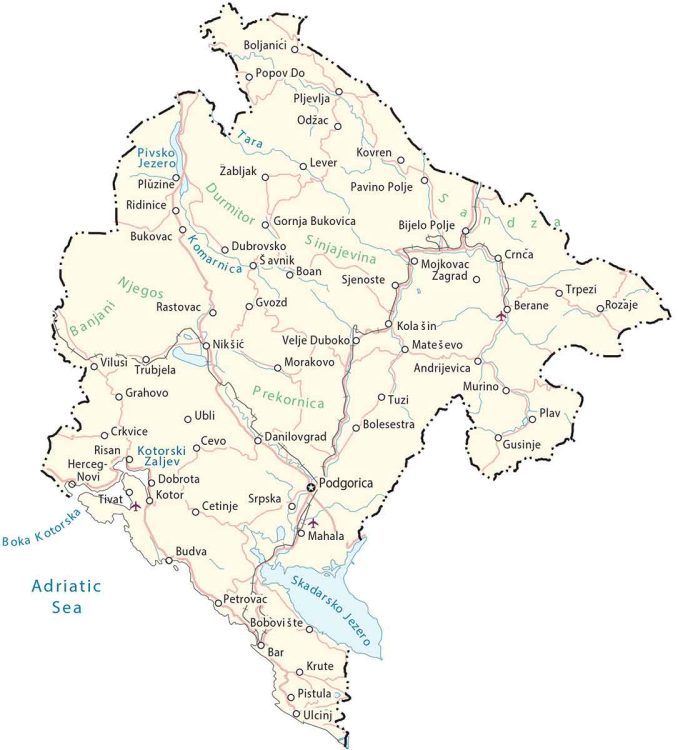 Download
This map of Montenegro contains major cities, lakes, rivers, and roads. Satellite imagery and an elevation map display its extremely rugged terrain like the Dinaric Alps.
Montenegro map collection
You are free to use our Montenegro map for educational and commercial uses. Attribution is required. How to attribute?
About the map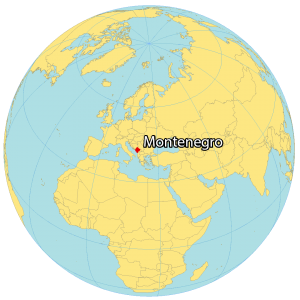 Montenegro is a Southeastern European country and is part of the Balkans. It borders Albania and Kosovo to the east, Serbia to the northeast, and Bosnia and Herzegovina to the west, as well as Croatia to the southwest.
Montenegro shares a coastline with the Adriatic Sea for a length of about 293.5 km (182 mi). Its coastline is indented by the winding bay of the Gulf of Kotor in southwestern Montenegro. Podgorica is the largest city and capital of Montenegro. Other major cities are Nikšić, Herceg Novi, and Pljevlja.

Montenegro in Google Maps
SATELLITE IMAGERY
Montenegro Satellite Map
Montenegro occupies an area of 13,812 square kilometers (5,333 sq mi), which is similar in size to Connecticut. The country is part of the Dinaric Alps (Dinarides) and is a very rugged country. It has a narrow strip of beaches within the inlet of the Gulf of Kotor.
Its largest lake is Lake Scutari to the south near the Adriatic Sea. Tara River is its longest river, which is created from the confluence of the Opasnica and Veruša rivers in the Komovi Mountains.
PHYSICAL MAP
Montenegro Elevation Map
Montenegro is a very rugged country with 80% mountains and hills. Its two major ranges are the Durmitor and Bjelasica Mountains which occupy most of the northern section of Montenegro. Then, it transitions through its karst region in the west-central area.
Finally, the terrain flattens out into the Zeta Plains and long narrow bands of plains along the coast. At 2,522 meters (8,274 ft), Bobotov Kuk is Montenegro's highest peak. Whereas its lowest point is the Adriatic Sea at 0 meters sea level.