How To Use ArcGIS Desktop (ArcMap)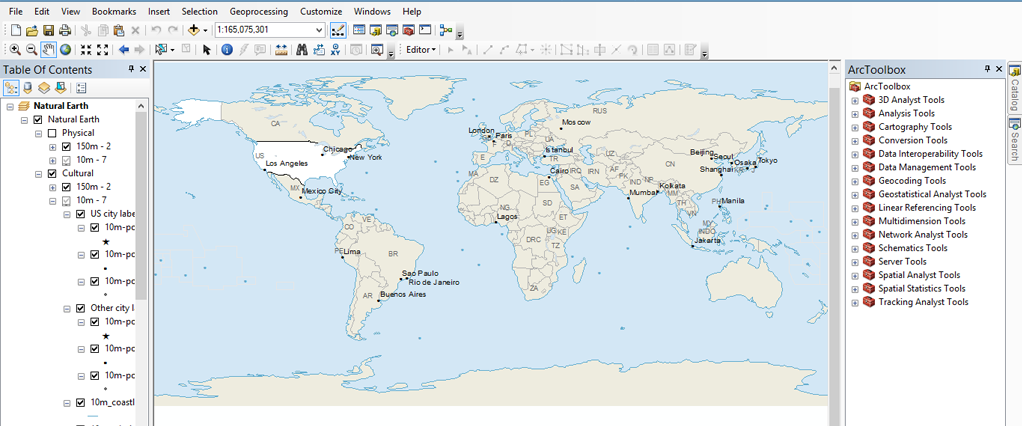 A Guide to ArcGIS Desktop
Today, let's learn how to use ArcGIS. From the menu to the viewing modes, let's learn the user interface.
Plus, we will give you advice on how to customize ArcGIS Desktop so it perfectly suits your needs and the tools you use most.
Are you ready to get started?
Let's do this.
User Interface
When you're first learning how to use ArcGIS, it's good to get your bearings. Upon installation, you will have access to ArcMap, ArcCatalog, ArcGlobe, and ArcScene. Each application specializes in different tasks. But today, let's focus on ArcMap.
First, open ArcMap. As you can see, ArcMap is crammed with menus, tools, and toolbars. The screenshot below shows where everything is in ArcMap.
Table of Contents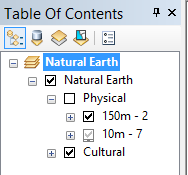 The table of contents (TOC) is like a container. It stores your map layers such as tables, vectors, and rasters. In the TOC, it holds your data frame. If your table of contents disappears in ArcMap, you can make it reappear by clicking (Windows > Table of Contents)
DATA FRAME: A data frame represents an individual map. Each data frame stores a collection of layers. You can also set the size, scale, and coordinate system for each data frame.
Also in the table of contents, you can list items by drawing order, source, visibility, and selection. For each option, it changes the appearance of the table of contents.
Display Window
When you turn on/off a layer in your table of contents, the layer will be visible/non-visible in the display window. You can set the display window to Data View and Layout View.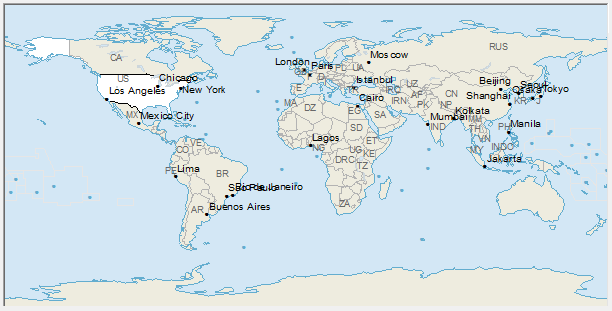 Viewing Modes
There are four buttons on the bottom left corner of the display window. They change exactly how the display window will show data.
DATA VIEW: The data view gives a full viewing screen and is for data exploration.
LAYOUT VIEW: In layout view, you set up exactly how your map layout will appear. For example, you set up cartographic elements such as legends, neatlines, and annotations. Most likely, this is how you will export maps for professional reports.
REFRESH: The refresh button reloads data in the display window if it didn't completely load.
PAUSE: The pause button stops data from loading in the display window.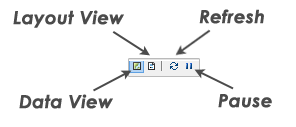 ArcToolbox
The ArcToolbox has geoprocessing tools to analyze your data. ArcToolbox conveniently organizes each tool into toolsets. Basically, toolsets are a set of tools for a specific task. For example, the conversion toolset changes the format of your data set.
PRO TIP #1: If your ArcToolbox disappears, click Geoprocessing > ArcToolbox
PRO TIP #2: If you can't find the tool in ArcToolbox, click Geoprocessing > Search to find tools.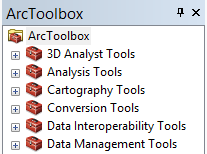 Toolbars
Toolbars have buttons for specific tasks. Each tool has an icon. For example, the Editor toolbar allows users to rotate, split, reshape, and cut for editing.
PRO TIP: Add additional toolbars by clicking Toolbar > Customize.

Menu Bars
Menu bars are for common functions like saving and printing. The menu bar consists of pull-downs with common tasks. Like most desktop applications, it's how users intuitively select from a list of commands. For example, the geoprocessing menu gives quick access to the 6 most commonly used GIS processing tools.
Also, you can open panels for searching, Arctoolbox, environment settings, geoprocessing results, ModelBuilder, and Python windows.
ArcGIS License Levels
ArcGIS Desktop has three license levels. Each one has different capabilities:
Basic (ArcView)
Standard (ArcEditor)
Advanced (ArcInfo)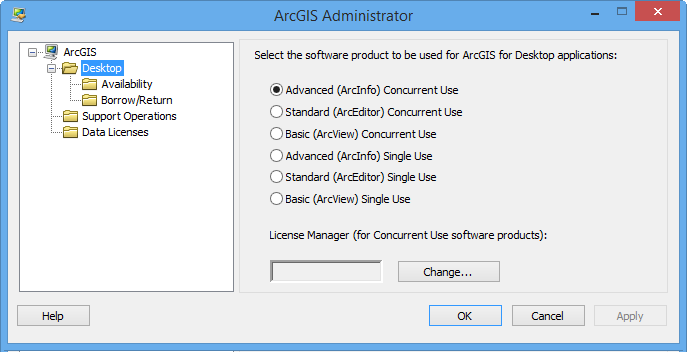 BASIC (ArcView): With the basic license, users miss out on some of the extra functionality found in the standard and advanced products. ArcView is still full of GIS spatial analysis and basic map creation tools. But it lacks some of the geodatabase, conversion, and advanced manipulation tools.
STANDARD (ARCEDITOR): With ArcEditor, you get all of the state-of-the-art tools in ArcView. But ArcEditor adds extra editing capabilities and multi-user editing abilities.
ADVANCED (ArcInfo): ArcInfo is the highest licensed product in ArcGIS. It gives you the complete list of tools readily available at your fingertips. For example, you get advanced feature manipulation, processing, and high-end cartography tools.
ARCGIS ADMINISTRATOR: ArcGIS Administrator is the license administrator where you can specify your license types (basic, standard, and advanced – concurrent or single use).
Map Exchange Document (MXD)
When you open ArcMap and save a map, it's saved as a map document with an MXD extension. When you reopen the MXD, all the data, display window, and everything will be the same as it was.
Additional Resources
Don't forget that if you want to learn more about Esri's latest release you should check out our articles:
And if you want an in-depth comparison of the two top GIS software options today, then consider reading the following: