What is ArcGIS? A Guide to ArcMap
ArcGIS is geospatial software to view, edit, manage and analyze geographic data. Esri develops ArcGIS for mapping on desktop, mobile, and web. Their motto is "See what others can't". As such, the focus for ArcGIS is on location intelligence and analytics.
ArcMap is Esri's classic desktop geographic information system (GIS) software for creating, analyzing, and visualizing spatial data and maps. But ArcGIS Pro will soon replace it as its core mapping software.
Who develops ArcGIS software?
Esri (Environmental Systems Research Institute) develops ArcGIS software. The company's headquarters is in Redlands, California.
In 1969, the company was first founded primarily for land use development. With over 40% of the market share, ArcGIS is the leading GIS software in the market today.
GIS integrates many different subjects using geography as its common framework. Esri is the global leader in the development of GIS, location intelligence, and mapping.
Who uses ArcGIS?
ArcGIS users are in a wide range of fields and industries. For example, government, education, and commercial industries use ArcGIS. But the largest user base is in the environment, military, and land planning. Because most colleges use ArcGIS, graduates are usually somewhat familiar with it.
---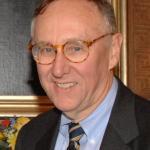 "The world that you and I live in is increasingly challenged. Population growth, pollution, over-consumption, unsustainable patterns, social conflict, climate change, and loss of nature."

— Jack Dangermond
---
What software is part of ArcGIS?
ArcGIS is a set of software consisting of:
ArcMap
ArcMap is the centerpiece of the Esri suite of GIS software. It's how users create maps from scratch. By analyzing GIS data, they can find location patterns and trends in ArcMap. Finally, users edit data and can call it their own.
The main format for ArcMap is an MXD (Map Exchange Document). However, Esri software works with a wide range of formats including shapefiles, GeoTIFFs, KML/KMZ, and file geodatabases.
ArcCatalog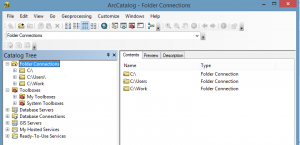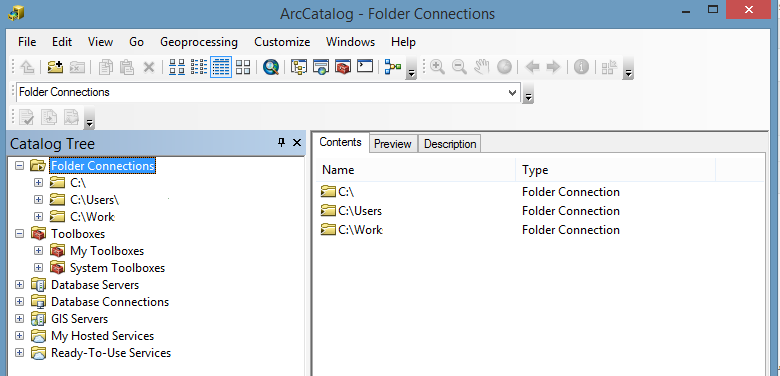 ArcCatalog is more like Windows Explorer which shows only geospatial data. In a way, it's also like a library where you can organize and manage your GIS data.
ArcCatalog is where you document and write metadata. By incorporating detailed metadata in ArcCatalog, you enhance data accessibility and understanding, promoting effective data management and sharing within the GIS environment.
ArcGIS Pro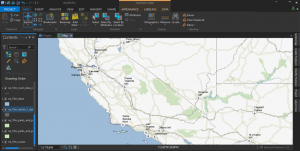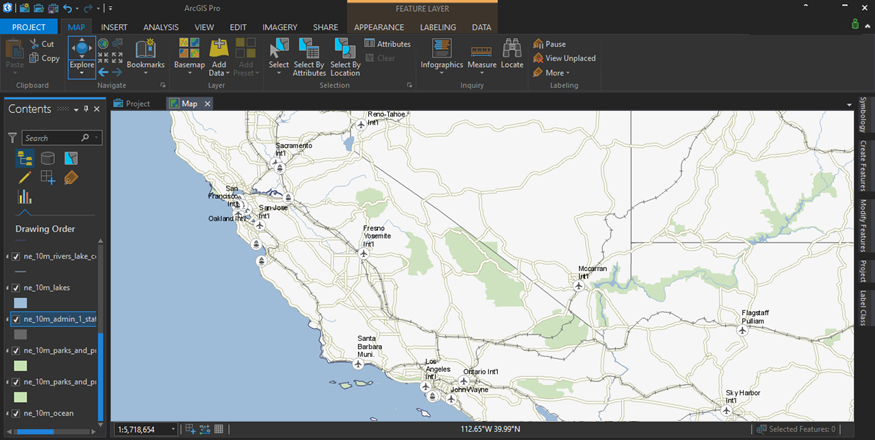 ArcGIS Pro will one day replace ArcGIS. It has several advantages over ArcGIS. For example, its main advantages are 64-bit processing, integrated 3D, and ribbon-based interface.
Unlike ArcGIS, it stores your maps, data, and toolboxes as a project file (.APRX). Finally, ArcGIS Pro has tools and extensions that go a bit beyond ArcGIS. These tools and extensions provide advanced capabilities for spatial analysis, data visualization, and specialized workflows.
READ MORE: 20 ArcGIS Pro Tips and Tricks
ArcScene
Using the 3D Analyst extension, you can access separate GIS software like ArcScene. ArcScene focuses on local areas like the size of a neighborhood.
This emphasis on localized 3D visualization makes ArcScene ideal for exploring and presenting intricate urban landscapes. Plus, the SXD format ensures easy sharing and collaboration among GIS users.
ArcGlobe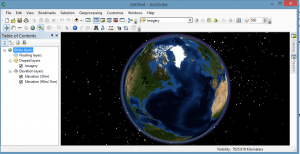 ArcGlobe is a 3D application designed to handle larger study areas. This makes it an excellent choice for visualizing and analyzing data on a global scale rather than focusing solely on the dimensions of a neighborhood.
This application allows users to explore vast geographic regions with intricate topography, satellite imagery, and various spatial layers. If you're going to use ArcGlobe, its file format is 3DD (ArcGlobe Document).
ArcGIS Extensions
"ArcGIS Extensions" are additional modules or add-ons to the core ArcGIS software that provide specialized tools and functionalities for specific tasks or industries. By using ArcGIS extensions and add-ons, you can boost the capabilities of the stand-alone product.
These extensions expand the capabilities of ArcGIS to cater to various needs such as spatial analysis, geostatistics, network analysis, 3D modeling, and more.
ArcToolbox
"ArcToolbox" is a part of the ArcGIS software that contains a collection of geoprocessing tools and functions. These tools cover a wide range of spatial analysis tasks, data conversion, manipulation, and geoprocessing workflows.
ArcToolbox allows users to access, manage, and execute these tools to perform complex spatial tasks within the ArcGIS environment. For example, there are extensions for GPS tracking, geostatistics, and more. Each add-on has a toolset that you can use as part of an ArcToolbox.
How does ArcGIS Online relate to ArcGIS?
ArcGIS Online is a web and cloud-based platform for online use. The main advantages of using ArcGIS Online are:
It's easy to build powerful web maps online that you can share and engage with the community.
By using Collector and Survey123, field crews can collect information from the field.
ArcGIS Online is a massive warehouse of GIS data including authoritative authors. In fact, it's so good that it's #1 on our list of free GIS data sources.
If you want to learn more, here's a tutorial on how to use ArcGIS Online.
What is the history of ArcGIS?
Esri develops ArcGIS software. Its history as a company spans close to 50 years. Here is a breakdown of some of the key developments in ArcGIS.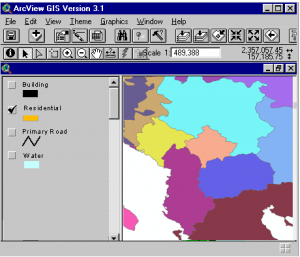 In 1973, Esri was on the map by providing the first commercial statewide GIS for Maryland.
PC ARC/INFO: Esri released PC ARC/INFO for individual personal computers in 1987. All was command line-based.
ARCVIEW 1.0: In 1991, ArcView 1.0 was a fresh GIS software approach. It uses a GUI desktop environment.
ARCVIEW 2.0: ArcView 2.0 combines object-oriented Avenue programming. This product was developed using a multi-platform environment in 1993.
ARCVIEW 3.0: In 1995, ArcView 3.0 was the first full-featured GIS software. For example, it included a geoprocessing wizard with extensions for raster and 3D.
From here, ArcView skips some major releases jumping to ArcGIS 8.0x. So, ArcGIS 4, 5, 6, or 7 doesn't exist.
ArcGIS 8.0
In 1999, ArcGIS 8.0 combined ArcView and ArcInfo. One of the key changes was that it strayed away from Avenue in favor of Visual Basic for Applications (VBA).
It also introduced its proprietary geodatabase for storing vectors, rasters, tables, and relationships. Other key improvements included:
Topology rules for improved error-checking
On-the-fly projections helped maintain the same projection on the map frame.
Annotation creation in the data frame and map document.
ArcGIS 9.0
In 2004, Esri released ArcGIS 9.0. The major update on this version was a switch to Python. In this release, users can access any tool through the Python scripting language. Here is a list of highlights from this release:
ModelBuilder became a means of stringing together a set of tools in a repeated way.
Esri switches to Python scripting where users can automate workflow.
Data driven pages for building a collection of maps as mapbooks.
ArcGIS 10.0
In 2010, Esri released ArcGIS 10.0. Even now, this is still the current release of ArcGIS. In this release, ArcGIS continued with Python as its scripting language. But it brought other advancements such as:
Feature templates for more intuitive editing and better snapping.
Image Analysis Toolbar helped clip rasters, and perform NDVI and image classification.
Time series animation for temporal data
Map packages for sharing layers in map documents.
Other Resources
If you still want to answer "What is ArcGIS?", here are some external resources to help you get informed: