AI Maps: Is This Our Future?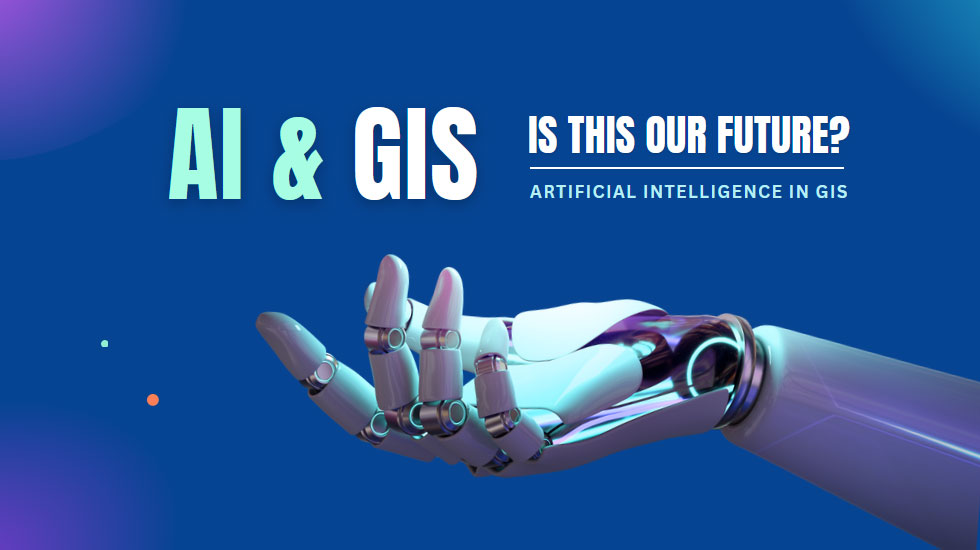 Mapping the AI Ecosystem
Before I begin, I just want to say… I've always loved cartography.
It's actually why I got into GIS in the first place. Some maps are timeless works of art so I'd be heartbroken to see it replaced by AI.
Also, this article is an opinion piece. I'm trying to be as unbiased as I can.
Please join the discussion in the comment section below to have your say if AI is really our future.
Where Are We Seeing AI Already in GIS?
Slowly and steadily, AI has made a few gentle strides in GIS (as it has in most industries).
Here's the impact of AI in GIS so far:
1. Scripting
Coders use AI to help write scripts and GIS is no different. Python, SQL, Arcade expressions… You name it and AI can shave off hours from your script writing workload.
2. Google Maps
No surprise here. Google is on the cutting edge of AI. This includes everything from Immersive Views to route planning. GeoAI will continue to play a big part in Google Maps.
3. Writing Metadata
I've never met a single GIS professional who likes writing metadata. Not one. AI can lower the amount of time it takes to write metadata. I think everyone can agree that this is awesome.
4. Feature Extraction
I've already covered GEOBIA and image segmentation in lots of detail. A long time ago. But now, deep learning and feature extraction are becoming more mainstream. This can potentially hurt entry-level GIS technicians and fill the role of simple digitizing work. But it's less than you think.
But what about AI in map-making?
AI Maps and Cartography
AI for coding? Awesome.
AI for metadata? Even better!
I've come to accept that AI will play a role in GIS. But how about AI in cartography?
AI maps exist. But the options are ugly from what I've seen so far. I've tested a few map-building assistants.
Here's what I've found.
DALL-E
AI models like DALL-E are art generators. Enter a prompt and it designs something fresh based on artwork it's already been trained with. Although DALL-E is improving by the day, I'm not impressed with the quality of the maps. I tried the art generator in Canva. I asked for a "modern map of the United States". Here's what it generated. Yikes.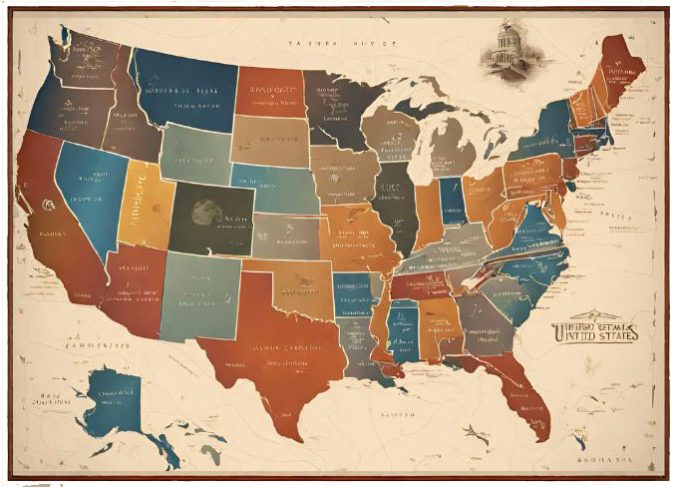 Adobe Photoshop
When Adobe started flashing its new generative fill, it blew my mind away. Just lasso a section of your image. Then, Adobe Photoshop will replace it with generative art. It got me thinking about doing this in the world of cartography… The only downside is that generative fill isn't backed by real data like maps. This means it will just make something up. It's a cool concept though.
BetterMaps
AI technology meets digital cartography. Type in a prompt and BetterMaps will spit out a map. I tested it with a "New York City zip code map".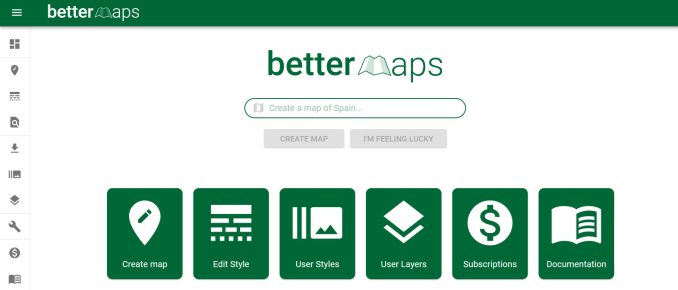 The result was a map of New York City with OSM data. No zip codes. It might be AI because it uses NLP to understand your search query. But the output was less than impressive.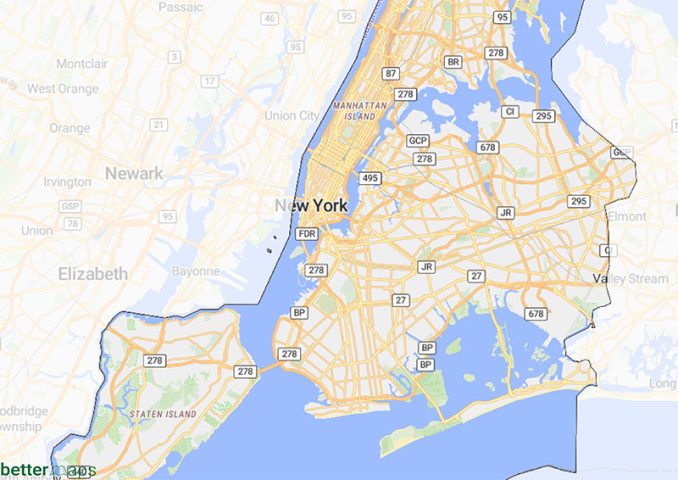 Here's what I was expecting for a New York City Zip Code Map.
MapsGPT
MapsGPT. It sounds cool, right? Here's how it works: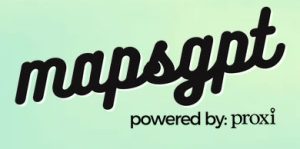 You prompt it with a location. Then, you type in the features you want on your map. It's supposed to send your map via the email you include.
But the sad part of the story was that MapsGPT was broken and didn't generate anything for me. If it worked, the concept might use geocoding. It's not really AI, I don't think it is.
Esri? QGIS? FME? Anyone?
Who will take a stab at AI maps in the GIS industry?
Esri has yet to make an impact with AI in maps… Sure, the Esri Analytics team has many deep learning packages for feature extraction. But Esri has no AI for map making yet.
QGIS has several plugins that incorporate machine learning. But they are mostly for segmentation, extraction, and clustering.
I was listening to an FME webinar and this ETL software is gradually implementing AI. Here are some examples of using generative AI for geospatial processing. As quoted from FME – "The results can be wrong. AI technology isn't perfect." It's risky.
We'll update this section if any GIS software ever includes an AI maps feature.
A Typical GIS Workflow
What's the problem with the concept of AI maps? The problem is that it's hard to think of a scenario when we need it.
In the world of GIS, no one ever just asks for a generative map. DALL-E is an image generator. But in GIS, we don't work with the imaginary.
The 4 primordial purposes of GIS are:
A typical GIS workflow involves field crews collecting data in the field (or a GIS technician editing data). We store, analyze, and visualize that data on a map. GIS does all the heavy lifting from start to finish.
So where does AI fit in?
Feature extraction for editing features? Possibly.
Machine learning for analysis? Yes.
Cartography? I just don't see it happening.
So does that mean that digital cartography is bulletproof from AI in the future? Where does generative AI fit in for maps? We don't have the answer just yet.
AI Security Concerns
Been there, done that. I think we're already familiar with the concerns of storing data in the cloud.
This is especially true if you work in government. The cloud poses all sorts of privacy and safety concerns.
What about AI?
It's no different. AI companies like OpenAI have been flashing data privacy red flags for years. Just take a look at OpenAI's privacy policy.
Although OpenAI takes steps to protect privacy, some companies have banned using ChatGPT completely. It's the same case with the on-premise version as well.
Would You Use AI to Create a Map?
Picture Thanos with the Infinity Gauntlet marching his way onto the GIS landscape… Just waiting to snap his finger and say "I am inevitable".
Are AI maps inevitable in GIS?
I can't picture a scenario when it happens. AI and its impacts on the GIS industry (especially map making) are overblown. <– Change my mind.
Don't believe me? Then, don't take my word for it. Try out some of the GIS AI tools for mapping available today. There's not a lot. Where do they fit in your workflow? It's all open for discussion in the comment section below.