Rwanda Map – Cities and Roads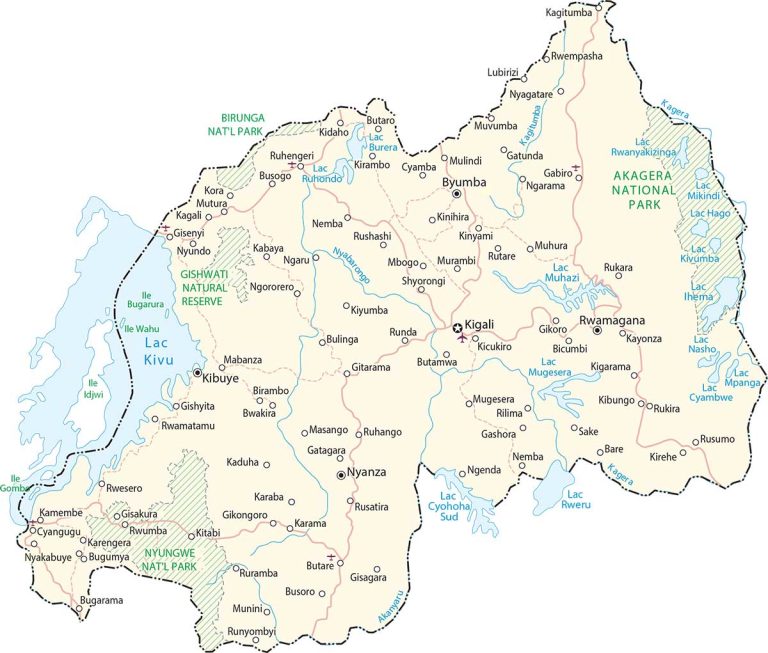 Download
This map of Rwanda displays cities, roads, water, satellite imagery, and elevation. It also contains prominent geographic features like the African Great Lakes and Albertine Rift Mountains.
You are free to use our Rwanda map for educational and commercial uses. Attribution is required. How to attribute?
About the map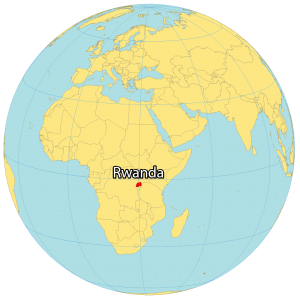 Rwanda is a landlocked country located in the central region of Africa. It's situated slightly below the equator and is part of the Great Rift Valley.
Rwanda borders 4 other countries including Burundi to the south, Tanzania to the east, Uganda to the north, and the Democratic Republic of Congo to the west.
Kigali is the capital and most populous city in Rwanda. Other major cities include Butare, Gitarama, and Ruhengeri.

Rwanda in Google Maps
IMAGERY
Rwanda Satellite Map
Rwanda is one of the smaller African countries occupying an area of 26,338 square kilometers (10,169 sq mi). In comparison, it's larger than Djibouti but smaller than Burundi. Rwanda is known for its rivers and lakes because it's part of the African Great Lakes.
For example, Lake Kivu, Lake Muhazi, and Lake Ihema are some of its largest lakes. The country has a mix of landscapes like savanna, forests, swamps, waterfalls, and plains. Because of its high elevation and equatorial location, it has a tropical climate with lower temperatures.
HILLSHADE
Rwanda Elevation Map
Rwanda is nicknamed the "Land of a Thousand Hills" because rolling hills cover most of the interior. Its major mountain chain is the Albertine Rift Mountains to the west. These mountains straddle the western region in a north-south direction along Lake Kivu.
It contains the stratovolcano, Mount Karisimbi on the border between the Democratic Republic of Congo and Rwanda.  At 4,507 m (14,787 ft), this is the highest peak in Rwanda. Whereas its lowest point is the Rusizi River at 950 meters (3,117 ft) above sea level. Overall, Rwanda lies at a high altitude in comparison to other African countries.