Ethiopia Map and Satellite Image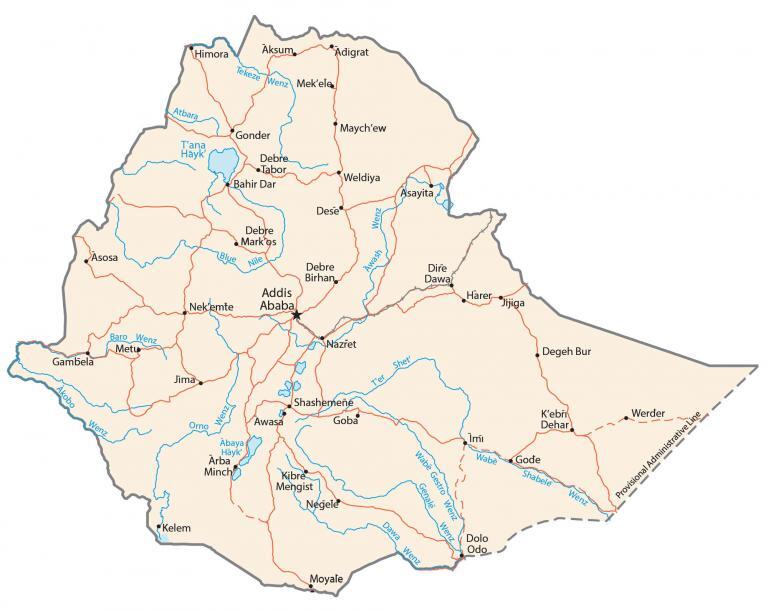 Download
This map of Ethiopia shows major cities, towns, and highways. Also, it displays a satellite and elevation map so you can see the Great Rift Valley of Ethiopia and more.
You are free to use our Ethiopia map for educational and commercial uses. Attribution is required. How to attribute?
About the map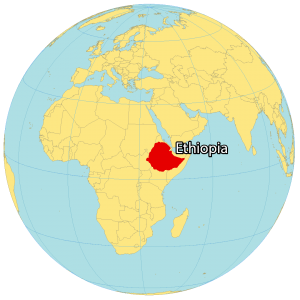 Ethiopia is a landlocked country in Eastern Africa. It borders 6 other countries. Eritrea and Djibouti are to the north. While Somalia is to the east, Kenya is to the south. Finally, Sudan and South Sudan are located to the northwest and west.
Ethiopia is the second most populous in the world with close to 120 million people. Addis Ababa is the capital and largest city of Ethiopia, which translates to "New Flower".

Ethiopia in Google Maps
IMAGERY
Ethiopia Satellite Map
Ethiopia occupies an area of 1,104,300 square kilometers (426,372.61 sq mi). This makes it larger than Mauritania but smaller than South Africa. Its physical geography is diverse from deserts in the east to tropical forests in the south. The eastern region is characteristically hotter with the Danakil Depression.
The Blue Nile originates at Lake Tana and flows through Ethiopia and Sudan for approximately 1,450 kilometers. The west side of Ethiopia is a mix of highlands and lowlands. Then, the Great Rift Valley of Ethiopia extends in a southwest direction from the Afar Triple Junction.
PHYSICAL
Ethiopia Physical Map
Ethiopia is part of the geologically active East African Rift Valley, splitting Africa into two pieces. This also means that the area is prone to earthquakes and volcanic eruptions. At about 4,550 meters (14,930 ft), Ethiopia's highest point is Ras Dejen.
On the other hand, the Danakil Depression is at the lowest elevation. This point is a geological depression resulting from 3 divergent tectonic plates in the Horn of Africa.