Kuwait Map – Cities and Roads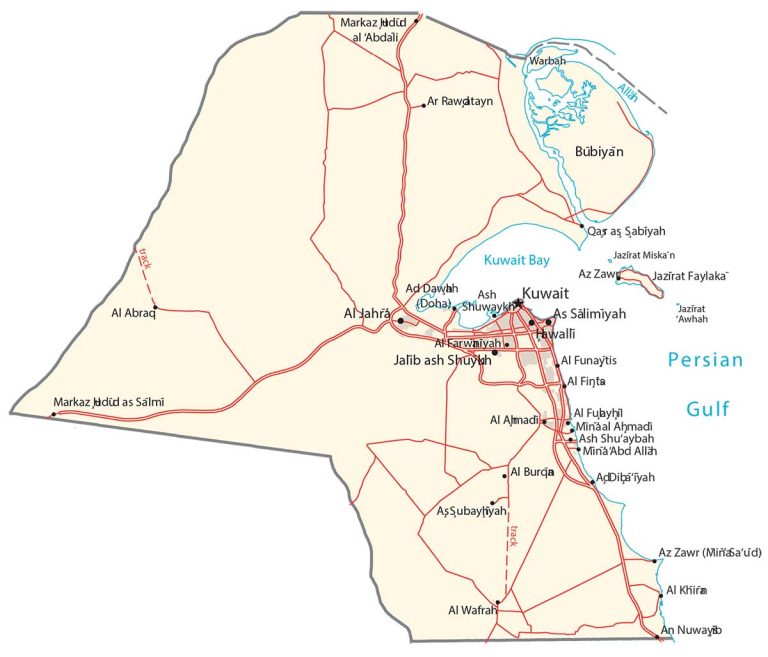 Download
This map of Kuwait contains major cities, towns, roads, lakes, and rivers. Satellite imagery and a physical map show its sand dunes and desert landscape, located next to the Persian Gulf.
You are free to use our Kuwait map for educational and commercial uses. Attribution is required. How to attribute?
About the map
Kuwait is located in the Middle East, along the Persian Gulf. It borders just 2 countries including Iraq to the north and Saudi Arabia to the south. Kuwait's coastline is an estimated 500 kilometers (310 mi) to the east.
Overall, the country is known for its dry desert and uninhabitable conditions. Also, it's recognized for its oil production and exports, which make it one of the richest nations in the world.
Kuwait City is the capital and largest city. But Al Ahmadi, Hawalli, and As Salimiyah are other major populated places. Kuwait has nine islands, including Bubiyan, Warbah Island, and Failaka Islands.

Kuwait in Google Maps
IMAGERY
Kuwait Satellite Map
The climate is characterized by extreme heat in the summer. During winters, they are typically short and cool. Altogether, this makes Kuwait one of the driest, least-hospitable places on Earth. It occupies an area of 17,818 square kilometers (6,880 sq mi), which is mostly desert. One exception is the Al-Jahrā' oasis along Kuwait Bay and a number of fertile patches. The country has no permanent rivers. Nor does it have any lakes. According to the FAO, forests cover just 0.3%, which is one of the least forested countries in the world.
PHYSICAL
Kuwait Physical Map
The country of Kuwait consists of mostly flat terrain. Generally, it has slight undulating plains in a desert landscape. There are no prominent mountain chains in Kuwait. At 140 meters (461 feet), the Mutla Ridge is a hilly desert terrain and is the highest peak in Kuwait. Whereas the Persian Gulf is Kuwait's lowest point at 0 m (0 ft) sea level.
ADMINISTRATION
Kuwait Governorate Map
Overall, there are 6 governorates in Kuwait as its top-level administration unit. Next, it can be divided into areas. Each governorate has an appointed governor. Its governorates include Ahmadi, Al-Asimah, Farwaniya, Hawalli, Jahra, and Mubarak Al-Kabeer.