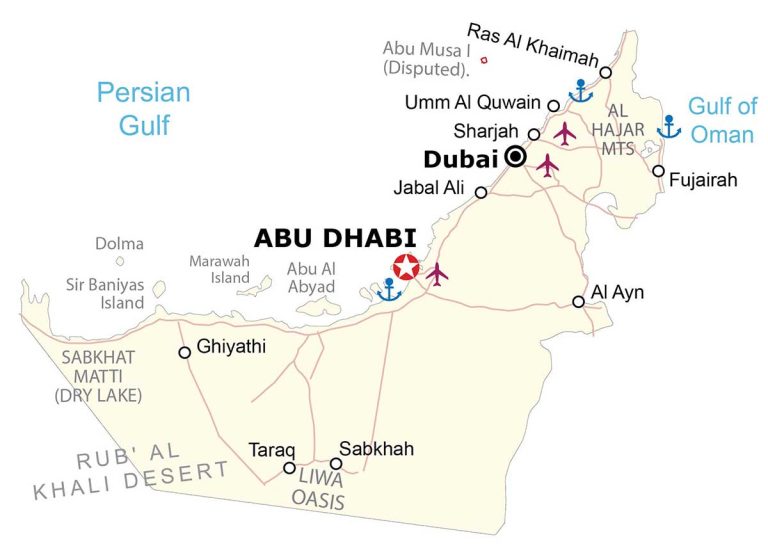 Download
This map of the United Arab Emirates displays its major cities, highways, and islands. Also, a satellite and elevation map reveals everything from its rolling sand dunes to the rugged Al-Hajar Mountains to the east.
READ MORE: Map of Dubai – Top 7 Attractions
You are free to use our United Arab Emirates map for educational and commercial uses. Attribution is required. How to attribute?
About the map
The United Arab Emirates (UAE) is located in the Middle East, along the coastline of the Gulf of Oman and the Persian Gulf. It borders just 2 countries, which include Saudi Arabia to the southwest and Oman to the east. Basically, the UAE contains 7 independent city-states.
Abu Dhabi is the capital city. But Dubai is the most populous. The other 5 city-states consist of Sharjah, Umm al-Qaiwain, Fujairah, Ajman, and Ras al-Khaimah. Overall, the UAE is known for being a major industrial point for crude oil transit.

United Arab Emirates in Google Maps
IMAGERY
United Arab Emirates Satellite Map
The United Arab Emirates occupies an area of 83,600 square kilometers (32,300 sq mi). Deserts cover over 80% of the United Arab Emirates. Specifically, the Arabian Desert spans the western region.
But its highest population concentration is along the Persian Gulf with cities like Dubai, Abu Dhabi, and Sharjah. In the southwestern region, the Liwa Oasis is a fertile area in the middle of the reaches of the Rub al Khali Desert.
HILLSHADE
United Arab Emirates Elevation Map
The terrain in the United Arab Emirates is primarily rolling sand dunes, a defining feature of the Arabian Desert. While the coastal plains are located in the south and central regions, the east is characterized by the rugged Al-Hajar Mountains.
Within the Al-Hajar Mountains, it holds the specular Jabal Yibir mountain peak. Rising proudly to an elevation of 1,934 meters (6,345 feet) above sea level, Jabal Yibir stands as the highest peak in the entire UAE, a testament to the country's geological and topographical diversity.
ADMINISTRATION
United Arab Emirates Administration Map
The United Arab Emirates is a collection of seven independent city-states. These include Abu Dhabi, Dubai, Sharjah, Umm al-Qaiwain, Fujairah, Ajman, and Ra's al-Khaimah. No boundaries hinder the travel between each of the emirates.
Instead, they form non-contiguous administration divisions in the United Arab Emirates. Abu Dhabi is the largest of the emirates accounting for approximately 87 percent of the total land area, mostly in the central and southwest regions of the federation.