Lebanon Map – Cities and Roads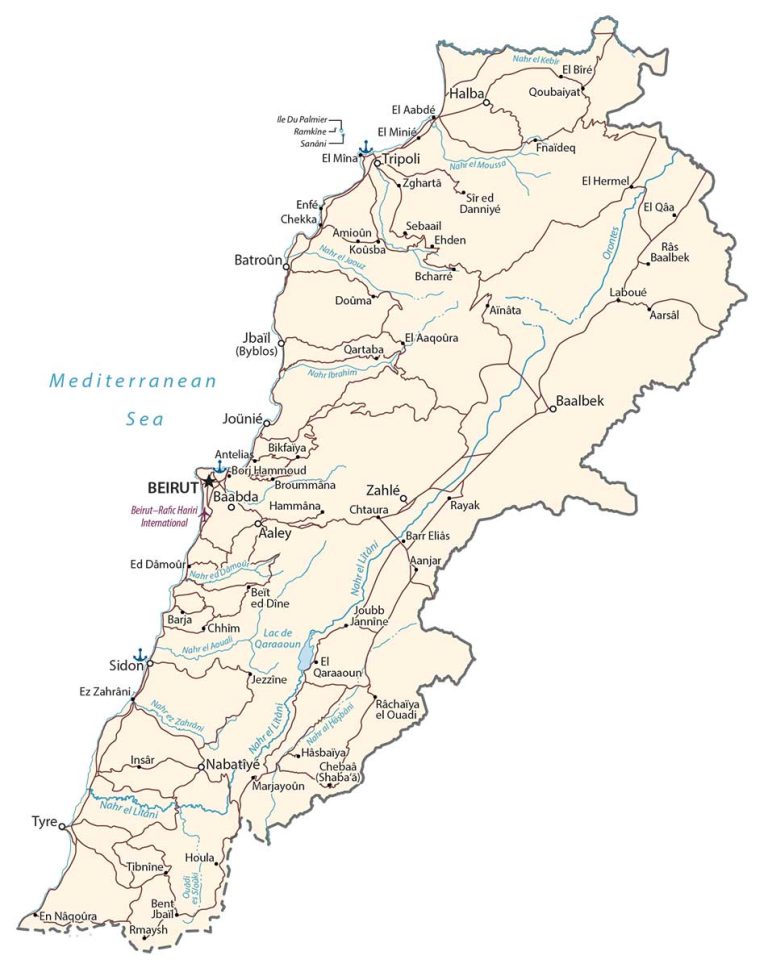 Download
This map of Lebanon features major cities, towns, roads, lakes, and rivers. From the Lebanon Mountains to the Beqaa Valley, satellite imagery and a physical map show its topography and terrain.
You are free to use our Lebanon map for educational and commercial uses. Attribution is required. How to attribute?
About the map
Lebanon is located in the Middle East along the Mediterranean Sea. It's the smallest country in continental Asia and borders just 2 countries. While Israel is located to the south, Syria is to the northeast.
Its coastline measures just 225 kilometers (140 mi) in length with Cyprus directly across. Because of its position in the Mediterranean Sea, it sits at a crossroads between the Arab Orient.
Beirut is the capital and largest city. Other major cities are Zahle, Tripoli, and Sidon. Lebanon has a diverse landscape, with snow-capped mountains, green valleys, and sandy beaches. The climate is also diverse, ranging from temperate in the mountains to the Mediterranean along the coast.

Lebanon in Google Maps
IMAGERY
Lebanon Satellite Map
Lebanon is the smallest country in continental Asia at 10,452 square kilometers (4,036 sq mi). In comparison, it's similar in area to Qatar or Cyprus. Its longest river is the Litani River at 140 km (87 mi). Whereas its largest lake is Lake Qaraoun at 1,600 square kilometers (620 sq mi).
Because it lies between 33° and 35° N latitudes, the climate is mostly moderate Mediterranean. Forests cover 13.6% of Lebanon. But it also has semi-desert conditions in the eastern region of Lebanon within the Beqaa Valley.
PHYSICAL
Lebanon Physical Map
A key terrain characteristic of the country is the Lebanon Mountains. This mountain chain follows the coastline of the Mediterranean Sea and is one of the most prominent features in the country.
The Beqaa Valley lies to the east along its border with Syria, where it transitions into the Anti-Lebanon Mountains. At 3,088 m (10,131 ft) in height, Qurnat as Sawda' is Lebanon's highest point. Whereas its lowest point is the Mediterranean Sea at 0 m (0 ft) sea level.
ADMINISTRATION
Lebanon Governorates Map
There are 9 governorates in Lebanon, which is the first-level administration unit. Next, governorates (except for Beirut and Akkar) are divided into districts. Finally, they can be further subdivided into municipalities. Its governorates are as follows – Akkar, Baalbek-Hermel, Beirut, Bekaa, Keserwan-Jbeil, Mount Lebanon, North Lebanon, Nabatieh, and South Lebanon.