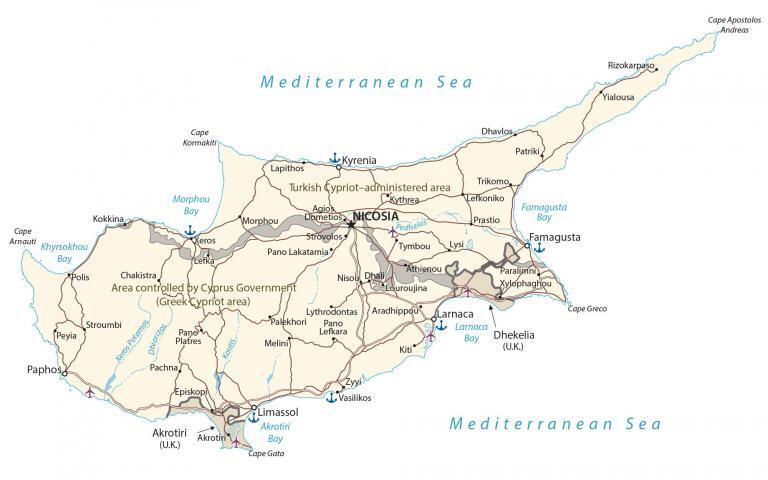 Download
Cyprus is an island country in the Mediterranean Sea. This map collection includes a reference, satellite, physical, and administration map of Cyprus with major cities, highways, and the U.N. Buffer Zone.
You are free to use our Cyprus map for educational and commercial uses. Attribution is required. How to attribute?
About the map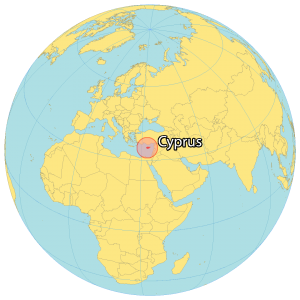 Cyprus is an island country part of the Middle East and geopolitically in Europe. It's located in the Mediterranean Sea south of Turkey, southeast of Greece, west of Syria, and northwest of Lebanon. It's the third largest island in the Mediterranean Sea, smaller than both Sicily and Sardinia.
Since the 1970s, the country has been split into two by a 180 km (120 mi) U.N. Buffer Zone. The Greek Cypriot Side in the south occupies about 60% of the territory. Whereas the Turkish Cypriot Side claims about 38%.
Cyprus is filled with exclaves and abandoned areas throughout due to the division of both sides. Within Cyprus, the United Kingdom administers two regions. First, Akrotiri is in the south-central and Dhekelia is in the southeast. Nicosia is the capital and largest city of Cyprus. Other major cities are Limassol, Larnaca, and Stróvolos.

Cyprus in Google Maps
IMAGERY
Cyprus Satellite Map
Cyprus is a mix of plains and mountains in the north and south. The country experiences a warm and dry Mediterranean climate. Its rivers are seasonal and typically dry up during the summer months. Despite its efforts to combat deforestation, forests cover 17% of Cyprus. Also, agriculture is another major land use with crops like citrus, grain, tobacco, livestock, and vegetables.
The country is recognized for its quaint villages, coastal beaches, and historical sites. It's also the birthplace of Aphrodite, the Goddess of Love, who emerged from its waters. The Karpas Peninsula stretches out to the northeast of the country. Its finger-like shape is one of the most prominent geographical features of the island of Cyprus.
PHYSICAL
Cyprus Physical Map
Cyprus has three major geographic features shaping the island's topography. First, the Troodos Mountains are a long chain of mountains within the interior of Cyprus. Secondly, its other major mountain chain is the Kyrenia Range to the north along the Mediterranean Sea. Finally, Mesaoria is a broad plain in the north-central region between both mountain chains.
The highest peak in Cyprus is Mount Olympus (same name as Greece), which is part of the Troodos Mountains. At 1,952 m (6,404 ft) above sea level, this mountain peak is situated in the west-central part of the country.
ADMINISTRATION
Cyprus Districts Map
There are 6 districts within Cyprus with 2 districts overlapping the buffer zone. Because of the UN Buffer Zone, Cyprus is filled with exclaves and abandoned areas like the disused international airport in the capital city of Nicosia. Each district's capital shares the same name as the district. Next, districts are divided into municipalities and communities.